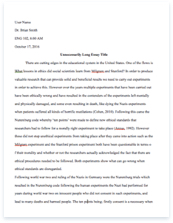 The whole doc is available only for registered users
A limited time offer! Get a custom sample essay written according to your requirements urgent 3h delivery guaranteed
Order Now
I will refer to the patient as Miss Adams, which I will call her to protect her identity and maintain her confidentiality (NMC, 2009). Miss Adams is a lady in her mid twenties and was admitted to the critical care unit six months ago. Miss Adams has suffered a brain injury as a result of a car crash incident and now requires one to one day and night care.
On the morning of the student nurse's shift, Miss Adams required personal hygiene care, the physical act of cleansing the body to ensure that the hair, nails, ears, eyes, nose and skin are maintained in an optimum condition (D.H. 2011). When the student nurse first entered Miss Adams' bedroom she was very 1001 4130 01 09/10 Group 3
Respectful of the fact that she was entering into the patients' personal space. When the student first communicated with Miss Adams she explained to her that she was a student nurse and was there to assist with her hygiene needs. The student nurse firstly asked for Miss Adams consent to assist with her needs as the NMC states, you must ensure that you gain consent before you begin any treatment or care (NMC, 2008). The student nurse then began to assist Miss Adams with her hygiene by giving her a bed bath. As the student nurse realises that this type of intimate care could make Miss Adams feel insecure and nervous, she remained very professional and maintained communication throughout.
The student nurse also talked through what she was going to do next e.g. moving from washing Miss Adams face, on to washing her arms and chest, and always asking her if the temperature of the water was ok and if the pressure of her washing felt ok on her skin. The student also encouraged Miss Adams to communicate with her throughout the personal care to keep her involved and to show Miss Adams respect. As the student nurse was assisting Miss Adams she was always observing the skin keeping an eye out for any breaking or bruising of the skin and keeping in my mind the waterlow scale for signs of pressure sores (Waterlow, 2005). The student nurse made sure all Miss Adams skin was thoroughly dried and moisturised and she was covered and dressed at all times to protect her dignity and to make her feel comfortable. The student nurse then began to assist Miss Adams with her oral hygiene needs by brushing her teeth, 1001 4130 01 09/10 Group
Gums and her tongue. As Miss Adams is on a pureed diet, her oral hygiene is very important, patients who are unable to eat and drink normally, and those who are immuno-suppressed, are at risk of suffering the ill effects of poor oral hygiene (Grainger, 2007). The student nurse then began to brush Miss Adams hair asking her what she would like to have done, what style she would prefer, giving her choice and independence in what she wanted and encouraging her to make decisions. At the end of the personal intervention, Miss Adams was encouraged to wash her hands to limit the risk of infection; and the student nurse washed her hands thoroughly following the five moments of hand hygiene (2007). During Miss Adams care, the student nurse was aware throughout that she was treating Miss Adams in a non discriminatory manner and showing her respect as an individual and keeping excellent communication skills at all times. The student nurse wanted Miss Adams to feel from her experience that care is delivered at all times with compassion and empathy in a respectful and non-judgemental way according to the essence of care (2010). The student nurse feels that the care was delivered to Miss Adams in a non – discriminatory way and met one of her Activity of Daily living requirements in accordance with the Human Rights Act 1998.
I will now go on to discuss the elimination part of the Activity of Daily Living. Miss Adams is incontinent of both urine and faeces, therefore requiring incontinence 1001 4130 01 09/10 Group
Pads throughout the day and night which are changed on a regular basis. Miss Adams therefore requires assistance with her faecal and urinary incontinence. This is a very personal issue and can be very embarrassing, so when the student nurse assists with Miss Adams care, this is taken into consideration ensuring that Miss Adams feels comfortable and as though her dignity is maintained at all times. The care given to Miss Adams by the student nurse took into account her individual needs and preferences and was culturally appropriate to cater for those with special needs (NICE, 2006). The student nurse is required to check the pad of Miss Smith on a regular basis as Miss Adams is unable to recognise when she has been incontinent of faeces or urine. When the student nurse assists with the changing of Miss Adams pad the level of dignity is very important.
The student nurse ensures that she has to hand everything that she needs, so that she doesn't have to go off and collect anything leaving Miss Adams in a vulnerable position. The cleansing of the skin is done very thoroughly as the presence of urine and faeces on the skin increases the normal pH of the skin and excess moisture increases the risks of tissue breakdown and infection (Dougherty and Lister, 2004). It is imperative that the skin is dried and barrier cream applied to protect the skin. Another important part of personal care is for the student nurse to assess the faeces and urine each time Miss Adams has her pad changed, looking for signs of urine infections and also diarrhea and constipation, this can be done by referring to the Bristol stool chart (Bladder and 1001 4130 01 09/10 Group
Bowel Foundation 2011) and ensuring that all information is documented. Nurses need to be aware of contributing factors and be sensitive to patient's beliefs and values in order to provide holistic care, therefore a comprehensive assessment is essential (Dougherty and Lister, 2004). After the pad had been changed the student nurse ensured that Miss Adams was dressed and dignified and washed her hands also offering for Miss Adams to do the same. Hand hygiene must be performed before contact with patients regardless of whether contact has occurred (RCN, 2009).
I will now go on to discuss the nutrition part of the Activity of Daily Living and the assistance given by the student whilst caring for Miss Adams. As previously mentioned, Miss Adams was in involved in a car incident which left her with partial brain damage. For a short time Miss Adams was fed via a percutaneous endoscopic gastrostomy (PEG), which has now been removed and the patient is now being fed orally pureed food. Miss Adams suffers with dysphagia, which is the inability to swallow normally, having been assessed by speech and language therapists in conjunction with the multidisciplinary team (Mayer, 2004). Assessments were previously done to assess the needs of Miss Adams nutrition. Jane Fletcher explores ways in which nurses can assess their patients and identify those at risk of malnutrition. This can be done by using a nursing nutrition assessment as part of the overall holistic nursing assessment, anthropometric 1001 4130 01 09/10 Group 3
Measurements such as body mass index and mid upper arm circumference, and a nutrition screening tool such as the Malnutrition Universal Screening Tool (Fletcher, 2009). Before assisting Miss Adams with feeding, the student nurse read through her care plan to ensure that the food she was given for her was correct and at the right consistency. The student nurse was able to find that Miss Adams required to be fed with a plastic spoon rather than a metal spoon as she tends to bite when feeding her. When the student nurse approached Miss Adams to feed her, she asked her for permission to feed her. The student nurse then made sure Miss Adams was prepared for her meal by making sure she was sitting upright to make swallowing easier by using pillows to support her back and shoulders; and made sure that the table was at the correct height and that the food could be reached without stretching.
The student nurse then washed her hands and offered Miss Adams facilities to wash her hands. The food was then explained to Miss Adams to ensure it was what she liked and where possible had chose herself allowing her a choice. Miss Adams was offered sips of water prior to feeding her and the student nurse described to Miss Adams what her food was. The student nurse spent an hour with Miss Adams feeding her so she was not rushed and throughout asked how the temperature of her food was to make sure she was enjoying it. Plenty of time was given to allow for swallowing and Miss Adams was offered fluids between mouthfuls. Good eye contact with Miss Adams was established by the student nurse by sitting opposite the patient and 1001 4130 01 09/10 Group
Good communication skills were maintained throughout encouraging Miss Adams to try to feed herself promoting her independence. All food intakes were clearly recorded after her meal in her care plan, in accordance with the ward policy. Miss Adams is given choice on a daily basis to choose her food by the use of daily food menus. On a daily basis food charts are filled in which states how the patient has eaten that day in line with the NMC guidelines (NMC, 2009). Food charts give an indication if nutritional intake can be maintained by only feeding or if supplements or extra calories are needed by introducing ensure drinks for example. Good nutritional care, adequate hydration and enjoyable mealtimes can dramatically improve the general health of patients (Improving nutritional care, 2007).
I will now go on to discuss the hydration part of the Activity of Daily living recorded whilst the student nurse was caring for Miss Adams. Miss Adams suffers with dysphagia so has difficulty swallowing fluids. This was assessed when Miss Adams had previously been seen by a speech and language therapist (SALT). Miss Adams care plan was read by the student nurse, which states that any fluid intake has to be thickened so she is able to swallow without difficulties. Before preparing Miss Adams drink, the student nurse approached her and asked what she would like to drink and gave her a choice of a wide range of hot and cold drinks. The preferred drink was made up for her and put into a cup with 1001 4130 01 09/10 Group 3
Two handles and using thick and easy to make it up to the correct consistency for her. The student nurse then made sure Miss Adams was ready for her drink by making sure her head, neck and trunk where supported in an upright position. Miss Adams was then encouraged to use the cup to promote dignity, independence and confidence. Initially Miss Adams was not that keen on taking fluids this way, so the student nurse sat with her and encouraged her to take some fluids and offered her a different drink being mindful of the needs and advantages of Miss Adams having a good fluid intake and remaining hydrated. Water for Health (2006) states that some of the side effects of poor hydration can lead to problems such as constipation, pressure ulcers, urinary infections and heart disease. Once Miss Adams had finished her drink the amount of fluid she had taken was recorded on a fluid balance chart, in line with the NMC guidelines (NMC, 2008), which will then go into her daily care notes so the amount of fluid input throughout that day can be monitored.
In conclusion I feel that I have showed in each paragraph my experience of how I met four of the Activity of Daily living needs hydration, elimination, nutrition and hydration. I demonstrated non – discriminative practice in each one, which is a very important role in giving the highest quality of care for an individual. It is very important in our practice that we adhere to national policy guidance and local policies. Discrimination can be defined as treating people/groups of people less 1001 4130 01 09/10 Group 3
Favourably than others due to factors relating to race, colour, gender, disability, ethnic origin, nationality, age, and religion. The purpose of which is to promote equality and anti-discriminatory practice and promote equality for service users and staff.
References
Bladder and Bowel Foundation 2011, www.bladderandbowelfoundation.org/bowel/healthy-bowel/how-to-maintain-a-healthy-bowel-and-digestive-system/The-Bristol-Stool-Form-Scale.htm, Accessed 08/03/11
Department of Health (2010), Benchmarks for a person's hygiene, Essence of care
Dougherty L, and Lister S, (2010), The Royal Marsden Hospital Manual of Clinical Nursing Procedures, A John Wiley & Sons, Ltd
Fletcher, J (2009), Identifying patients at risk of malnutrition: Nutrition screening and assessment, Gastrointestinal Nursing, 5, (5) 12-17
Grainger, A (2007), The Importance of good oral hygiene, British Journal of Healthcare Assistance, 1, (3), 125-127
Human Rights Act, (1998), www.legislation.gov.uk – acsessed on 08/03/11
Mayer L, (2004) The Challenges of managing dysphagia in brain injured patients, British Journal of Community Nursing, 9, (2), 67-73
National Institute for Health and Clinical Excellence,( 2006) London: National Institute for Health and Clinical Excellence.
NICE guidance (2006), Nutrition support in adults, National Institute for clinical excellence
Nursing and Midwifery council, (2008), www.nmc-uk.org – acsessed on 11/03/11
RCN, (2008), The Royal Collage of Nursing, www. rcn.org.uk
1001 4130 01 09/10 Group 3
Roper et al in Mooney and O'Brien (2006), p.887
Water UK, (2010), Water for Health, www.waterforhealth.org.uk , accesses on 03/03/11 Waterlow J, (2005), www.judywaterlow.co.uk
Related Topics