About Goal Setting in The Workplace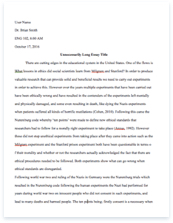 The whole doc is available only for registered users
A limited time offer! Get a custom sample essay written according to your requirements urgent 3h delivery guaranteed
Order Now
This literature review is based on peer-reviewed articles that primarily feature goal-setting in a workplace environment, and the benefit setting goals have on the performance and motivation of the employees. The study focuses on Goal Setting Theory, and S.M.A.R.T. goals as these are the two proven metrics for successfully creating goals in both the workplace environment and an individual's personal life. The need for businesses to always stay competitive, means they have to evolve as markets, technology, and employees change. With today's technology businesses no longer are working in one building much less one state or country, they have indeed become global. The globalization of companies has brought on a whole new set of problems when it comes to managing employees. With these changes, businesses are growing leaner and are moving away from supervisory positions to a flatter organizational chart. The changes, whether good or bad, will cause businesses to evaluate how to keep employees, motivated, engaged, and on track.
Locke and Latham's Goal Setting Theory
Locke and Latham, (Goal Setting A Motivational Technique That Works!, 1984) are considered the founding fathers of the Goal Setting Theory, which most organization today have adopted as the gold standard for goal setting techniques. In their research on goal-setting, they found that there are four ways to facilitate performance in an employee: through direct attention and action, through mobilizing energy and effort, through increase persistence, and through motivating the development of appropriate task strategies. Locke and Latham stress that goals must be specific, challenging, and attainable for employees to succeed. That even if a goal is not achievable that employees will still be driven to perform to a higher level of efforts as long as partial levels of success can be achieved and are rewarded.
To help employees on long-term goals, Locke and Latham suggest creating short-term or subgoal for motivational purposes. Locke and Latham go on to explain that obtaining goal commitment or buy-in from an employee is just as critical as goal-setting. Employees must feel that the goals are both fair and reasonable, while not feeling that these goals could exploit the employee, or the employee will ultimately reject the goal. The final step of goal-setting is implementation. Locke and Latham explain that for goal-setting to be implemented and effective that employees will need an action plan for the goals. Feedback on how the goal is progress. Training if a particular skill is required to achieve the goal. Schedule for the time-frame the goal should be accomplished. Company policy to know they are working within the companies value system. The amount of money or budget that is needed to achieve the goal, and finally assistance to help guide them through the goal.
SMART Goal Setting
George T. Doran also saw goal-setting as a way for advancement. However, he believed that goal-setting could be used both for an organization and personal goal-setting. Doran, (1981) is known for his groundbreaking work and considered the originator of the efficient process called S.M.A.R.T. goal-setting (acronym: Specific, Measurable, Attainable, Relevant, and Time-based). In Doran's process, management must make goals specific, by targeting an area that needs immediate improvement. Measurable by suggesting or quantifying an indicator of progress. Assignable, by stating who will do the project.
Realistic by saying what results can realistically be achieved within the available resources, and time-related by giving a timeline when results are needed. Since Locke and Latham, Goal Setting Theory and Doran's S.M.A.R.T. goal-setting research was conducted in the early to mid-80s, many other researchers have followed suit to prove or disprove their theories. What follows are different studies that not only revealed that both Goal Setting Theory and S.M.A.R.T. goal-setting are founded on solid research and have passed the test of time but also add to these studies.
Setting goals and Taking Ownership
Before S.M.A.R.T. was created management had a hard time with employees taking ownership of setting goals. It was generally considered management responsibility to set goals and enforce goals. Karakowsky and Mann, (2008) study, however, revealed that when an employee participates in the development of their work goals and agenda's that the employee's attitudes and behaviors at work have a positive impact at work. The research was broken down into three categories: task or goal achievement, Expectations based on perceived abilities, and Ego-based attribution paths.
The study found that to have a positive outcome for both goal setting and goal achievement that employees needed to perceive that they had control over how difficult the task or goal would be. This perception also carried over to whether they were successful or not in achieving the goal. The research went on further to explain that employees who engaged in goal-setting had a higher expectation to succeed in attaining the goal then employees who were assigned goals. Lastly, ego involvement or the perceived level of responsibility increased when an employee had control over setting goals. These results showed a positive effect on both goal commitment and acceptance.
Determining the Importance of Self-Evaluation on the Goal-Performance Effect in Goal Setting
While commitment and acceptance of a goal are essential so is self-evaluation. As demographics of our society change and the organizational charts flatten, self-evaluation becomes a crucial factor. Martin, McNally, and Taggar, (2016) found that self -knowledge leads to self-evaluation which then leads to motivation that ultimately creates the goal-performance effect. As companies become leaner and move away from supervisory positions, the need for self-evaluation increases. The research also confirms that goals have to be well defined, challenging, but perceived to be attainable to increase performance. Furthermore, the study verifies that monetary rewards need to be of a sufficient amount or the employee will feel its an insult and have the opposite effect that was intended.
Goal Setting and Monetary Incentives
The correct monetary reward system has always been challenging for the organization. On the one hand, the employee wants to be paid fairly for their effort. While at the same time the organization is in a constant battle over profit. In Corgnet, Gómez-Miñambres, and Hernán-González, (2015) research, they found that goal setting and monetary incentives could increase or decrease the effort and performance of employees. The study showed that if you have to choose between goal setting and monetary incentive, that goal setting alone will significantly increase workers efforts and productivity level while the opposite is true for the monetary incentive. In the study, they found that monetary incentive alone could instead have a negative effect on the employee's performance. However, when combining challenging and attainable goals with a strong monetary incentive, the worker's performance and motivation increased, which in turn will lead to more profitability for the organization.
Setting Leadership Goals and Getting Those Goals Accomplished
Another challenge for the organization is what traits a leader needs to be an effective leader. Solow & Szmerekovsky (2014) presented a model with insight into what's more critical buy-in skill or goal setting skill by a leader. They used a mathematical analysis to derive at the conclusions. For clarity purposes, buy-in skill represents the leader's ability to influence followers. The study determined two ineffective leaders, are a leader with great goal-setting skill but no buy-in skills and leader with great buy-in and no goal-setting skills. Both skills are equally essential to become a great leader. The study goes on to say a leader with no buy-in skill is like not having a leader at all. In their conclusion, leaders should work on their weaker points instead of their strong points to become the best leader for their organization.
Should I Plan? Planning effects on perceived effort and motivation in goal pursuit. In an organization, the thought of not planning would seem counter-intuitive, but in some cases that is precisely what can happen. Bayuk, (2015) explores how planning, the salience of activities, the perceived effort, and motivation help in pursuing a goal. This research evaluated if creating a plan either hurt or helped with motivation in the pursuit of a goal. Bayuk theorized that the level of difficulty to achieve the goal was the determining factor. If the level of difficulty was moderate to high, then planning was necessary to achieve the goal. However, if the level of difficulty was low, then planning had the opposite effect and could prevent goals from being completed.
How Goal Specificity Shapes Motivation
As previously stated, being clear with a goal is a critical factor for a goal to be accomplished. It also helps with the motivation of employees. Wallace and Etkin, (2018) evaluatee how reference points are important for goals to create both goal motivation and goal directional behavior. In their research, they looked specifically at the relationships that exist between goal progress and motivation. They concluded there is a direct correlation between goal progress and motivation when goals are specific and directional. However, when goals are non-specific or ambiguous, goal pursuit diminishes along with the motivation to achieve the goal.
Related Topics