Abortion Laws for Minors in North Carolina in 2020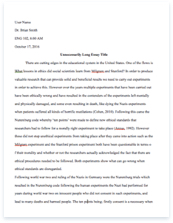 The whole doc is available only for registered users
A limited time offer! Get a custom sample essay written according to your requirements urgent 3h delivery guaranteed
Order Now
When dealing with an unplanned pregnancy, it can be hard to see all of your options. For many young women, abortion often seems like the only option they have. The topic of abortion can be hard to talk to with family and friends, especially when you are a minor. It may seem like you have no one to talk to or that you are all alone. Such feelings or thoughts are common, but resources exist and programs have been formed to help in just these situations.
Anyone seeking an abortion or dealing with an unplanned pregnancy should have guidance and all the information they need. That's why Community Pregnancy Center of Lake Norman has put together a list of frequently asked questions and answers to help women dealing with an unplanned pregnancy gain the knowledge they need to become empowered and make the best decision for yourself.
Is Abortion Legal In North Carolina?
Abortion laws are different in every state, so it's common for people to be unsure of what is allowed and what isn't. In North Carolina, state law states that an abortion is only legal before twenty weeks of pregnancy. After the viability of the pregnancy has been confirmed, abortion is only legal in certain situations, such as the mother's life being threatened by the pregnancy or severe medical complications, or cases of rape or incest.
Is Parental Notification Or Consent a Requirement For Minors?
Yes, under North Carolina state law as of January first of 2020, anyone under the age of eighteen seeking a medical or surgical abortion will need parental or legal guardian consent before an abortion can be performed. In addition, a pre-abortion consultation is required; this is common in many states. There are two exceptions to this rule, however. Exception one is if the abortion is medically necessary to protect the life of a minor, while exception two is if a judge grants a parental waiver for the abortion.
How late can you have an abortion in North Carolina?
In North Carolina, abortion is legal up until the twentieth week of pregnancy, also known as viability. Viability is when the fetus has reached a level of maturity that it can survive outside of the womb under normal conditions. The only condition that allows an exemption to this is if the mother's life is endangered by the pregnancy or other severe medical complications.
Is There A Waiting Period?
Yes before an abortion can be carried out, a few things have to fall in place. After gaining consent from a parent, a pre-abortion consultation will have to be held. During this consultation, an ultrasound will be performed. An ultrasound is given so that the gestational age of the fetus and the viability of the pregnancy can be confirmed. Once all this has been done, and the fetus is confirmed to be under twenty weeks, an abortion can be performed no earlier than seventy-two hours after the consultation.
Do You Have To Get An Ultrasound Before an Abortion?
This is one of the most common questions we get. In North Carolina and in twenty-six other states, an ultrasound is required. This is done to confirm the pregnancy and to figure out how far along you are in your pregnancy. This is also necessary so that the clinic can confirm whether or not the baby has reached viability and ensure the pregnancy is not an ectopic pregnancy.
How Much Does An Abortion Cost?
The cost of an abortion will vary depending on a handful of factors, such as how far along you are in your pregnancy, who your healthcare provider is, and the clinic you go to. The average cost for an abortion can range from $600 to $800 without insurance. That being said, most insurance companies will only cover abortion in the case of life endangerment, and the ones that do cover abortions will have differing prices. We can estimate the average price for each type of abortion, however.
Methotrexate and misoprostol (the Abortion Pill) can cost anywhere between $300 to $1000.
Medical abortions can cost anywhere between $300 to $800.
Vacuum aspiration abortions can cost between $600 and $1000
Dilation and evacuation abortions can start at $1,500 and more.
Induction abortions can cost $3,000 or more.
Will My Insurance Cover The Abortion?
Whether the abortion is medical or surgical, it will not be covered by the Affordable Care Act (ACA) unless the life of the mother is in danger and/or in cases of rape and incest. Those same conditions are also the only instances when abortion will be covered by insurance for public employees, meaning that the majority of abortions are paid for out of pocket.
What is the Abortion Pill?
People often don't know that the abortion pill is actually two pills: Mifepristone (also known as the abortion pill or RU-486) and Misoprostol. Let's go into what each of these two medications do.
Mifepristone or RU-486 blocks the hormone progesterone, which is necessary for the pregnancy to continue. This will cause the walls of the uterus to thin, which will cause the embryo to detach.
Misoprostol is the pill you will take within the next day or two. Misoprostol will cause the uterus to contract. These contractions will push the embryo out until it is passed. Mifepristone will be typically taken at the doctor's office and then Misoprostol will be taken at home.
The combination of these two pills is what is known as medical abortion or the "Abortion Pill". The combination will cause the fetus to be expelled from the uterus. However, this is only used for early pregnancies. Once you hit ten weeks pregnant, this treatment should be avoided and is no longer legal.
Is The Abortion Pill Legal In North Carolina?
Yes, but again, only in certain situations such as rape, incest, and the endangerment of the mother's life.
Can I Use Telemedicine For The Abortion Pill?
With everything being done online, it makes sense to see a transition where healthcare is provided online. Telemedicine allows you to have your doctor's appointment online and in the comfort of your house. Medication can then be prescribed online and you can have said medicine delivered to you. When it comes to the Abortion Pill, however, it is illegal to be prescribed over Telemedicine in the state of North Carolina.
What Types of Abortion are Allowed?
First, let's cover the different types of abortions. There may be more forms of abortion than you realize. Each one has its own process and time frame in which it is carried out and when it is most effective. Then we can break down what is legal under NC state law.
Methotrexate and Misoprostol: Methotrexate was originally used as a cancer treatment. Methotrexate is used to stop the multiplication of cancer cells. It was later discovered that it has the same effect on an embryo. This can be done in the first seven weeks. Misoprostol is the second pill taken that causes contractions that will begin to expel the fetus. This is very similar to medical abortion, just a different variation.
Medical Abortion or the Abortion Pill (Mifepristone and Misoprostol): has already been covered in great detail so we won't go over that again. We will just keep this on the list so we can form a timeline of sorts. This is the first and earliest form of abortion that can be done. Which is no longer viable after ten weeks.
Vacuum Aspiration (Also known as suction aspiration): This is one of the most common forms of abortion. The process entails suction being applied to the fetus and placenta, vacuuming everything from the womb. This is a viable option during the first trimester (12 weeks) and up to the early weeks of the second trimester but is allowed no later than 16 weeks of pregnancy.
Dilation and Evacuation: This is a more complex procedure than the first three. It's a combination of vacuum aspiration with the use of forceps and dilation and curettage. This is done over a two day period. On the first day, the doctor dilates the cervix so that it is wide enough for the next step. On day two, forceps are used to remove the baby. A tube is then used to vacuum the womb and a thin, loop-shaped knife (commonly called a curettage) to scrape out any remaining parts of the fetus from the uterine lining. This is done in the second trimester after 14 weeks.
Induction: This is the most intense and complicated procedure. Medication is given to the mother to induce labor. The uterus will begin to contract and push out the baby. Then a tube may be used to suction out any remnants in the uterus and a Curettage may also be used to remove any uterine lining. This may take anywhere from several hours to up to more than a day to complete. This is done after 24 weeks of pregnancy and is extremely rare in all states.
Now that we fully understand what each type of abortion entails and when they can be carried out, we can discuss the legality of it all. All abortion under the state law of North Carolina is illegal unless carrying out the pregnancy to completion puts the mother's life in danger or in cases of rape and incest. All abortions after twenty weeks are banned unless the same previous conditions are met.
Are There Any Risks or Side Effects?
Abortion affects everyone differently based on your own medical history and how you react to the medicines used in the procedure.
The common physical side effects are as follows:
dizziness
nausea & vomiting
diarrhea
tiredness
sweating
headache
passing small blood clots
These symptoms are the same across medical and surgical abortions. However, it should be noted that surgical abortions also run the risk of low-grade fevers and chills.
Physical symptoms aren't the only symptoms faced by women after an abortion. Abortion, just like any other medical procedure, can have effects on the mental health of the mother, such as depression and feelings of guilt and loss due to the decision to have an abortion. Such feelings should not be repressed and should be acknowledged without delay. Post-abortion support groups exist and create a safe atmosphere for women to express how they feel and help each other work through any issues they struggle with.
Where Do I Go to Get an Abortion?
Every state has the same regulations on where an abortion can be received: abortions can only be offered in hospitals and licensed clinics. However, not every doctor in said hospitals will perform an abortion. As for seeking an abortion at a clinic, they will need to be a licensed institution, meaning that they comply with any and all state and federal regulations. Due to these restrictions, it's not uncommon for people to travel outside of their state to receive an abortion.
What Are The Consequences and Dangers of An Illegal Abortion?
Some people feel like the only option for an abortion is to take it into their own hands or to seek underground abortions outside of the legal U.S. healthcare system. This is incredibly dangerous and often results in permanent physical damage, future health concerns, and even death. Illegal abortions are more common in developing countries, but also occur in developed countries such as the U.S. The graph below shows safe/unsafe abortions across the world.
Source: Guttmacher Institute, 2009.
Illegal abortions are often sought out in the developed world by young mothers not planning on pregnancy. Of the women that seek out an illegal abortion, forty percent deal with complications. It is estimated that five million women are hospitalized every year due to complications from unsafe abortions. In the U.S. alone, our government spends about $553 million annually treating complications from unsafe abortions.
Some examples of what can occur from unsafe abortions:
Infection
Hemorrhaging
Uterine perforation
Abnormal vaginal bleeding
Shock (which is the collapse of the circulatory system)
Abdominal pain
Damage to the genital tract
Loss of life
Summing it All Up
It is our hope that you find yourself with fewer questions than you did at the beginning of this article and that it is a helpful resource for you. If you still find yourself with unanswered questions, reach to Community Pregnancy Center of Lake Norman online or call us at 704-664-4673. Our team is here to help you through your journey, guide you through your pregnancy options, and provide you with the information and support you deserve.
Related Topics