A step towards your dream career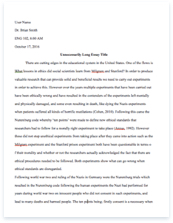 The whole doc is available only for registered users
A limited time offer! Get a custom sample essay written according to your requirements urgent 3h delivery guaranteed
Order Now
Keanny Gotay Professor: Kallaraco Criminal Justice- Internship 12/20/18 My Experience In Esperanza In high school I thought going to college was a waste of time and that it was going to be really hard to achieve a degree that would help me get a job. But I kept thinking and thought about not only would I walk away with a degree to help me out when it came down to looking for a job, but the useful and successful skills would also help and be worth it. A good job would help me pay back the money I borrowed in the first place to complete my higher education. But, after attending a college and graduating it made me proud of myself and made be believe more in me that I can accomplish anything I want in life if I put my mind to it. I realized that going to college would get you one step closer to being qualified for a career of your dreams. Esperanza allowed me to have fun while working hard.
It was fun because I got to meet new people who have the same interests and dreams as me. Having professors that cared about me and wanted to see me better myself inside and outside the classroom. Esperanza help me to connect more with God to have spiritual guidance that I needed. College education is important to me because a college education will provide me with the tools and knowledge to succeed in the field that I choose. The knowledge I gained from school will open doors for me, and let me provide a life for my family if I keep working hard. With these new opportunities will come more responsibilities where I can continue to learn and grow. My experience in Esperanza college was a great experience for me.
The way in how I grew up and found out who I really was, was great for me. This is something I will be grateful for, having this experience in my life. College was hard for me but I had a great support system that kept me going making college one of the best experiences of my life. I made great friends that supported me and helped me with any problems I had. God being number one, that gave me the strength to keep going when I felt to stop attending college. I didn't give myself the opportunity to get a internship where I could of leard more and get the experience that I need it. I been always a person where I do things last minute and didn't give myself time to take advantage of all the opportunities that Esperanza was giving me. I will take this as a lesson and do everything that the college offers that would help me grow and learn. But being in the office and doing that small, very short internship or whatever I did was helpful in some way because I spent time with you where you gave me advice and was honest in what I needed to do in the future.         
Related Topics