A speech about Laughter and its effect on society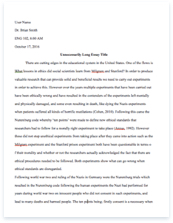 The whole doc is available only for registered users
A limited time offer! Get a custom sample essay written according to your requirements urgent 3h delivery guaranteed
Order Now
Biologically, there is only one quality which distinguishes us from animals: the ability to laugh. In a universe which appears to be utterly empty of humor, we enjoy this supreme luxury. And it is a luxury, for unlike any other social process, laughter does seem to serve a biologically useful purpose. In a divided world, laughter is a unifying force.
First of all, laughter is not the same as humor. Laughter is the physiological response to humor. Laughter consists of two parts — a set of gestures and the production of a sound. When we laugh, the brain pressures us to conduct both of these activities at the same time. When we laugh energetically, changes occur in many parts of the body, even the arm, leg and trunk muscles.
Philosopher John Morreall believes that the first human laughter may have begun as a gesture of shared relief at the passing of danger. And since the relaxation that results from a short period of laughter, laughter may indicate trust in one's companions. "Laughter occurs when people are comfortable with one another, when they feel open and free. And the more laughter there is, the more bonding occurs within the group," says Morreall.
We've long known that the ability to laugh is helpful to those coping with major illness and the stress of life's problems. But researchers are now saying laughter can do a lot more — it can basically bring balance to all the components of the immune system, which helps us fight off diseases. It also reduces levels of certain stress hormones. In doing this, laughter provides a safety valve that shuts off the flow of stress hormones that swing into action when we experience stress, anger or hostility. These stress hormones suppress the immune system, and raise blood pressure. When we're laughing, natural killer cells that destroy tumors and viruses increase, as so do disease-fighting proteins, and T-cells, which are a major part of the immune response.
What may surprise you even more is the fact that researchers estimate that laughing 100 times is equal to 10 minutes of running on the treadmill or 15 minutes of riding on a bike. Laughing can be a total body workout! Blood pressure is lowered, and there is an increase in vascular blood flow, which further assists healing. Laughter also gives your abdominal, respiratory, facial, leg and back muscles a workout. That's why you often feel exhausted after a long attack of laughter — you've just had an aerobic workout!
Human beings oppose each other on many great issues. Nations may disagree about systems of government and human relations may be plagued by ideological factions and political camps, but we all share the ability to laugh. And laughter, in turn, depends on that most complex and clever of all human qualities: a sense of humor. Certain comic stereotypes have a universal appeal. This can be seen from the world-wide popularity of Charlie Chaplin's early films. The little man at odds with society never fails to amuse no matter which country we come from. As that great commentator on human affairs, Dr. Samuel Johnson, once remarked, "Men have been wise in very different modes; but they have always laughed in the same way".
A sense of humor may take various forms, and laughter may be anything from a refined tinkle to an earth quaking roar, but the effect is always the same. Humor helps us to maintain a correct sense of values. It is the one quality which political fanatics appear to lack. If we can see the funny side, we never make the mistake of taking ourselves too seriously. We are always reminded that tragedy is not really far away from comedy, so we never get a lop-sided view of things.
This is one of the chief functions of satire and irony. Human pain and suffering are so grim; we float so often on the brink of the war; political realities are usually enough to plunge us into total despair. In such circumstances, cartoons and satirical accounts of dark political events redress the balance. They take the wind out of the snobbish and arrogant politicians who have lost their sense of proportion. They enable us to see that many of our most profound actions are merely comic or absurd. We laugh because we are meant to laugh; but we are meant to weep too.
The sense of humor must be singled out as man's most important quality because it is associated with laughter. And laughter, in turn, is associated with happiness. Courage, determination, initiative – these are qualities we share with other forms of life. But the sense of humor is uniquely human. If happiness is one of the great goals of life, then it is the sense of humor that provides the key.
Related Topics