A Critique of "Do Video Games Kill?"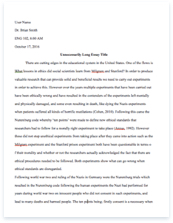 The whole doc is available only for registered users
A limited time offer! Get a custom sample essay written according to your requirements urgent 3h delivery guaranteed
Order Now
In the essay, "Do Video Games Kill?" Karen Sternheimer takes on the topic of media's influence on teen and adolescent violence in America. She focuses primarily on video games, particularly the recently popular "first-person shooter" games (p. 204). With the debate still raging on, there is a history that reflects the same problematic issues that we face today. Sternheimer follows this debate through many topics, but the encompassing theme is that there are many underlying issues that are not being addressed due to the acute focus on a media outlet such as video games. She leads us on this journey by introducing us to a video game called "Doom", and how its effects left a major impression on adults in the early 1990's (p. 204). "Doom" is a first person shooter game that allows a player to act as the "killer". The player's point of view, while playing, is reflective of the actual vision that a "killer" may have as they attack their victims. Sternheimer suggests that this game, through exposure to the media and other adults, has created a disturbance that has demonized the game and those who play it. She refers to these people as "Folk Devils" (p. 204).
With this impression left on many Americans it has become the only explanation to why school shootings and juvenile violence occurs. With the demonization of these video games, Sternheimer supports her stance that the focus on video games deters us from realizing the true reasons for this violence. She takes a very revealing look at how politicians use the stance against video games to keep their reputation in good graces with voters. "Regardless of whether any legislation passes, the senators position themselves as protecting children and benefit from the moral panic they help to create" (p. 205). Because it is such a passionate topic the press took full advantage and used this "Folk Devil" to entice readers with creative headlines such as, "Virtual Realities Spur School Massacres" and "Days of Doom" (p. 205). It's not only the politicians and media outlets, but this topic has been on the forefront of editorials, news reports and many studies across the country. "By focusing so heavily on video games, news reporters downplay the broader social contexts." (p. 206). Sternheimer entices readers to look deeper into this issue and consider different and more substantial reasons for these random acts of violence. She dives into the social and behavioral issues that may be the actual cause of these incidents.
Poverty, mental issues, school organization and home life are all underlying issues that Sternheimer claims to be a much more realistic and appropriate focus, when attempting to find a cause. Sternheimer creatively stays a step ahead as the immediate defense to any of her claims would be the research done throughout the years. Looking at many different studies, she concludes by discrediting the entire idea of doing research on media-effects on youth stating, "The biggest problem with media-effects research is that it attempts to decontextualize violence. Poverty, neighborhood instability, unemployment and even family violence fall by the wayside in most of these studies"(p. 208). Her stance on the topic is clear, but she is very cautious not to take a supportive stance toward video games, but rather chooses to entice the reader to think more outside the box. She knows her readers are affected the same way many Americans are. Readers are passionate about this topic and view this debate as truly one of Good vs. Evil. With that in mind she never clearly defends first-person shooter video games. Her stance is clearly against blaming these games for juvenile violence, but her delivery is much more subtle.
While persuading readers to think about the underlying issues, she leaves them open minded about why video games are not to blame. With the readers defenses down she finds a way to discredit all the research, reports and political stances, leaving a sense of value to everything she is stating. The reader is left with no other option, but to look into the social issues and compare them to video gaming and make their own decision. Sternheimer looks to leave the reader incredibly educated on the topic through her point of view and gives no other option but to attribute juvenile violence to social issues. It is my take that we as a society cannot take this issue and "pigeon hole" its cause into one explanation. With the complexity of our society today it is incredibly naive to believe there is one underlying explanation to any controversial topic.
Agreeing with Sternheimer, I believe that, "It is equally likely that more aggressive people seek out violent entertainment", and the issue of a violent nature may possibly be there long before any influence from video game occurred (p. 207). Equally important I think it is, "too simplistic to assert that video game violence makes the players more prone to violence, news coverage alone, however dramatic, cannot create consensus among the public that video games cause youth violence."(p. 208) In conclusion, Sternheimer's article "Do Video Games Kill?" asks a question that she is going to tell you the answer to. She opens up readers with her creative subtleties and persuades them with to agree with her. Without putting up a strong front, Sternheimer keeps readers open to the possibility that the passion and hatred they have for such a violent and realistic look at murder isn't the cause of these tragedies. Her stance is one that I agree with, but breaking through the passion and emotion of our society to make the reader understand the true culprit, is a tough task that she beautifully succeeds in completing.
References
Karen Sternheimer. "Do Video Games Kill?". Perspectives on Contemporary Issues – Reading Across Disciplines. 6th Edition (e.g. 2), pp.204-210
Related Topics