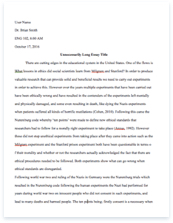 The whole doc is available only for registered users
A limited time offer! Get a custom sample essay written according to your requirements urgent 3h delivery guaranteed
Order Now
A college life is the transition into adulthood, and it helps students' to succeed in their academic and also in career. Student with less academic performance face difficult to make adjustment to college and this leads them to drop out from college without completing (Gillock, & Reyes, 1999). Those students dropping out from college can't return to college after finding out their problem (Card & Kruger, 1992). This research will show the effects of stress and academic self-efficacy among college students. The objective is to relate stress and self-efficacy to examine the academic success. Students with less academic performance and higher stress in them are deeply examine among college students (Feldman, Wlodkowski, Mauldin, & Gahn, 2001 ). The impact of self-efficacy, stress and academic success are explored in this research.
Self-Efficacy
Self-efficacy is how confident a student is managing themselves in difficulties situations (Bandura 1994). Self-efficacy has relation to students' in completing college education successfully. With only general self-efficacy measures can't find any college outcomes (Ferrari, Parker, Lindley, & Borgen, 2002).
Definition of Self-Efficacy
There is a positive relation between academic self-efficacy and time spending for studying in a day (Torres & Solberg, 2001). An ability to make an adjustment to perform in any activity. One's beliefs to achieve an success outcome is based on their self-efficacy. The level of students with high self-efficacy in one particular activity is different when compared with other activity. Self-efficacy level is depend on different stressors.
Components of Self-efficacy
Self-efficacy has main part in determining success. There are five important components of self-efficacy which are Emotional state and physiological state, and three experiences such that Mastery experience, imaginal experience and vicarious experience. These components are very important in defining about self-efficacy.
Theories related to Self-efficacy
Albert Bandura psychological theory on self-efficacy made a deep research on Self-efficacy among students. In general self confidence, self esteem are not used as self-efficacy, but in psychology it is known well. And five component will give detailed theory about self-efficacy.
Attachment theories convey the self-efficacy among students and how they relate with stress and academic. Among students academic and self-efficacy are more related.
Stress
Each and every student will experience stress during college life, and stress is in any situations the emotional experience which make them to react, based on stress students are managing their academic performance. Success in students' life is when they achieve good marks in exams and during these exams students experience high stress in them. Their expectation in results made them to experience high stress. Fear of test have negative effect on students and they also effect physically and mentally and mainly on academic performance (Becker, 1982 & Schwarzer, 1986).
Definition of stress
Generally stress is a psychological state that results in one's ability level on managing themselves and which they fail to manage when they are in high stress (Lazarus, 1966; Lazarus & Folkman, 1984). All age people will experience stress and lead them to have physical and psychological health issue. In college students' adjustment the main factor is academic stress(Gall, Evans, & Bellerse, 2000 ). If we can't able to manage stress it will also effect spiritual and social involvement. Student entering college after completing higher secondary education identified that negative factor affecting them due to stress (Perrine, Zhange & Richard, 1998).
Causes and Effects of Stress
In college students stress plays major role due to stress which effects their academic performance. An immediate action to any situation is the key to manage stress. Due to stress our body affects more physically and mentally and causes many problems in day to day life. Students memory and attention during any work in college is impaired by high level of stress.
Stress leads to less concentration on all works and make them to get poor academic performance.

Due to stress one can experience many health issues like headache, back pain, nervousness, less focusing on any work, lack of efforts to do their own work, disturbed sleep, eating disorder.

Stress made one to addict for drugs, alcohols and continuing it whenever they want without taking proper foods.

Select less tasks to avoid failures, once if students experience failure they mainly effect their self-esteem and they can't achieve goals.

Aiming on their goals should be low, because with stress they can't put full effort on goals and if they fail to achieve goals they experience high stress as before, hence less aiming on achievements make them to have less stress.
Components of stress
Stress has two reaction one is positive and negative. According to our self-efficacy the stress reactions will change. If stress is positive then it can be said positive stress or useful stress(u-stress). The stress has four components which interact with one another, they are stressors and three responses( physical, psychological and behavioral responses). The level of stress can be examined based on these components.
Theories related to stress
The Theories of stress is evolved psychologically from Theory of Emotion (James Lange & Schachter-singer), and The Emergency Theory (Cannon-Bard). The objective of these theories is to make relationship between stressors and stress and this stress grouped into systemic stress in physiology and psychology (Selye, 1976) and psychological stress in Psychology (Lazarus, Folkman & McGrath, 1982).
Academic success
Students success in college has been explored by two variables, grade point average in academic performance and achievement in test (Rothstein 2004, Zwick & Sklar 2005). And these variables do not give all explanation about academic success due to some complicated variables (Pritchard, Wilson, & Robbins et al, 2004). To understand students' academic success it is necessary to known about students adjustment in college.
Definition of Academic success
Students success in college is defined by their academic achievements and their activities on academic performance. Students who can't manage their stress and do not achieve their success drop out from the college, the main reason to dropping out from college is failure in academic, plan changes in career. These students get less opportunities in career and get low financial state (DesJardines, Ahlburg & McCall, 2002). Indentifying the students' academic difficulties and their failures help to give remedy to them.
Components of Academic success
Academic success plays major role in career. Today world is becoming more competition than before, if students get less academic performance they face more difficulties in getting career opportunities. The components of academic success are social skills, attendance action plan, learning ability, community partnership. They give an detailed explanation about academic success among college students.
Theories related to Academic Success
The Three theories give students academic success and factors affecting their academic performance (Spady 1970, Tinto 1975, & Bean 1980). The theory by Tinto has two objective, first students in higher education has laid foundation for research and second is focusing students individual ability to perform on their academic and factors affecting academic performance.
Significance of the study
In students life Self-efficacy, Stress and Academic success plays major role, and this research will explore about these variables. In this study says how students are performing on their academic and also it is mainly based on their self-efficacy. It gives useful notes about how students are behaving on their college based on stress level and using tools it can be view in detail. This study will give analysis of students academic performance.
Scope of study
The main scope of this study is to find stress level in students and how it affects on their self-efficacy and academic performance. Using measures to give remedy to students and to make them to achieve goals in academic. The measures will be made by using tools and final data result will be obtained.
Conclusion
Stress is a major problem among all humans, without self-efficacy one can't achieve their goals and this self-efficacy gives result of success in college life. The detailed information including definitions, components and theories of three variables are given in this chapter. The review of literature of these three variables will be explored in next chapter and it gives previous study researchers, which will be useful for further research.   
Related Topics