10 Question Survey on `Workplace Bullying`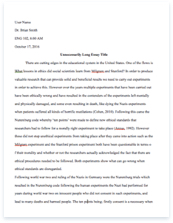 The whole doc is available only for registered users
A limited time offer! Get a custom sample essay written according to your requirements urgent 3h delivery guaranteed
Order Now
Topic: Prevention of Supervisory Workplace Bullying
Target sample: professionals aged 20 to 60 years old from different ethnicities
Sample Size: 25 to 30 respondents
Objectives: To determine the prevalence of "workplace bullying" in a working environment and to gauge the familiarity of the topic with the subject matter.
Questions:
What are the common problems you experience in the workplace?
(Ask if employee-relationship problems are not cited for Q1) Do you encounter problems with your co-employees? If yes, what are these problems? Please enumerate.
(Ask if not mention in Q2) Are you aware of workplace bullying? If yes, how do you define workplace bullying?
What are the forms or manners of bullying in the workplace that you know?
Who are usually involved in this kind of problem?
What do you think are the causes of workplace bullying?
What are the possible repercussions of workplace bullying?
Is workplace bullying an inevitable part of the workplace environment? Please justify your answer.
Have you been a victim of workplace bullying or do you know anyone who had been a victim? If yes, please elaborate on the circumstances.
What are your suggestions to prevent workplace bullying?
Related Topics