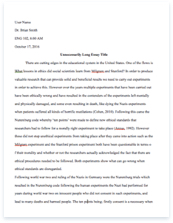 The whole doc is available only for registered users
OPEN DOC
Pages: 4
Word count: 885
Category: India
A limited time offer! Get a custom sample essay written according to your requirements urgent 3h delivery guaranteed
Order Now
From the very beginning I was extremely intrigued by "Impressions of an Indian Childhood" and "The School Days of an Indian Girl" and the way in which Zitkala tells her story. The reality of her choosing leaving the only place she has ever known and her family and being a Dakota Indian in a white boarding school while trying to stay true to her roots is amazing and empowering. There are many qualities that she embodied and hardships that she faced but only three really stood out to me. Zitkala Ša shows loyalty, fear, and her strong spirit to never give up.
From the very beginning Zitkala shows her loyalty and obedience to her mother. She admires her mother very much so and is seemingly willing to do anything to make her happy. One thing that really stood out to me is her promising her mother that she wouldn't have to come for water, because when she was as big as her cousin she would come get the water for her. Ša sees the deep hatred her mother expresses for the "paleface" or the white man and is brought up to hate the palefaces too for she learned they are the reason why her mother cries. Or at least she is supposed to hate them. After all, according to her mother Zitkala's sister and uncle would still be with them if it weren't for the heartless palefaces. Her attitude towards them was positive and optimistic. Zitkala came to a struggle with her loyalty to her mother when she decided to go off with the palefaces to the Eastern land to gain an education. Even though she knew her mother was hurting inside from the idea and didn't understand why her daughter would want to go with the "enemy", she still was eager to go.
Many could and may argue that Zitkala did not show fear at all but digging deeper into it and getting into her head she actually did. She longed for and missed her mother and was unhappy as soon as she left. In a world of strangers and far away from home she is not as "free" as she thought she would be. She was with the people who took her families freedom away from them by causing them to leave their home and move. A very significant event is the cutting of her long hair. "Our mothers had taught us that only unskilled warriors who were captured had their hair shingled by the enemy." Knowing this, Zitkala waits for a chance to go and hide because she does not want to submit and just allow them to cut her hair without a struggle. It is as if she is afraid of what her mother would think to know that these palefaces she thinks is so kind and wanted to go with so bad, chopped her beautiful hair off. Far away from home and her mother, her loyalty still lies with her and their Indian culture. "Then I lost my spirit" were the words that Zitkala wrote as to how she felt after she heard them gnaw off one of her thick braids. But the cutting off her hair only made her stronger and prepared for anything.
Her writings make it very clear that she had no one to express her frustrations or unhappiness to and that pained her. Her mother was not capable of comforting her and she spoke of her big brother not letting her go to a party with him, even though she traded back in her school shoes for her comfy moccasins. She did not fit in back at home anymore. But did she really ever fit in at school either? That did not matter to Zitkala though. Despite her mothers disapproval she went back to the East to get her college degree. She was troubled though, because she had no real friends among these "cold race whose hearts were frozen hard with prejudice" as she said about the palefaces. Even though in her heart she wished she stayed West, that did not discourage her. Instead, this Indian girl who spoke no English four years ago entered and oratorical competition. She was ridiculed and made fun of because her college chose a "squaw" to represent them. Zitkala showed strength by even entering that oratorical competition and on top of that won! This is something that really showed her spirit to never give up, along with not really having the support she would have liked to have from her family.
The unresolved feelings she leaves at the end of her writings about her mother go back to how loyal she was towards her. In a sense she is still
very loyal but she had to do what was right for her. Even though she faced quite a few trials and tribulations and all she really wanted was her mother to stand by her and support her. Their connection was torn and Zitkala was so hurt by that and she expressed that. So in conclusion, she showed her loyalty and still did even though her mother did not see it that way, she was faced with things she feared and in the end she did not let that hinder her and she never gave up.
Related Topics