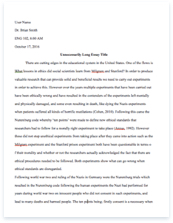 The whole doc is available only for registered users
A limited time offer! Get a custom sample essay written according to your requirements urgent 3h delivery guaranteed
Order Now
Part I: Describe the characteristics of an unhealthy relationship in the workplace. Just like personal relationships, workplace relationships can be both healthy or unhealthy. The nature of one's relationships in the workplace can relate to job satisfaction and success in that workplace. Describe three characteristics that would exemplify an unhealthy relationship with coworkers and/or managers. Most people spend the majority of their lives at work, and studies repeatedly show happy employees are more productive. Companies that treat their employees' well will earn huge dividends compared to those that dismiss and ignore their workforce. However, under siege to reduce expenses and stay afloat amid the rising cost of doing business, some working environments have turned into toxic cultures that make the workplace almost unbearable. Here are a few quotes that may sound familiar (Thompson, Houston Chronicle).
•"If I don't leave my job, I will lose my mind"
•"I feel like I am in prison"
•"I don't have a life anymore, it's all work"
•"My boss is making me crazy"
•"Everyone around me is negative"
If so, there is a strong possibility you are hearing a description of a toxic work environment. To some, the word toxic may seem too extreme for their workplace, while others heave a sigh of relief to discover someone has put a label on the way they are feeling. A toxic workplace is one that causes emotional and physical reactions over a period of time that diminishes productivity and happiness. Quite literally it resembles poison to your career and well-being. The good news is that a toxic work environment is not permanent one and recovery takes place once you identify the problem and develop a plan of action. Here are five ways to tell if your workplace is becoming toxic to your well-being:
•Increased anxiety: You live in a constant state of worry that you are doing something wrong; that if you make a mistake, you may lose your jobs; that you can't keep up with your workload; or impending doom. An anxious mindset often leads to mistakes.
•Anger: This can include an increased level of irritability, being short-tempered with those around you, being less patient or participating in blaming others. Too many demands and less time to meet them can create hostility.
•Lack of control: This can happen over time when you are overwhelmed with work pressures or change. There is a sense of powerlessness that comes from feeling ignored or being unable to say no to something. When work pressures increase and you have little input on how the work will be done, you can feel powerless and stuck.
•Loss of confidence: When you start doubting your abilities to do your job, that's a red flag you may be in a toxic work environment. Comparing yourself to other people and being reminded you are not meeting expectations can lead to a loss of confidence. When your work culture values the bottom line more than it does people, you can find yourself in a constant state of uncertainty, which often produces a feeling of low self-worth.
•Diminished relationships: This evolves slowly, but you may find yourself gradually losing interest in going out, being too fatigued to socialize or being so consumed by work that you don't have enough time for other people. In one incident, an employee described how he left work Friday night focused on being a recluse until Monday morning. He had no desire to go out or to develop relationships. He was too tired to do anything outside of work. Overcoming a toxic workplace can be a challenge, but there is often a sense of freedom that comes from understanding the situation you are in. You have a choice how you react to an unhealthy situation. There is hope. You can take back your life and find happiness in your career.
Part II: It is not uncommon to seek advice on relationships in popular media such as television, magazines, radio talk shows, self-help books/programs. Find a substantial example from a popular media source where relationship advice is given to improve workplace relationships. If you cannot locate an example you may use one of the samples provided below. Answer the following: What sort of information is included? Provide a brief overview of the advice given. The media source I used for this paper comes from the Houston Chronicle Small Business Section. At one point in my career we were encouraged to read this section daily. On workplace relationships there are four areas that were touched on, They are: Basics
Human relations in the workplace are a major part of what makes a business work. Employees must frequently work together on projects, communicate ideas and provide motivation to get things done. Without a stable and inviting workplace culture, difficult challenges can arise both in the logistics of managing employees and in the bottom line. Businesses with engaging workplaces and a well-trained workforce are more likely to retain and attract qualified employees, foster loyalty with customers and more quickly adapt to meet the needs of a changing marketplace. Improving Retention
The quality of workplace relations is critical to employee retention. Employee retention may seem trivial — especially in a workplace that is used to a high turnover — but managers must remember that turnover is financially very costly. Every new employee requires a substantial investment of time and energy in their recruitment and training. In addition, severing ties with old employees can sometimes be challenging, especially if the circumstances are not particularly amicable. Making sure quality employees remain interested and engaged in the business requires patience, compassion and flexibility, but can actually make the business more financially sound. Related Reading: Importance of Human Resource Training
Motivation and Productivity
Workplace relationships provide a source of employee motivation, which is important to maintaining productivity. Employees who are interested in their work and in the well-being of other employees tend to be more productive than those who are not. This productivity pays obvious financial dividends to the company, as it can get more done in less time with fewer costs. Building relationships, by both recognizing an employee's value to the company and a concern for their needs, often goes a long way. Fostering
Creativity
The modern business environment often rewards businesses that are able to quickly develop products that meet changing consumer needs. In some industries — such as technology, for example — employees' ability to come up with effective new ideas is often the difference between the entire company's success and failure. According to Sallyport Magazine, research shows that creativity is based to large degree in social interaction. Employees' creativity is often dependent on their ability to communicate with other employees and share ideas. Without quality workplace relationships, employees are less likely to be able to develop and share the solutions that a business needs to survive.
Compare the advice given based on what you have learned from the reading and course and what was stated in the media. Is diversity or a diverse workplace considered and/or mentioned within the media example you have selected? It was not mentioned in the article. Why would it be important to consider diversity within the workplace, when examining workplace relationships? Workplace diversity fosters mutual respect among employees. Whether employees work in groups or teams comprised of co-workers with varied work styles, or colleagues who represent different cultures or generations, a synergistic work environment become the norm. Although an idyllic atmosphere may be difficult to achieve, employees nevertheless recognize the many strengths and talents that diversity brings to the workplace and they gain respect for their colleagues' performance. Using what was learned in our course and text, discuss three ways to add to/improve the advice given and make it more credible.
Reference: Mayhew, Ruth: Houston Chronicle: May 17, 2013 Why is Diversity in the work place important to Employee's? Thompson, Kim: Houston Chronicle: April 12, 2012 Five signs your workplace may be toxic Pettryni, Matt: Houston Chronicle: October 18, 2013, The importance of human relations in the workplace
Related Topics