Why We Crave Horror Movies by Stephen King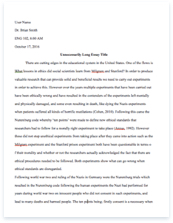 The whole doc is available only for registered users
A limited time offer! Get a custom sample essay written according to your requirements urgent 3h delivery guaranteed
Order Now
Essay Analysis of Why We Crave Horror Movies
Thesis:
Stephen King never clearly states the thesis of this essay however there is enough information provided that we can infer one. We need to keep our inner lyncher at bay by feeding ourselves with small portions of demonic, bloody, violence, found in horror movies. King writes "It deliberately appeals to all the worst in us. It is morbidity unchained, our most base instincts let free, our nastiest fantasies realized…" (Why We Crave Horror Movies, paragraph 12) and by doing so he's implying that horror movies are like a temporary fix for our violent craves. Type of essay:
Why We Crave Horror Movies is an informal Cause and Effect essay. We know the essay is informal because the thesis is not presented early in the essay and isn't clearly stated. Instead it is explained over the course of essay in bits and pieces until the reader finishes the last line. The essay is also organized in an unorthodox manner and doesn't comfortably fit the standard essay format (present thesis plus three points of proof in first paragraph, support points with evidence, etc). Knowing these two facts it's clear to see that this is not a formal essay and instead is an informal essay.
The essay isn't trying to argue a point or compare/contrast two things. The essay is, however, proposing a cause and the effect it has. Stephen King explains to us that we need to escape into a fiction, and one of our ways of doing that is through horror movies. This is the cause of the essay and the effect is that by doing so we can keep our wolves at bay and maintain sanity throughout our normal day. He also goes on to say that by ignoring our sadistic urges and desires, we cause more trouble than good.
Tone & Strategies:
The tone of Why We Crave Horror Movies is an objective tone because the author is trying to sell the idea that we need horror movies to keep our demons away. Something to wean us off of total insanity. "Why? Some of the reasons are simple and obvious." (paragraph 3) Stephen King gives answers to the questions premeditated in our heads. By answering questions that the reader may have, his objective can remain the focus of the essay. King goes on to say "if, on the other hand, your insanity leads you only to talk to yourself when you're under stress to pick your nose on your morning bus, then you are left alone to go about your day." (paragraph 8). This makes the essay relative and more comprehensible for the reader. We all do slightly crazy things from time to time (whether we want to admit it or not is entirely up to us), so King is able to use this method to help get his message through to the reader.
"One critic has suggested that if pro football has become the voyeur's version of combat, then the horror film has become the modern version of public lynching." (paragraph 6) This is a prime example of one of the many argumentative strategies in the essay. Not only does the said quote prove that King's opinion is shared by others but also that it appeals to authority. By including an experts shared opinion on the matter, King's argument becomes much more compelling.
"To show that we can, to show that we are not afraid, that we can ride this roller coaster" (paragraph 3) is an extremely effective metaphor king uses to help better describe why we go to see movies in the first place. We've all been on a roller coaster before so we can easily relate to what the author is explaining to us. King also uses a personal anecdote as an example of feeding our dark side what it wants; "For myself, I like to see the most aggressive of them – Dawn of the Dead." (paragraph 12) Finally the author uses consequence to sell us the idea of watching horror movies. "Why bother? Because it keeps them from getting out, man. It keeps them down there and me up here." (paragraph 13) The quote is not only a consequence but also a symbol. (there aren't any real gators, the gators represent our shadows evils). He explains that if we refuse to feed our dark side than the hunger can overcome us and consume us instead.
To sum it up:
Argumentative Strategies
Appeals to Authority : "One critic has suggested that if pro football has become the voyeur's version of combat, then the horror film has become the modern version of public lynching." Example : "For myself, I like to see the most aggressive of them – Dawn of the Dead." Consequence : "Why bother? Because it keeps them from getting out, man. It keeps them down there and me up here." Literary/Rhetorical Devices
Metaphor : "To show that we can, to show that we are not afraid, that we can ride this roller coaster" Symbol : The alligators in "Why bother? Because it keeps them from getting out, man. It keeps them down there and me up here."
Related Topics