Why was Haier so successful in China?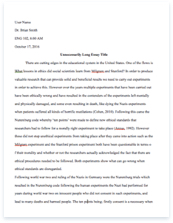 The whole doc is available only for registered users
A limited time offer! Get a custom sample essay written according to your requirements urgent 3h delivery guaranteed
Order Now
Why was Haier so successful in China?
ANSWER
Haier Group became the business leader in appliance manufacturer business in China by the end of December 2004. The fact that it was the second largest manufacturer of refrigerators globally was evidence of its outstanding growth. Haier strictly abided by its objectives in a very focussed way and worked hard towards achieving success. The following are the reasons for Haier's sucees story in China: •Commitment to Quality:
Haier stressed on greater commitment towards quality than their competitors. Zhang believed that this commitment should percolate down to the lower ranks as well. Haier realised that in a business as theirs, they had to provide supreme quality in order to stay for long. Hence, in order to make workers realize to the importance of quality, Zhang once ordered them to smash 76 refrigerators which did not meet the required specifications.
•Continuous Innovation:
Haier realised that differentiation is the key to succeed in this kind of a market. They felt they would employ innovation to differentiate their products. They continuously increased their product range through innovation. They had about 96 product categories with 15100 specifications. The company always won praise for its innovative products. This ensured healthy cash inflows to the company in the long run.
•High Market Responsiveness:
Haier believed in high market responsiveness. It employed the principle of understanding the needs of its customers and then manufacturing products to suit them. Its 42 distribution centres around China operated as independent "sales companies" that were responsive to the needs of the customers. It was a customer focussed company.
•Reputation of the Brand:
Haier followed a single brand approach. They believed that a strong brand name would help them in their approach to go global. Their strategy involved developing brand around a single product first by spending immensely and once it was successful, they would diversify into other products.
•Customer Service:
Another key differentiating factor was superior after sales service to its customers. They had a service network 5500 independent contractors, one for each sales outlet. It provided free temporary repairs and full repair costs within warranty periods.
•Operational Efficiency:
Haier was high on operational efficiency. Foe high levels of efficiency it had a single company called Haier Logistics which served the entire group for all kinds of products, very much unlike its Chinese counterparts. Haier had a unified logistics department for all product lines which reduced transportation costs and enabled speedy deliver.
QUESTION 2
Was Haier's decision to globalize into developed markets early on a good strategy? ANSWER
Haier global expansion strategy in the year 1997 was built around its three thirds framework. The competition in the developed market was tough as most of the market players had established themselves there. However, there was an ample opportunity available to be exploited to its full potential in the emerging markets. Going by conventional wisdom, Haier should have focussed first on the emerging markets. Instead, it decided to focus on the "difficult" developed markets first and after establishing a considerable presence over there, it decided to go after the relatively easy emerging markets Haier focused on niche products and offered variety of versions for different market segments to be in line with their belief in being responsive to customer needs. It was a learning experience for them. However, this strategy suffered a few drawbacks – •Haier could not get a large market share in the US as it was an unknown brand there and there were other strong and established players like GE, Whirlpool. Hence, it was not able to set up a strong footprint in the US. •It is difficult to gain penetration in the developed markets as they are more mature and stable.
•Chinese products are perceived to be having poor quality products. In the developed markets, the consumers are not willing to sacrifice quality at any price. Haier, being a Chinese company had to face these issues.
QUESTION 3
Can Haier build on its success in niche products to become a dominant global brand in high-end white goods? ANSWER
Haier followed the strategy of entering developed markets with a few models to test the waters and steer clear of major competitors. E.g. in US they decided to manufacture compact refrigerators for students and offices. With minimal competition, these niche products brought in high margins, and also got the attention of major retail chains like Wal-mart. Once they were successful in this segment, they decided to launch regular products like the standard refrigerators and washing machines. However, when the company decided to move beyond niche markets and introduce its full line of products in US, it faced certain challenges. Though people were ready to buy Haier refrigerators, they could not recognize it as a prominent brand for other appliances. With its niche products, the company was able to meet customer satisfaction and attract more customers under the brand "Haier". It may leverage the success in this segment to become a dominant player in the white goods market. If the demand of their unique product increases, it will lead people to know their brand more. This increased brand visibility could help to increase the sales of their core high-end white goods.
QUESTION 5
Zhang Ruimin is a celebrity in China now. Would a company like this have emerged were it not for him? ANSWER
Zhang Ruimin is the one responsible for making Haier a brand, which no one would have thought of, considering its Chinese lineage. He has done a laudable job, which might be difficult to replicate by anyone else. The results he has achieved, are a true reflection of his abilities and his strategies. Anyone else apart from Zhang may have had succeeded in developing the factory as a profit center. However the company would not have emerged like this. This is because Zhang carried the good work further and created a brand out of it. The following are the reasons that delineate . Zhang was unique in several aspects: 1)Zhang was very attentive; continuously monitored the customer needs and looked out for potential gaps which had to be filled. 2)He was a quick learner and had a great foresight. This proved quite beneficial to the company. 3)He always questioned conventional wisdom. His appetite for answers often helped him to see more than what his competitors were seeing.
Related Topics