Why Chinese mothers are superior Argumentative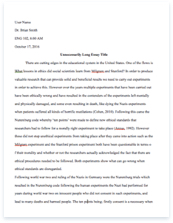 The whole doc is available only for registered users
A limited time offer! Get a custom sample essay written according to your requirements urgent 3h delivery guaranteed
Order Now
Amy Chua a Yale professor who specializes in topics such as ethnic conflict and globalization, believes that the American parenting style is weak and cuddling. This article is from her essay titled Battle Hymn of the Tiger Mother, explains her opinions in more detail. "In one study of fifty western American mothers and forty-eight Chinese immigrant mothers, almost 70% of the western mothers said either that stressing academic success is not good for children or that parents need to foster the idea that learning is fun. Roughly 0% of all Chinese mothers felt the same way." According to the author the Chinese child is not free to make any decisions in their adolescent life, where American mothers want their children to make good decisions on their own.
What makes a child excel? Amy Chua, in her work "Why Chinese Mothers are Superior", writes to inform her readers that Chinese parents raise successful children because they are stricter than typical Western parents. She states that Asian parents hold higher standards, that Asian parents are more direct and even caustic in their reprimanding of their offspring, and that the Chinese believe children owe their parents everything is the cause of these differences. However, Chua greatly oversimplifies the issue of parenting, stereotyping both the Chinese and Western cultures, and she does not address the negative consequences of the Chinese parenting perspective.
Chua begins her argument with a list of what her children can and cannot do, as proof as to why they are successful. She sets up a Western v/s Chinese dichotomy, comparing Western parenting strategies to Chinese parenting strategies. While Chua admits that she has seen parents from other cultures follow similar protocols, she then precedes w dichotomy. Chua also provides examples of parental phrasing that is acceptable in Chinese culture, but is viewed as abusive in Western culture. She believes that Western parents are too "caught up in their own conflicting feelings about achievement" to make sure their children make straight A's. (Chua 54-5) Chua opines that Chinese parents are not as concerned about their child's self-esteem, and cites parental fealty as the impetus for Chinese children being driven to succeed.
Her overall assessment seems to be that Chinese parents care more about their children's success and do not allow failure to be an option. Chua's purpose was to inform readers about different cultural approaches to parenting, specifically comparing the Chinese and Western models of parenting. Chua does a great job detailing the Chinese point of view, their actions, and the logic behind these actions. However, Chua does commit several logical…The Chinese Success Why are Asian children the smartest in school? It is because of their mothers. The stereotypical Asian mother wants the best for her children.
She wants them to have the best grades and to be the best in everything. Well, that is not a stereotypic. This is true. In Amy Chua's article "Why Chinese Mothers Are Superior," she describes what she does to make sure that her children keep on top and be the best at everything they do. Many people believe that her parenting method is harsh but I do not. Her methods of self-esteem, believing that their children owe them everything, and knowing what is best for their children creates a better, more educated student.
Western parents care about what their children feel after a scolding or argument. "They worry about how their children will feel if they fail at something, and they constantly try to reassure their children about how good they are notwithstanding a mediocre performance on a test or at a recital" (Chua). A Chinese parent will not do that. On tests, if the child received anything lower than an A, there was something wrong. In the Chinese household, "there would be a screaming, hair-tearing explosion" (Chua). Even though this is a bad experience for the child, this specific parenting method is effective and valid. The child learns not to give up if he or she cannot accomplish something. They will not accept failure in any way and in the working world; they will finish a project to the end with working results.
Western parents do not believe that their children owe them anything in return for life. Chinese parents think that is incorrect. "Chinese parents believe that their kids owe them everything…it is probably a combination of Confucian filial piety and the fact that the parents have sacrificed and done so much for their children" (Chua). Chinese parents make sure their children understand the material and practice, practice, practice. Chinese children pretty much…
Related Topics