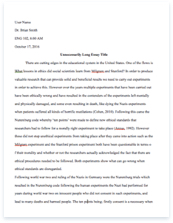 The whole doc is available only for registered users
OPEN DOC
Pages: 6
Word count: 1293
Category: Food
A limited time offer! Get a custom sample essay written according to your requirements urgent 3h delivery guaranteed
Order Now
Assignment Questions:
1. What are the chief elements of the strategy that Whole Foods Sale Market is pursuing?
* As this response explores the strategies Whole Foods Sale Market is pursing it all falls back to their core values, which is, "Whole Foods, Whole People, Whole Plan." At Whole Food Sale Market they care about having the best foods, embrace their staff, value their customers and above all the environment. To stay true to their values Whole Foods Market has come up with a variety of different strategies which are the following:
* They have expanded the company and in result have opened new stores and have hired employees who share some of the company's core values. * Whole Foods Market also took the risk and bought one of its biggest competitors, Wild Oats Market. While this acquisition was a risk it also allowed the company to compete with other stores in new states and in bigger cities. * The company has also opened new stores and reallocated some of their stores. The cause of opening new stores and reallocating is that the company prefers to have their name in busy shopping centers/areas, attractive real estate neighborhoods, and access to parking spots. * Whole Food Sales has also done a variety of analysis, which has allowed the company to better serve their target markets, which are people with an education and have higher income.
2. Is the Whole Foods' strategy well matched to market conditions in the food retailing industry?
* Whole Foods Market is a company that is committed to selling and serving all natural and organic foods as well as other nonfood products in their stores compared to other food retailing stores (competitors) that only offer a portion of their products to be natural or organic. In order for Whole Foods Market to obtain and fulfill their core mission and strategies they have to ensure that their products from their suppliers meet the high standards of the company and most importantly its customers. If the company fails to ensure that all their products meet the finest quality of nutrition, appearance, and taste it can result in having their image and reputation ruined.
* Whole Foods Market has successfully been able to attract employees that reflect the company's objectives and mission. John Mackey strongly believes that having team members (employees) that care about the company's values will be reflected in the type of service they give to those that walk into Whole Foods Market. If their employees provide quality service to customers and fulfill their needs, those customers will return, which results in increasing sales and as result investors will be pleased. With a strategy like this everyone from Whole Foods Market's CEO, employees, customers, and investors come out winning.
* One of the improvements I see Whole Foods Market can do to better serve their strategies is to eliminate their expense of the "middlemen" (distributors) and should deal directly with producers and manufactures which could result in saving money and can lead to offering their customers lower prices for their high quality products.
3. Do you think John Mackey has a good strategic vision for Whole Foods? Why or why not? What do you like/dislike about the company's mission/vision "Whole Foods, Whole People, Whole Planet"? Do the mission/vision and the core values underlying it (case Exhibit 3) really matter at this company or are they just nice words and cosmetic window dressing? Explain.
* From everything I read in case 2 and all the additional research I have done in regards to Whole Foods Market I can say that CEO John Mackey has a great and very successful vision for his company. The reputation that Whole Foods Market has is one that is not easy to imitate, they have become one of the leading natural/organic food retailers in the country. John Mackey's vision for Whole Foods Market is to become an internationally recognizable brand not only for providing customers with the best natural and organic foods/products but also for being the best food retailer in the community. In Mackey's vision he also believes in creating a work environment where his team members (employees) have the ability to be more creative, can become more committed, and above all enjoy working for the company.
* Whole Foods Market's vision, "Whole Foods, Whole People, Whole Planet," describes and focuses on three main factors that make up the company.
* Whole Foods: Focuses on the high quality of products that are offered at its stores. * Whole People: Focuses on its highly trained employees, which reflects what type of service they want to provide their customers, the best. * Whole Planet: Focuses on the social responsibility the company has towards the planet.
* I believe that their mission/vision statement clearly reflects what type of business Whole Foods Market is however lacks to mention their desire to satisfy customer's needs and their goal to help consumers live a healthier life. * I believe that Whole Foods Market is a company that is driven by its mission statement and does not just use it for window dressing. They provide their customers with some of the best and highest quality of food that is natural and organic. The company is truly committed to making their company one that employees enjoy working for and feel they can work creatively and with passion. They are also a company that is very socially responsible and has taken many steps to fulfill that responsibility. In addition the company has created the Whole Planet Foundation, which helps those in needs. The company has gone as far as not offering plastic bags and educating their customers about local farmers and about the type of animal care the meat/poultry in their stores have been through.
4. Do Whole Foods Market's core values as presented in case Exhibit 3 really matter? Are they "real" or just cosmetic window dressing? What evidence can you cite to support your answer? Have Whole Foods' core values contributed to the company's success? Why or why not?
* Whole Foods Market through its products, employees, and its social responsibility has proven to its customers and the rest of the world that they are company that is driven by their mission/vision statement. They are committed to only sell high quality products that are natural, organic, and gourmet products to its customers. Whole Foods Market has also taken a strong initiative to be a socially responsible company and environmentally friendly, which is also apart of their core values and mission statement. One can conclude that due to Whole Foods Market staying true to their core values and mission statement it has been very successful in the food industry market.
5. What recommendations would you make to John Mackey regarding the action hat Whole Foods' management needs to take to sustain the company's growth and financial performance?
* My one recommendation for John Mackey as stated in my response to question 2 is that they need to find a way to cut the "middlemen" (distributors) and should consult and deal directly with producers and manufactures to cut on expenses which will be reflected on product's lower prices. I believe this approach will increase their traffic in their stores and will retain customers for their great service and their great price. This is a strategy I see that can work both effectively and efficiently to increase the financial performance of the company. In addition the company will than be able to fulfill their goal of providing healthy food to live a healthier life for more people in the United States as well as for their customers abroad.
Related Topics