What Makes Man Truly Human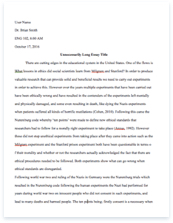 The whole doc is available only for registered users
A limited time offer! Get a custom sample essay written according to your requirements urgent 3h delivery guaranteed
Order Now
We all human beings are all aware that we are not necessarily human. It takes much time and effort for us human beings to grow to the point where our own nature has reached full realization. To become truly human, I must know my duties and responsibilities as a member of our society. I must understand the truth and meaning of life and must act like one. The fear and love of God makes me understand on what a truly human is. It is by following one's heart and doing everything that I'm capable of. But, it doesn't permit me doing everything I wanted.
It is by doing good things to others and helping anyone who's in need. For me to be truly human, I must never step on anyone and try not to hurt someone in anyway. Asking forgiveness and forgiving others are the qualities of a true human must also have. And we must always remember and understand by heart that we are all created in the image and likeness of God. As God's reflection we enjoy the gift of freedom but we misused this freedom so we become broken, we experience pain, death and love. By this experience I realized of what a truly human is.
By loving, we tend to live for we love the idea of living itself is undeniably true that love is the root of all things. The human being is a complex matter and I believe that just trying to understand life and what it means to be human is a futile undertaking. I believe that I have to try to understand life and get a grip on the many faces of life, because it can be of great value to me to learn to recognize the fundamental principles of how life is lived to the fullest. Learning to recognize the good and evil forces of life helps me to make use of the good ones.
To be human is to balance between hundreds of extremes. Sometimes I have to avoid these extremes, but at other times it seems I should pursue them, to better understand life. Human life is so different from the lives of trees and animals. The fullness of humanity not only takes a great deal of time to reach but often in a significant way it is not reached at all. We are surrounded on this planet earth with many human beings who sadly lack very important human traits and still not develop their full humanization and full development.
In such an understanding of life the fully human person is one who lives a life of a completely developed human being. Every human being had physical potential, mental abilities, communication skills and social skills; Human beings have physical potentialities and it is possible for them to develop their bodies and their bodily skills. Some of these skills are connected with sports and leisure as they learn to run, to swim and to dance. Other skills are practical: the ability to type, the ability to drive a car or to fly a plane, the ability to master crafts such as carpentry or masonry.
Human beings have many mental abilities that can be developed. They can expand their capacities to imagine and to dream of new possibilities. They can develop their human sensitivity, becoming more aware of themselves, of other people and of nature. They can learn to think more logically and to bring rationality more completely into their lives. They can become expert in one of the many human sciences. They can become more aware of the presence of beauty in nature and in the human arts. They can become more open to the real of the mysterious and the sacred.
In many different ways the human mind can be developed. Human beings can develop communication skills, learning how to read and to write and to talk. It may take years to develop these skills but, once they are mastered, individuals are better able to function as full human beings. They can express their ideas clearly and forcefully. They can bring understanding, joy and beauty to those who read what they write or who listen to what they say. Human beings can develop their social skills in many different ways.
They can become loyal friends, good mothers and fathers, active members of society. They could become generals in armies, religious leaders and effective leaders of political communities. As individuals learn to play their roles in society and make significant contributions to society, they fulfill some of their social potentialities. Always remember that we are free of what to do in our lives because freedom also makes man to be truly human but not all things that we want we can get it. Always remember that all of this has limitations.
What makes man to be truly human is that when he fulfill his duty living in this word serving and respecting his mother, aunt, ladies and etc. that surrounding him without any malicious activity. It takes tango to be a man. Living in this world created by God for his children, raising your voice and hand to a woman doesn't make you wise man as well as a human. To become truly human I must fulfill my human life, achieving the full development and full humanization. In such understanding of life, the fully human person is one who lives a life of a completely develop human being.
Related Topics