What makes man truly a human being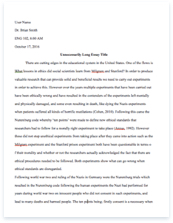 The whole doc is available only for registered users
A limited time offer! Get a custom sample essay written according to your requirements urgent 3h delivery guaranteed
Order Now
Many belief, reactions and understandings that comes into my mind that leads me to many questions on what really makes man truly a human being. In this context, humans are not necessarily human beings. Humans at first are "animal" for them they are not yet develop to be a full human it needs time, effort, struggles, education and training by our parents, family, friends, society in order fulfill that development.
When did not achieve that development, we remain "animal". Based on a biblical narrative, that being a human being it bears the image of God but through the person of Jesus Christ that made the people to be equally love by God and respect to one another. Having a physical, mental, communication and social potentialities we can attained that full develop because in exercising that all potentials we can create a better human being within ourselves and it is a unique to each human or person.
MAKING MAN TRULY A HUMAN BEING
What makes man truly a human being: Issues, Concerns, Opportunities Since I was young, what I believe that when you exist in the world as a human is simply you are already a human being with your soul and body which our body is ruled by our soul because in my mind before the humans are created by God is simply the reason why it becomes him a truly human being. As time goes on, my belief changes on what have learned from the school, from other people and on what new belief that I get.
Being a Human being has many characteristics or qualities to consider that is why human beings are not necessarily humans. Based on the article made by Michael D. Moga, S. J. , there are 2 reasons behind that statement, "Human beings are not necessarily humans". First, human needs time, effort, training, education and struggle with the help by the parents, family and society in achieving the full humanity because when not achieving the full humanness you cannot be a fully human.
Second, we cannot avoid that in this physical world there are humans that cannot attained the full development of the required basic qualities that is needed to be fully human so some people will call them "animal" because of ignoring their human dignity. As a human we are unique species that are created in this physical world. We need to gone through many struggles, trainings, time and effort just to reach that full development not like other species that rapidly grow faster in the state of full development.
In the context of a biblical text, being a human being is created through the image of God. Based on the article made by R. Robert Creech, Ph. D. under biblical narrative that human being bears the image of God but through in person of Jesus Christ. Through this we are equal to the eyes of God and equally loved by God. Also, bearing the image of God we are valued and respect as a human being. Human as a human being based on the Greek Ideal of full development that every human as a being have many capabilities because of having some natural potentialities which is unique for every human that is needed to be a fully human.
We have physical potentialities like sports, the things that we are capable to do, leisure time, and etc. We also have some mental potentialities that out brain or mind will be developed like having a mind to think broader things, capable of imagining things, can develop an open-minded mind.
Next, we are developing also communication skills which needs time to develop that is why we need to read some books, articles and some and practicing to talk well in order to express well the things that need to be said and that so you can fully develop a fully human being. Lastly, social potentialities have to do with its role to the society in order to develop relationship to the other people. By developing all of the potentialities, we can fully develop as a human being.
REFERENCE:
Moga, M. (1995). What makes man truly a human? A Philosophy of Man and Society, Makati City: St. Paul's Press. Retrieve from http://adduphilo104. blogspot. com/2008/02/what-makes-man-truly-human. html Creech, R. Ph. D. What Is a Human Being? Explore God. Retrieve from https://www. exploregod. com/what-is-a-human-being
Related Topics