"What Is Poverty" by Jo Goodwin Parker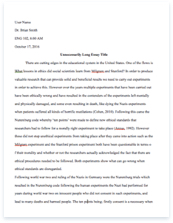 The whole doc is available only for registered users
Pages: 2
Word count: 491
Category: Poverty
A limited time offer! Get a custom sample essay written according to your requirements urgent 3h delivery guaranteed
Order Now
J.G. Parker releases her story about living on the streets in her essay "What is Poverty?" The message that J.G. Parker's essay is trying to show is told through caustic comments and creative hints throughout her essay. If you look past the wall of emotion that she throws on the reader, the proposition of her story is clear. J.G. Parker tries to explain poverty so that her audience, or those who oppose her thought of poverty, does not feel sympathetic or benevolent, but relatively understanding. She goes on using literary techniques, and emotions that grab hold of the reader's heart, which is pathos. J.G. Parker writes this essay of herself, as a woman living in poverty, with the small sum of money she receives from the state. Her position in poverty never heads north and from her viewpoint there is no way that she can get herself out of this "bad case of poverty" she got herself into. This essay is basically dialogue between the intended reader and J.G. Parker, broadcasting all the reasons why she is stuck in her impoverished lifestyle, and avoided because of her social placement. "I am dirty, smelly, and with no "proper" underwear on and with the stench of my rotting teeth near you." (¶ 1).
That is one example of how J.G. Parker uses literary techniques that represent her emotional state and her use of descriptive adjectives. The way Parker breaks this down just brings the reader further into her essay. A representation of this is when Parker describes when she left her kids with "Granny" and "bits of her baby's flesh" that came off when she removed a "dried diaper."(¶ 3). These details are used so the reader can understand as much as possible, without actually being in poverty. Logos would be one thing not used in J.G Parker's essay. The absence of this specific technique adds to the emotional aspect. If J.G. Parker were to begin stating facts about poverty statistics and abused children whom live with their homeless mother, the readers would automatically fall into boredom and the attachment to the essay would be lost. The use of pathos increases the emotional force of her essay and creates a connection between the writer and the reader.
The use of ethos, by providing such detailed descriptions, creates a story that begs to be listened to, and her lack of logos strays away from factual statistics so that the reader can focus on what the story is trying to say. J.G. Parker's goal is not to receive sympathy from the reader. She does not ask for any benevolence or words of comfort, she would oppose such treatment. The one tool she has to use that would spread the word about her situation, and others like it. She speaks through words of expressive power, she addresses the emotions and hopes only to clear the stereotype out the minds of the unknowing.
Related Topics