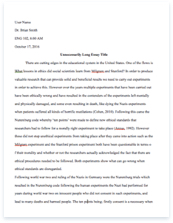 The whole doc is available only for registered users
A limited time offer! Get a custom sample essay written according to your requirements urgent 3h delivery guaranteed
Order Now
Problem Statement: Wendy Peterson is faced with the tough decision to supply Fred Wu with an assistant or lose him to a competitor. Peterson's actions going forward could affect the other members of the office and alter the working relationship with Wu in the future.
Hypothesis 1: It may be possible that the Psychological Contract between Peterson and Wu may have been violated. Analysis: In "Note on Managing The Psychological Contract," Measurement tools and Measurement By Objectives have the most direct impact on a Psychological Contract and Wu was always just "too busy". In many instances, Wu violated the Psychological Contract by ignoring Peterson's directives for using their in-house Measurement tool to log sales activity. Wu is very familiar with the tool, yet continuously disobeyed orders from Peterson. He also rarely attends their weekly pipeline meetings, stating he was networking. Again, Wu is just too busy. Wu also violated the contract when he decided not to show up for AccountBank's marketing conference, which was a no-call, no-show. Staff are expected to volunteer their time and pass out materials, but Wu did not, leaving his team clueless on his whereabouts. His lack of communication to peers and his superiors is a problem.
Hypothesis2: It could be that the National Cultures are different between Peterson and Wu. Peterson is unable to "read" Wu and the choices he makes, further indicating Peterson's misunderstanding of the cross-cultural differences. Wu's Corporate Culture involves more face-to-face interaction such as meeting for breakfasts, luncheons and dinners to earn the respect of his Chinese clientele. Peterson is unaware of the Chinese Corporate Cultural norms, therefore doesn't understand Wu's direction or strategy. Furthermore, while serving his clients, he doesn't believe Account Manager's should handle his accounts without him being copied on all emails and communication; he'd rather fulfill their requests independently. Wu also reprinted business cards in Mandarin without the approval of Peterson so his Chinese clients can read them.
Hypothesis 3: It might be that Wu does not share the same Group or Social Identity as Peterson and the rest of the sales team. Analysis: Wu doesn't have the same interests, values or social attitude as his team. One example is on casual Friday's, he wears a suit when all other staff dresses down. When the team gets together for after-work drinks, he does not go. He rarely makes or receives phone calls at his desk, usually always in private. When his long-time friend visited, he didn't introduce to his team, instead they left. Wu's Social Identity isn't necessarily wrong; it's just different than the company culture currently in place at AccountBank. His identity aligns with his Chinese community, as he is on the Board for the Chinese Community Center and a Chinese School where his children attend.
Hypothesis 4: It could be possible that Peterson did not use the proper motivator when addressing Wu. Analysis: Peterson has a "one size fits all" mode of managing her team. Peterson uses the "drive to bond" form of motivation, which is well reflected in the article. When Peterson takes over the Plano office, she feels the salesforce is disengaged. To rectify the situation, Peterson organized group outings, sets up luncheons and mentoring programs for younger sales representatives to work with senior sales representatives in hopes of bonding her team. She even went so far as to require daily contact for updates and weekly pipeline meetings. While it seems the drive to bond did help motivate many employees, it did not seem to work for Wu.
Wu didn't engage in inter-office birthday parties or other social events. Wu was initially motivated by the drive to comprehend, as he spent his first four months learning AccountBanks's core business practices, arriving early and staying late on a regular basis. As time went on and Wu signed his first major account, Wu was motivated by the drive to defend. We can see this when Wu dismisses Petersons request to join him for a sales lunch. Wu's desire to defend was also present with the handlings of his new account. Wu required all calls from this client to be forwarded to him and he was over supervising the account service team. During a welcome lunch for his new client, Wu only invited their VP of Operations and failed to invite other departmental executives. Wu had to translate for the VP and rushed him off after only a brief conversation. It is clear that the desire to bond that Peterson was using to motivate did not work with Wu.
Hypothesis 5: It may be possible that the Organizational Culture created by Peterson was not conducive to the culture Wu was used to. Analysis: The culture at the Plano office was very team oriented even though sales representatives manage their own accounts. Evidence of this concept is supported by their weekly meetings, outings and company structure. Peterson has an acute understanding of culture she's trying to develop and attempts to teach Wu the culture but Wu failed to embrace it. Wu was also a no-show at AccountBank's industry conference where he was scheduled to volunteer his time. Wu did not attend company meetings or outings. Wu decided to solve the problem of developing their Chinese market on his own with little regard to AccountBanks culture.
Hypothesis 6: It may be that Leadership through power, people and achievement is viewed on a higher level when compared to the other person. Analysis: Peterson hired Wu with the understanding that he would learn the business and grow with his colleagues. As Wu learned AccountBank's Standard Operating Procedures (SOP) such as their internal sales tracking system, there were multiple instances with fellow reps where Wu shows staff how to use the system which empowered Wu. Both Peterson and Wu are doers. Wu is ambitious, resistant, possess Leadership traits and has a sustained reputation of success. During Wu's annual review, he possess dominance and has placed Peterson in a predicament. Wu challenges Peterson's involvement, providing guidance to the people, and still achieving sales volume with only one client. Their leadership business management styles are completely contradictory to each other's.
Hypothesis 7: It may be that during Wu's performance review Peterson violated Wu's VABES. Analysis: During annual review, Peterson wanted to discuss Wu's lack of employee engagement and sales activity. Peterson's Value of Conformity seems to be embedded in current sales representatives. Wu's VABES differ with Peterson's, where he is very personable with his clients and distant with AccountBack's corporate culture. From the beginning of Wu's employment, Peterson and Wu may have been under the assumption that Peterson understood how he handles his clients.
Peterson knew Wu was not sales based, but more of an entrepreneur, therefore he may need some direction. Despite Wu's lack of experience, Peterson hired Wu because of his cultural relationships where his VABES directly align with his Chinese clientele. Wu was raised in a Chinese culture where his beliefs and values are not hindered by American culture. Peterson believed Wu could broaden his work style and grow into AccountBank's culture. Peterson understands their VABES are not connecting and she needs to either set Wu up with realistic expectations in alignment with her business model or continue to make exceptions.
Recommendations:
1) Peterson should give Wu the assistant he is looking for. Peterson has no idea what clients Wu will potentially sign, but he has proven his capabilities of landing a major client that was not previously on AccountBank's books. 2) The assistant should assist one or more additional large account sales representatives. This will ensure balance of power is kept in check. 3) Peterson should have a "come to Jesus" with Wu and tell him that she's excited about Wu's efforts. However, there needs to be checks and balances in place just like there is for everyone. If she grants him the assistant he's asking for, he needs to agree that Management By Objectives needs to occur on a daily or weekly basis. 4) Peterson should discuss with Wu what aspects of the job Wu enjoys and excels at, as well as his dislikes. The assistant should help with the daily account responsibilities Wu seems to neglect. 5) Peterson should continue educating Wu on their team culture that is so prevalent in the Plano office. Peterson should also explain that his new assistant will allow Wu time to participate in AccountBank's cultural structure.
Related Topics