Washington Irving, Comparison of 4 short stories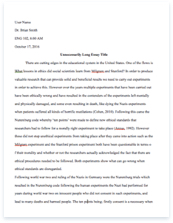 The whole doc is available only for registered users
A limited time offer! Get a custom sample essay written according to your requirements urgent 3h delivery guaranteed
Order Now
Throughout four of Washington Irving's short stories, characters manipulate the beliefs and superstitions of others for self-beneficence. A predominant sub-theme in these stories is romanticism. The four stories that will be discussed are "The Legend of Sleepy Hollow", "Rip Van Winkle", "The Devil and Tom Walker", and "The Spectre Bridegroom." There are clearly underlying aspects that seem to coincide in all of these stories. Though the author, Washington Irving, was mainly seen as a factual writer, these stories portray him much differently. He shows the capability and creativity of his mind through these pieces, which lean more towards fiction and imaginary happenings, as opposed to realistic occurrences.
These stories of Irving's, which stray away from his usual, deal with paranormal and mythological instances. Ideas of medieval castles, the undead, the devil, prodigious children, romanticism and nature, and even coma-like slumbers are brought about. The fact that these selective few writings are so different from his typical stories show that Irving, once perceived as an ordinary 19th century author with likeness of Nathaniel Hawthorne or Edgar Alan Poe, was quite different and imaginative in the method of his madness.
The story "Rip Van Winkle" is about a man, Rip Van Winkle. Rip is a kind of man who does not like to tend to his own problems. He is a procrastinator. He would much rather help a complete bunch of strangers with their problems as opposed to dealing with his own. One day Rip ventures into the Catskill Mountains with his dog and his gun to escape labor on the farm and dealing with his wife. When he tired of shooting squirrels, Rip began descending down from the top the mountain when he heard something whisper his name. Upon further investigation of these voices, of which he was not sure had originated, he discovered a small band of fellows. They were odd in build and dress. They were having a party, but the looks on their faces and the lack of noise they made suggested otherwise.
"What seemed particularly odd to Rip was, that though these folks were evidently amusing themselves, yet they maintained the gravest faces, the most mysterious silence, and were, withal the most melancholy party of pleasure he had ever witnessed."(Irving 776).
The mythological people beckoned Rip to drink with them from their flagon full of liquor, and upon doing so he falls into a deep sleep. When he wakes up and goes back to town he realizes that twenty years had passed and his wife had passed away and his only living relative was his daughter. His daughter, Judith Gardenier, would then care for him for the rest of his life, and he need do nothing. He had escaped the labors of Dame Van Winkle, and been accepted to the care of his daughter.
"Having nothing to do at home, and being arrived at that happy age when a man can be idle with impunity, he took his place once more on the bench at the inn door, and was reverenced as one of the patriarchs of the village, and a chronicle of the old times "before the war."(Irving 783). The story "The Legend of Sleepy Hollow" contains similar aspects as in "Rip
Van Winkle." "The Legend of Sleepy Hollow" is about two men, Ichabod Crane and a man named Abraham Van Brunt, or Brom Bones. More or less, the story is about these two men who both fancy one lady, Katrina Van Tassel. Brom was strong and he was excellent at horseback riding, and was undeniably more of a 'manly man' than Ichabod, the lanky schoolteacher, and choir leader. In order to win over Katrina, Brom will do anything. He even brags about his horseracing skills and how he out-rode the mythological Headless Hessian, the soldier who lost his head in battle while on horseback and comes to Sleepy Hollow in search for a new head. After being turned down by Katrina, Ichabod is riding home on his horse and he encounters none other than the Headless Hessian. Ichabod is chased and run down by the horseman and the next day his hat and a smashed pumpkin are found at the scene. It can be inferred in the reading that Brom was the man who posed as this Headless Hessian that chased Ichabod out of town so that he could have Katrina to himself.
The comparison to the story of "Rip Van Winkle" can be made from how one character in either story take advantage of another person, or group of people. Whether it be true or not, if Rip did actually fall into a coma-like slumber or actually leave for twenty years, he still took advantage of his community and of his wife. He left and had to do nothing by the time he came back. It can be argued whether his story was true, or just made up. The information of the tale is mythological in essence so it can be hard for one to argue that it is factual. Also, the tale of the Headless Hessian is fictional in the way that it is impossible for one to live without a head, and furthermore, ride a horse? It can be argued either way, however the facts suggest fiction. Clearly, Irving shares mythological elements in both stories.
Also, the degree of romanticism in each story is rather large. Take for example the description of the Catskill Mountains in which Rip ventures into.
"Panting and fatigued, he threw himself, late in the afternoon, on a green knoll, covered with mountain herbage, that crowned the brow of a precipice. From an opening between the trees he could overlook all the lower country for many a mile of rich woodland. He saw at a distance the lordly Hudson, far, far below him, moving on its silent but majestic course, with the reflection of a purple cloud, or the sail of a lagging bark, here and there sleeping on its glassy bosom, and at last losing itself in the blue highlands. On the other side he looked down into a deep mountain glen, wild, lonely, and shagged, the bottom filled with fragments from the impending cliffs, and scarcely lighted by the reflected rays of the setting sun. For some time Rip lay musing on this scene; evening was gradually advancing; the mountains began to throw their long blue shadows over the valleys; he saw that it would be dark long before he could reach the village…" (Irving 773-774).
And now is the description of nature of the Sleepy Hollow, which is similar to that of the above. It personifies a place time that is timeless.
"…while the great torrent of migration and improvement, which is making such incessant changes in other parts of this restless country, sweeps by them unobserved. They are like those little nooks of still water, which border a rapid stream, where we may see the straw and bubble riding quietly at anchor, or
slowly revolving in their mimic harbor, undisturbed by the rush of the passing current. Though many years have elapsed since I trod the drowsy shades of Sleepy Hollow, yet I question whether I should not still find the same trees and the same families vegetating in its sheltered bosom."(Irving 1060).
I agreed with the critical review in the ENotes.com archive of "The Legend of Sleepy Hollow" when it stated, "Most early readers of The Sketch Book praised the volume for its humor and its graceful descriptive writing, but did not single out "The Legend of Sleepy Hollow" for special attention." I thought the way the Ichabod Crane was humorous when depicted as "tall, but exceedingly lank, with narrow shoulders, long arms and legs, hands that dangled a mile out of his sleeves, feet that might have served for shovels, and his whole frame most loosely hung over." (Irving 1060-1)
The story "The Spectre Bridegroom" is also characteristic of these stories of Irving's. This one can be more so compared to "The Legend of Sleepy Hollow." It is about a daughter of the Baron Von Landshort and her wedding arrangement, and how it went terribly wrong. The man to whom she was originally wed had been injured on his way to her father's castle in an attempted robbery, and on his deathbed he asked another man, Sir Herman Von Starkenfaust, to bring the news to the royal family. Meanwhile the Baron and all of the guests await the arrival of the daughter's fiancé and along comes Sir Herman Von Starkenfaust to bring the bad news. He is greeted as the fiancé, and cannot say anything against it because he is so overwhelmed with the beauty of the Baron's daughter. The daughter also is at awe with Sir Herman, and feels she is in love.
Towards the latter end of night Sir Herman leaves and tells the Baron of what he had originally came to do, and then the real fiancé had been killed. The Baron tells the party members and his daughter who the man really was. At this point the reader has known that the daughter had been talking to Sir Herman, but not exactly about what. It is debatable at this point to whether she already knows he is not her arranged fiancé. Later she is nowhere to be found and is thought that she had been kidnapped by the man, or had jumped out of her castle window. They accuse mythological creatures like goblins and horsemen of taking her away. Shortly after, the daughter and Sir Henry arrive at the castle doors and tell the Baron that they have become in love and are wed.
These same elements, like love and how everything is mythological, or believed to be mythological is demonstrate in "The Legend of Sleepy Hollow" as well, as Ichabod believes he loves Katrina, even though Brom Bones does as well.
The story "The Devil and Tom Walker" can also be compared to all three of the other stories, in the way it deals with unimaginable happenings. In this story a man makes a deal with the devil. This is information enough to realize that what is going on is unreal and fictitious. Just like in "The Legend of Sleepy Hollow" with the Headless Hessian, and with "Rip Van Winkle" and the band of men that give him liquor that makes him sleep for twenty years, and in "The Spectre Bridegroom" with the goblins that stole the daughter from her bedroom, all of it is mythological and cannot be true. As one critic said in a review on ENotes.com about "The Devin and Tom Walker,"
"Darrel Abel remarks in American Literature: Colonial and Early National Writing that this collection of Irving's stories was ' 'one of his poorest…. a batch of hackwork pieced together" in an attempt to use "the German materials he had been accumulating." One of the original reviews, quotes Abel, attacked Irving personally, calling him "indisputably feeble, unoriginal and timorous.""
I however do not believe one word of Darrel Abel's review. I strongly feel that "The Devil and Tom Walker" is not one of Irving's poorest pieces. I thought it was actually a quite interesting story, and far from hackwork.
Clearly, there are certain literary elements that exist in the four stories by Washington Irving, "The Legend of Sleepy Hollow", "Rip Van Winkle", "The Devil and Tom Walker", and "The Spectre Bridegroom." His imagination and ingenuity are clearly displayed in these fictional works of art. The paranormal and mythological instances in these stories, like the undead, the devil, prodigious children, romanticism and nature, and even coma-like slumbers, are what make them different from his usual factual pieces. And the fact that Irving can control his writing so much as to create such normal, factual works, to create such fictional works as previously described are what makes him the great author that he is.
References
Irving, Washington. "The Legend of Sleepy Hollow." The Sketch Book. Washington Irving: History, Tales and Sketches. New York: Library of America, 1983.
Irving, Washington. "Rip Van Winkle." The Sketch Book. Washington Irving: History, Tales and Sketches. New York: Library of America, 1983.
Irving, Washington. "The Spectre Bridegroom." The Sketch Book. Washington Irving: History, Tales and Sketches. New York: Library of America, 1983.
Roth, Martin. "Comedy and America: The Lost World of Washington Irving." Compedit. 2004. 21 Feb. 2004.
http://www.compedit.com/3os1rev.htm
"The Devil and Tom Walker." ClassicLit. 2004. 21 Feb. 2004.
http://classiclit.about.com/library/bl-etexts/wirving/bl-wirving-devil.htm
"The Devil and Tom Walker: Critical Overview." ENotes.com. 2004. 21 Feb 2004.
http://www.enotes.com/devil-tom/9380
"The Legend of Sleepy Hollow: Critical Overview." ENotes.com. 2004. 21 Feb 2004.
http://www.enotes.com/legend-sleepy/9448
"Rip Van Winkle: Critical Overview." ENotes.com. 2004. 21 Feb 2004.
http://www.enotes.com/rip-van/9532
Related Topics