Wanted For An Eagle Scout Project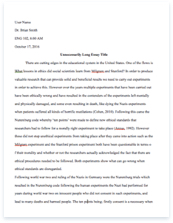 The whole doc is available only for registered users
A limited time offer! Get a custom sample essay written according to your requirements urgent 3h delivery guaranteed
Order Now
I'm Vincent McKinney, and I am working on my Eagle Scout Project. I am from Boy Scout Troop 185 in Wayne City, IL, and I am planning, constructing and installing a herpetarium for the Junior High Science Lab at Wayne City School for my Eagle Scout Project. Why This Project is Important The Eagle Scout Service Project is the opportunity for a Scout to demonstrate leadership of others while performing a project for the benefit of his community. This is the culmination of the Scout's leadership training. My devotion to learning combined with my passion for science: specifically biology and ecology, inspired my idea for the herpetarium to benefit the school. Animals teach kids about compassion. Not every child has the opportunity to care for a pet or get up close with an animal. As kids care for animals, they will learn empathy and how habitat changes affect behavior. It's a hands-on lesson in ecology. Animals also teach kids responsibility and give kids confidence.
Taking care of an animal allows children will see how capable they are with responsibility. This leads to more opportunities to show their responsibility. Reptiles make great first pets. They don't take up a lot of space, their needs are simple, and they are fun to adorable. They are a lot less messy than a dog or cat. Depending on the species they can stay confined to their tank and if you keep them clean and healthy they don't smell at all. Fur, dust mites, and pet dander account for a large percentage of allergies in the home. Because they lack these, reptiles are some the most allergy friendly pets available. Reptiles don't need fed every day and some of the species I chose feed only once a week. They will learn to recognize you. There's nothing quite like walking into a herpetarium to find a row of little faces looking out of their tanks at you, although it is partly for food, some will come out and seek out their owners for attention.
They are more than content to be left home alone all day, or even overnight if you go away for the weekend. They don't make enough noise to bother other people, and they don't need walks, or grooming, or training. However, Bearded Dragons are often leash trained and willingly dressed up by their owners. With a herpetarium, you can create your own serene slice of almost any environment and transform your terrarium into a vivarium complete with live plants, and populate it with the inhabitants that would be found in the wild. You never stop learning, as with all exotics there is a lot to learn and there is always new research coming out.
A herpetarium can be the gateway into a world of learning. The Herpetarium would benefit the school because the reptiles would educate students about animal behavior and the relationships between animals and their environments. The reptiles could be used for hands on educational demonstrations, during assemblies, or in-class projects. We could also use them to promote a love of zoology, biology, ecology, and science in general for all grades kindergarten through high school.  Sometimes kids can learn a lot from animals or reptiles they haven't seen before. It might also relieve people of herpetophobia–the fear of reptiles–because they realize they aren't dangerous, but can be just as friendly and lovable as a dog or cat. How you can Help Contributions that would help with my project include: monetary donations, items for the silent auction at my May 12th Fish & Chicken Dinner Project Fundraiser, species for.
The Herpetarium (Crested Gecko, Bearded Dragon, Leopard Gecko, Greek Tortoise, Russian Tortoise, Ball Python, Corn Snake), terrariums for each species, 2 custom built cabinets to hold terrariums, substrate for the terrariums (sand, aspen, cypress mulch, tropical mix, coconut fiber, flat rocks, peat moss), heating pads and lamps, UVB lights and light timers, food and vitamin supplements for each species (vegetables, fruits, frozen mice, live insects), feeding containers/tanks and food dishes, terrarium locks, a transportation cart and portable tanks, hygrometers and thermometers, cricket keepers, a mini fridge and freezer, spray bottles and humidifiers, shedding boxes and hides, terrarium decorations and plants, frames for care sheets and educational posters, step stools, paper towels, windex, simple green, garbage bags, and other cleaning supplies. I'd really appreciate your help in contributing towards this project. If you'd like to contribute, please let me know. All donations for the silent auction at my May 12th Fish & Chicken Dinner Eagle Project Fundraiser are needed by May 1st. I hope to have all of the funding necessary by June 1st, and all supplies and materials by August 1 so I can have the project completely finished at the time students return to school around August 15th.
References
https://www.youtube.com/channel/UCMwGLY9o5WWDYEjnxiVYkkQ
https://www.facebook.com/VincentsEagleProject
Related Topics