Volunteering Is What Builds Community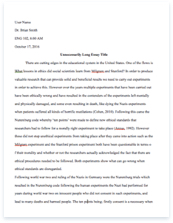 The whole doc is available only for registered users
A limited time offer! Get a custom sample essay written according to your requirements urgent 3h delivery guaranteed
Order Now
Volunteering, for the most part, is considered a selfless act where an individual or group provides services for no financial or social gain to benefit the other group, person, or community. Volunteering can also be used to help form skills and is usually meant to encourage goodness or to help improve the quality of life.
Volunteering is vital for many reasons because it benefits both the community and the volunteers themselves. When someone chooses to donate their time, the difference they make is incredible and it helps make the community better, and as a result, the experience helps improve the volunteer who donated their time. Volunteering is what forms a community because it brings people together to work on a specific goal. Whether it is something small like a fundraiser or as big as to help research to cure a disease that can affect the whole country, or even to help a local family who is going through hard times, volunteers make everything happen.
Community life is improved when we help others and lend a helping hand to get a job done successfully. When more people get together to work it means less work for each person and less time spent on the project. Therefore, when it comes to getting the job done, like cleaning up the parks, the more the merrier. When someone donates their time and energy, they give hope to someone who needs it. For example, if a neighbor's house burnt down and the community gets together to form a benefit, it would help that family keep the faith as they realize that the people around them care. Even though that family lost their home and belongings, seeing how their community gathered and wants to help would help bring joy to the family and show them that money isn't everything.
A volunteer can also benefit themselves because they get to see how their contribution makes a difference in the community. Especially if they choose to volunteer in something similar to what they plan to do for a living in the future, for example, if a student wants to be a teacher they can volunteer at a school or a library reading to children. By doing so they can discover that they love that career or maybe they find out they don't have the patience to deal with kids all day. This experience can contribute to personal development in areas like self-confidence and self-esteem which usually flourish in the middle during the volunteering experience. Knowing that you have made a positive impact on someone else can be an emotionally uplifting experience.
During this Covid-19 pandemic, it might seem impossible to help others because the best thing to do is stay home and stay away from others, but that doesn't mean that we cannot help our community there are a few things we can do to help the community. The most important thing to do is to keep in contact without friends and neighbors especially the elderly, by keeping in contact we can help make sure they are safe and make sure they have food and other supplies they might need and if they do need something the best thing to do is drop it off at their doorstep so they can then later pick up. Thanks to technology we have many ways to keep in contact and for some the isolation can be hard and can cause them to go to a dark place. This is why many companies are asking for volunteers to help contact their clients and make sure they are okay.
It is as easy as just picking up the phone and having a conversation with someone so that they know someone cares and that they are not alone during this time. But because of technology we also have to be careful with what we see online and what we share with others, before sharing something on our social media we need to make sure we check that it is a reliable source because by sharing fake news we can help cause panic or it can cause the opposite and people might think things are getting better when in reality they should be extra careful.
Those are the most important things to do to help the community. But we can also do other things like donating the extra food we might have or not want to food drives for those families that don't have the luxury to stalk up on some essentials, we can also donate money to help find a cure there are many organizations that we can donate to. Another big thing we can do to help the community at this time is to donate blood because as Covid-19 spreads through the planet the people that are eligible to donate blood are slim and those who are healthy don't want to risk going out to donate blood. Another simple way is to be a leader, by following the suggestions the government is giving us and informing others or encouraging others to also follow the rules because as they say monkey see monkey do.
Donating time now can be a guarantee for a better future. Volunteering helps improve skills and also shows a feature employer an effort has been made to make improvements. Those skills include dedication and time management, ability to take direction or lead others, ability to work with others, and communication skills. Employers will realize that because you are a volunteer you must be able to prioritize your schedule to make time for activities to benefit others. When employers notice active volunteer work on a resume, they are more likely to hire that person than someone who doesn't take the time to volunteer. Employers know that most people who offer their time are hardworking, honest, and caring individuals.
These are a few reasons why volunteering is important to make our communities better. Not only does it bring hope and happiness to other people, but it also helps strengthen personal growth and spirituality. It is an experience that cannot be bought with any amount of money because it helps us become a better person. Volunteering does not always mean that we have to go out into the community to help, during these hard times the world is facing thanks to technology we can help out from home and not just the community we can help anyone anywhere on the planet.
Related Topics