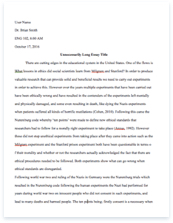 The whole doc is available only for registered users
A limited time offer! Get a custom sample essay written according to your requirements urgent 3h delivery guaranteed
Order Now
The price of freedom is eternal vigilance. (Quote- Desmond Tutu) Vigilance is defined as the action or state of being alert and watchful. It is concerned both with what is and what will be. Thus it is important to be Vigilant in the army for many reasons. Not the least of which being it could keep you and your buddies alive despite the world's best attempts to make you otherwise. But it means more than just staying awake and alert at guard duty. It means both being mentally and physically prepared to react to changing conditions and to being aware and cognizant of the current conditions. There are three important categories to discuss here and expound upon. The First is Vigilance on Duty, the second is Vigilance to Duty and the third is Vigilance in your Duties. They that are on their guard and appear ready to receive their adversaries are in much less danger of being attacked than the supine, secure and negligent. (Quote by – Benjamin Franklin) As it was stated before Vigilance on Duty can mean life or death in the military.
If you are on Guard and fall asleep the Enemy could sneak in and kill you and your battle buddies without even a challenge. Vigilance on Radio duty means that you don't miss important information coming it from far off units or battle buddies calling for rescue or backup and support. In the aid station vigilance may mean the ability to save lives by reacting quickly in the first few seconds of a critically wounded casualty's arrival. And the few tenths of a seconds advantage vigilance makes in a firefight can mean the difference between landing your rounds and shooting thin air. Vigilance on duty means that you are aware of and ready to respond to current and changing conditions with regard to your duty. Noticing and responding to changes in the weather, schedule shifts, vehicle maintenance problems, and even things like allergic reactions or choking are examples of vigilance in action. Failing to be vigilant in any of these aspects results in the breakdown of the whole and a serious degradation of capabilities until correct vigilant action is taken to correct the mistake.
Nursing demands vigilance about people. The sights and smells that a patient offers, their movements and their offhand comments all contribute crucial information to understanding what they need. Training and experience heighten one's ability to see what needs to be seen. (Quote- Steven Amsterdam) But vigilance is not just a tangible watchfulness or alertness. It can be intangible as well. Vigilance TO duty means that you are not only vigilant on duty but about your duties. It means that you maintain a watch on YOURSELF as well as the world and others. That way you do not slip and begin to neglect your duties. This is just as important as being vigilant on duty. Making sure schedules are made and kept, responsibilities are divided up properly, records are updated, supplies are ordered and so on ad nauseam are all things you have to maintain vigilance over every day no matter your duty or post. It is an attention to detail that you resolve to maintain always. It is the sign of a professional and skilled person to be vigilant to your duties and on duty.
Be vigilant; guard your mind against negative thoughts. (Quote by – Buddha) Eternal vigilance is the price of eternal development. (Quote by – Gordon B. Hinckley) It is also a sign of a professional and skilled person to be vigilant in their duties. The same alert watchful attention to detail that makes such a person stay on track with their duties also should make them do those duties carefully and thoroughly. Attention to the details, seeing and hearing all the information and then acting on it. That is key to being a good leader. Vigilance in leaders is knowing your subordinates. It is digging into the problems meat and solving it rather than just rubbing salt onto it in unseeing haste. Nosce te ipsum or Know thyself is also a requisite form of Vigilance. You must always be aware of what you are and what you will be in any given condition in order to control yourself. Without self-control there is no controlling the world around you. You lose yourself you lose everything. You also must be vigilant to spot the places where improvement can be made or else the opportunity will pass you by. Constant Vigilance! (Quote by- Mad Eye Moody)
Doubt must be no more than vigilance, otherwise it can become dangerous. (Quote By – Georg C. Lichtenberg) So in conclusion Vigilance on duty requires you to be vigilant in many other respects as well. You have to maintain the same vigil to your duty and in your duties, to your subordinates and to yourself. Within and without; in the macro and micro scales. Vigilance on and to your duty is a professional and expert quality that should be sought by all. You have to be alert and watchful over yourself before you can be over the world. And then you have to apply the same vigilance to those around you and to the process itself. Vigilance is what stands between you and sloth, between you and failure and what guides you into understanding and progress. But just as with anything else there is also such a thing as too much of a good thing. Vigilance to the point of paranoid compulsion is a debilitating condition called Hypervigilance.
It is shared by many military and civilian personnel with PTSD problems, from time in a constant heightened state on deployment or even just extreme stress or one traumatic event stateside. Too much vigilance like this condition presents in restless paranoia, insomnia and various nervous tics or Obsessive fixations in those suffering from it. Sometimes you have to let go, let your hair down and just chill out for a while. There is, indeed, nothing that so much seduces reason from vigilance, as the thought of passing life with an amiable woman.(Quote by- Samuel Johnson)
Related Topics