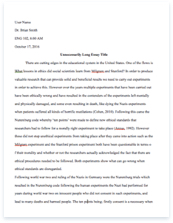 The whole doc is available only for registered users
Pages: 4
Word count: 775
Category: Venice
A limited time offer! Get a custom sample essay written according to your requirements urgent 3h delivery guaranteed
Order Now
Venice – this unique floating jewel is arguably one of the most famous cities in the world. Situated in the Adriatic sea, this small city has stood the test of time and tide. Originally a settlement of farmers, the islands which comprise Venice has become a part of the Byzantine empire to a world power in its own right during 12th century. Its elite has benefited from the spoils of maritime trade as well as wars (Bain, et.al, 2006). This wealth, prestige and power expressed itself in the alluring grandiose of the city, from the architecture of the Basilica di San Marco to the list of artists from the Venetian school (Simonis, 2004). All of these are the treasures of Venice's treasured past – jewels which adorn the city even in this modern age.
Even though the floating city has stood the test of time, living on top of water has not been a trouble-free affair. The city of Venice is erected on a shallow muddy lagoon which is at the mercy of the ocean's tides (Bain, et.al., 2006). For centuries, a combination of high tides and winds from the south east called the sirocco combine to produce the acqua alta, an especially high tide which can be 20 to 50 centimeters higher than the normal high tide. Such occurrences have been a part of normal Venetian life. The earliest records of the acqua alta can be traced back to 782 AD (Marvin, 2004).
In recent years, the acqua alta has been of increasing concern. The frequency of the acqua alta has seen an increase. In the 1920s, there were a total of 385 acqua alte which rose higher than sixty centimeters, a number which grew to 2,464 in the 1990s. Most acqua alta are unnoticeable both to local Venetians and outsiders. Tides of 75 to 80cm are the ones which will start to flood the city and these extreme tides have also seen an increase. If nothing is done, acqua alta of more than a meter could occur 115 times a year by 2050. This concern has led some critics to call out that Venice is drowning (Marvin, 2004).
While Venice has stood against the tides for millennia, it is currently losing the battle due to a combination of rising waters due to global warming and sinking land levels due to subsidence. Many Venetians now live in the upper floors of their homes as the ground floor is now so prone to flooding. Piazza San Marco at the city center now floods weekly instead of once or twice a year. A century ago, the streets of Venice were covered in water only seven days a year. Today, that number is closer to 200. The influx of water is slowly making Venice an uninhabitable city (BBC, 2003).
In the 1980s, a project was put forth to help save the city of Venice from the sea. MOSE – short for Modulo Sperimentale Elettromeccanico – is an ambitious project to erect a series of movable dams across each of the three openings to the lagoon which surrounds Venice. These dams would normally lay on the sea bed but when an acqua alta approaches, the dams would be inflated to rise above the sea, keeping the ocean out of the lagoon (Marvin, 2004). As of 2008, MOSE has become the largest civil engineering project in Italian history. Seventy eight floodgates are currently being built around the three inlets with each gate weighing up to 300 tons. In spite of numerous protests from various groups as well as major political upheaval in Italy, the MOSE project still hammers on today (Poggioli, 2008).
Ultimately though, Venice will have to make concessions. Powerful as it once was, it is helpless to stop and reverse global warming on its own. Today, a series of elevated walkways called passerelle criss-cross the city to give Venetians and tourists a dry place to walk (Marvin, 2004). In a city which derived prosperity from the sea, future generations may have to repay that debt as the sea claims its eventual prize.
Bibliography
Bain, K., Bramblett, R., de Bruyn, P., & Fink, B. (2006). Pauline Frommer's Italy. Hoboken, NJ: Wiley Publishing.
BBC News. (July 17, 2003). Venice's 1,500-year battle with the waves. From BBC World. Retrieved May 13, 2009 from http://news.bbc.co.uk/2/hi/europe/3069305.stm
Marvin, G. (2004). Venice the tourist maze. Los Angeles, CA: University of California Press.
Poggioli, S. (January 7, 2008). MOSE Project Aims to Part Venice Floods. In NPR. Retrieved May 13, 2009 from http://www.npr.org/templates/story/story.php?storyId=17855145
Simonis, D. (2004). Venice city guide. London: Lonely Planet.
Related Topics