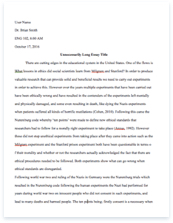 The whole doc is available only for registered users
Pages: 7
Word count: 1625
Category: Shoes
A limited time offer! Get a custom sample essay written according to your requirements urgent 3h delivery guaranteed
Order Now
1a) What were some of the key characteristics of Van's earliest customers in the 1960's and 1970's? Some of the key characteristics of Van's customers are teenagers who needed strong and durable footwear for their rough sports like skateboarding, people who needed customized shoes sizes due to various width and lengths of their feet, people who just simply want a shoe customized to their style and liking, and schools that needed shoes that could match the school colours. For the people, it simply meant young, fun, Southern California, beaches, skateboarding and surfing. 1b) What was the public perception of skateboarding at this time? Skateboarding caught on as a trend due to Z-boy skating techniques and was on the verge of becoming a million dollar business but due to change in trends and other fascination with other extreme sports, as well as skyrocketing cost of liability insurance due to injury from this extreme sport. It was basically seen as pushing the limits of conventional skateboarding with complex surfing moves. 1c) What was Vans' competitive advantage at this time?
Its competitive edge was the suitability of its shoes for the skaters due its perfect durability to handle heavy wear and tear. Pricing of its shoes were also right, making it affordable for most people and it could also customize matching shoes and t-shirts for the skaters. 1d) What was its value proposition to customers?
Its value proposition to customers was to make the most durable and affordable casual deck shoe in the market and the result was a rubber-soled shoe that was reinforced with clay, and the upper canvas was double-stitched and the entire shoe was washable. It was in a way "built like a battleship". 2) How has the company's competitive position changed over time? How has the company's value proposition changed? The company's main competitive advantage was its U.S. manufacturing with a cycle time of 19 days from receipt of order to completion of finished goods, thus reducing inventory problems that afflicted other footwear companies, increase productivity and reduce productivity cost. The company's competitive position has become more competitive over time, especially in the 1980's, causing it to declare bankruptcy. It was fighting with major competitors like Nike and Reebok. It went from just selling sneakers which it was famous for, to selling athletic footwear. People used to buy from Van's due to it durability and affordability as well as strong brand, but over time other footwear companies emerged in the market with better designs and same or lower price due to lower overseas manufacturing cost. People are given more choice and with choice companies are forced to either change their strategies or focused on certain segments.
Van's has now moved from a direct manufacturing company by closing down its factory, to focus more on trying to maintain and retain strong relationships with unpredictable, fashion-conscious kids in order to remain competitive among the big players like Nike and Reebok. Its initial value proposition to customers was to make the most durable and affordable casual deck shoe in the market. But with intense and strong competition from big players, it has now changed its value proposition to create a proprietary branding platform that would build on their unique heritage and give them a long-term leadership position, by focusing on furthering the authenticity of their brand and connection to the lifestyle associated with core sports. It is no longer about just customization of its durable and affordable sneakers but more customized to the lifestyle of the user. 3) In recent years, Vans has expanded in a number of directions.
The company has (a) increased the number of sports it is affiliated with; (b) diversified its product portfolio; (c) expanded its distribution; and (d) broadened its promotional mix. Analyse each of these decisions in terms of their impact on Vans' customer base, its brand image and the overall alternative sports category. By increasing the number of sports it is affiliated with, Vans has definitely increased its customer base as not only skateboarders or surfers will be able to buy and use its footwear. A customer may also be playing a few sports at one time, thus by increasing the number of sports affiliation; it can allow a customer to actually spend and buy more within the same store. And when people buy more under different sports category, it actually increases the brand image of the company, as not only skateboarder or surfers are wearing its footwear. There is not much impact on the overall alternative sports category as the number of sports affiliation is not a lot and Vans face fierce competition from big players like Nike and Reebok that has more sports affiliation.
Diversifying of its product portfolio does increase Vans' customer base as skaters from different groups or categories can purchase their shoes based on their skills and style. Having collection series for their famous shoes allows fans of Vans' to have a reason to buy not only for wearing but for collection as well. Vans' is also known for its durable and affordable shoes, thus diversifying to other footwear for other extreme sports helps to increase its customer base as well as its brand's image as being a reliable sports footwear. It also creates healthy competition among competitors to improve their products for consumers in the overall alternative sports category. By expanding its distribution, its allow Vans to increase its customer base as people nowadays wants convenience when it comes to buying. By making it more easily available for people to purchase, it would come naturally that people will make a quicker decision to buy; if it is so inconvenient to buy then most people will just buy the next available brand that is similar.
Brand image wise, would be increased as people who goes window shopping or shopping will keep seeing the Brand and it will natural be erected in the minds of people over time and after a while people will be curious to want to purchase or if they have seen a similar product somewhere and the price is right, it would be natural for them to make the purchase. For alternative sports category, expanding its distribution will have impact on Vans as people will be more aware that it does not only sell one type of footwear but footwear that covers a few other core sports. Broadening its promotional mix, has increased Vans customer base tremendously as it created more awareness for its footwear to different groups and segments of people. It increases its brand image at the same time as the more good coverage or exposure it gets around the world with its reliable products and endorsements, people will be interested to try or use its products. There is not much impact on the alternative sports category as Vans focus is more on its core sport; Skateboarding which has caught on as a money raking sports around the world.
4) The biggest question facing Schoenfeld now is "how to drive the next stage of growth". The first option is to focus on the shoe category. The challenge here is to fix the Women's collection, and decide what to do with the Outdoor Collection. The second option is to focus on growing within the "entertainment" category despite the fact that the company admits it has little experience in this area. The challenge here is to figure out which project to focus on, including movies, music and videogames. Do you believe the company should be focusing on shoes, or on entertainment or both? The company should be more focused on shoes rather than doing both. There is no denial that going into entertainment for Vans could or would create more revenue and brand awareness for the company but at the end of the day, their goal is; to focus on furthering the authenticity of their brand which is durability and affordability.
By going into entertainment, without doubt Vans would definitely need to fork out a huge sum initially and there is no 100% guaranteed of success in revenue at the end and might even end up a waste of time and cost. Vans is famous for its durable and affordable footwear and having to fork out a huge sum with no guaranteed returns would be risky, thus it would be more wise choice to actually invest this sum into R&D of their footwear to retain the authenticity of their brand. But it does not mean that they cannot move into entertainment in the future, provided that they have the excess revenue to do so and have gathered or understand more about the entertainment industry before doing so. They need to understand; is there a need to go into entertainment since they are novices and who the big players in the entertainment industry are; especially when the entertainment industry is already so competitive.
To put it simply, Vans' should stick to what they do best and that is to promote and sell their footwear. They can work and focus on their promotional mix and try to expand from there, which is a wiser choice, as these promotional mixes are already producing successful results. They have already spend a long time trying to pick up from bankruptcy and by moving so quickly into other industries just after having some success, might throw them back to the beginning and all their previous efforts would have gone done the drain. Another reason that they should focus more on their shoes is that they are already facing a challenge trying to maintain a long-term relationship with unpredictable, fashion-conscious kids and by moving their focus to entertainment would make this challenge even more difficult in the long-term.
Related Topics