Value Chain Analysis – Amazon.com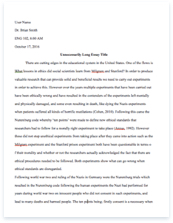 The whole doc is available only for registered users
A limited time offer! Get a custom sample essay written according to your requirements urgent 3h delivery guaranteed
Order Now
The purpose of this value chain analysis was to explore the dynamics of Amazon.com in terms of looking at the intricate foundation (value chain) the company has created to serve its millions of satisfied customers. This company operates in the highly competitive industry of e-commerce, which is made up of fast paced marketing, cut-throat pricing, and short attention spans. There are several major success factors to be highlighted in this particular analysis. Again, the primary theme revolves around how the company has consistently served its customers over the past 15 years, and more importantly, the efforts that go into serving those customers. Additional questions will be explored as well: "Why does Amazon have such a strong customer base?" and "What has the company done different in the market to maintain a leadership role among competitors in the e-commerce industry?" The following research and analysis will shed light on these questions and more. The research will be conducted by investigating current information from journals, publications, peer reviews, and information from various credible websites.
The various sources examined will shed light on the history of Amazon, the company's value chain structure and supply chain trends in the industry. The expected results will be a strong focus on customers, seamless processes, advanced technology, and flexibility to change, among other things. The founder of Amazon.com, Jeff Bezos, revolutionized the e-commerce world in 1995, before many people were fully familiar with the concept. He developed an online store that presented a strong sense of ease and convenience that hadn't been seen previously, except through eBay, whose focus as the time was on fast paced auctions and a consumer-to-consumer based buy/sell business model. Amazon.com strived to create a value chain that logically fit into what people wanted from an internet buying experience: online safety, customer service, and speed. These are the fundamental components of a successful online retailer, which can ultimately lead to a serious competitive advantage. Without a doubt, Amazon.com is a clear example of strong value chain management in action, as this company has risen to the top of the ecommerce industry through extreme discipline, focus, and customer service.
Amazon has unique websites in the United States, Canada, China, France, Italy, Japan, Spain and United Kingdom, Germany. The company's success has been no accident. The company has been highly effective at implementing a value chain that others can only try to match. Amazon, originally known for the place to get your favorite book without going to the bookstore, has evolved into a mammoth sized one-stop shop for other things as well, including appliances, toys, electronics, and thousands of other items. Demand Chain Analysis
Amazon.com is the world's largest e-commerce site to date and has over 35 e-commerce product categories and hundreds of various sub-categories. "Amazon is much bigger than its close competitors eBay (revenues of $9,156.2 million in FY2010 ending December 2010), and Barnes & Noble (revenues of $6,998.5 million in FY2011 ending April 2011). Leading market position in online retail format enables Amazon to target a larger customer base" (Data Monitor 2011, p. 5). Amazon.com's business model is built on being a one stop shop for everything retail, from books to furniture. The company went from serving bookworms to anyone looking to purchase something off the internet. The company has been able to serve the early internet savvy crowd and over time be able to capture a large segment of the buying internet population, most of which wouldn't buy anything from the internet were it not for Amazon.com The following narratives explore this business model even further. Identification of Customer, Market, Wants and Needs
Amazon.com has evolved its business model to match the needs of the market. Early on, there was no such thing as an "e-reader", so at the time many people still read hardcover books (and still do today), but could not always find the book that they were looking for in their local bookstore. Amazon.com came along and established relationships with hundreds of bookstores and warehouses all over the country to fill that gap for its customers. As the organization progressed, it realized that customers were also looking for DVDs, music, furniture, office supplies, and a host of other things that can now be found on the Amazon.com website. Even now "The US Kindle store offers over 950,000 books, which includes new releases and 109 of the 111 New York Times best sellers" (Data Monitor, 2011, p. 6). Market Opportunity Analysis
Early on, Amazon.com leveraged the power of scalability to access thousands of customers who were new to the internet, but not new to buying things. Jeff Bezos knew that this was going to be a big business and he has said himself that Amazon was started based on a "regret minimization framework". In other words, his ultimate goal was getting the business off the ground to avoid being a late comer to the internet boom. At this time, the average consumer was amazed that they could go on the internet and find information on a wide variety of interests and products, let alone order something and have it come straight to their home. Amazon.com did a great job of positioning itself to capture a huge market segment early on and became known as an early leader in the industry, and is now still considered the number one retailer in the country. Identification and Analysis of Value Drivers
Customer based value drivers can be applied across industries, but are truly crucial when discussing e-commerce. Customers, online and offline, love deals and love to get the best price. Amazon.com has created a system that allows the shopper to get highly competitive prices for whatever it is they are looking for. The second value driver for customers is variety. Consumers love to have options, varieties, colors, and styles to choose from. The customer is now no longer constrained to what they can see on a shelf. Now the customer can search for the exact color, model, edition, version, or rendition that they want through the power of Amazon.com. The ability to access a wide variety of items at one's fingertips is extremely powerful, and Amazon.com has tapped into that notion. The third value driver is convenience. Amazon.com has, without a doubt, been a key catalyst in the evolution of convenient shopping over the internet. A doctorate student in Anchorage, Alaska can now order a hard to find textbook from someone in New York, New York right from the convenience of their own home. Value Proposition
Amazon.com's value proposition revolves around the fact that the company is online based. There are no physical Amazon.com stores that one can visit and browse through. The only way to access Amazon.com is by going to the website. This creates a strong sense of identity for the brand and customers know exactly where to go regardless of what they're looking for. Amazon is not trying to create brick and mortar Amazon stores to drive sales of the kindle. Instead, Amazon relies on its core business of being the go-to destination for ecommerce and has stuck with it for over 15 years. Value Proposition as related to Demand Chain
As previously mentioned, value drivers for the customer include variety, pricing, and convenience. The company has the ability to be flexible in pricing for a number of reasons that will be further discussed on the supply chain side. However, most customers can be rest assured that when they come to Amazon's website they're going to get a competitive price for the product that they're looking for. Another thing that customers can be sure of is that they can search a database of millions of different products, which contributes to variety. Amazon has more products to choose from than any other site in the world. In addition, Amazon.com has grown so serve customers all over the world and is available in nine different languages, which makes it incredibly convenient for customers all over the world. "Online retail sales have shown accelerated growth in developed nations such as the US and European countries. Although the US retail sales have been low due to the economic turmoil, the online retail sales have recorded a significant growth in the past few years" (Data Monitor 2011, p. 8). Amazon has also worked hard to provide easy navigation so that customers don't get confused and have a clear idea of where to go and what their options are. Value Proposition as related to Supply Chain
Because Amazon.com is an internet based company, it can offer a wide variety of products to its customers without having to actually hold inventory on its books for a long period of time, or for any period of time for that matter. Advancements in drop shipping partnerships and other retail approaches empower Amazon facilitate transactions without having to actually own the product. Secure from "hackers" The second driver is security. Amazon.com was ability to gain trust among customers early on, before advanced security systems were implemented to protect consumers from identity theft, fraud, or any other malicious activity on the internet.
This added to the consumer perception of Amazon's approach to customer service and consideration for the customer. Amazon.com has created an environment where speed and efficiency is very important to the customer, and so the company has always provided incentives and processes that help the customer get their item faster. Speed keeps costs low an inventory low. Speed leads to efficiency. Amazon's system is highly efficient. It has a very integrated supply chain system that feeds into its value chain very perfectly. Here's why. Supply Chain Analysis
An organization basically identifies those things that are most effective in serving its particular customer base or market segment and then builds it steps of service around those customers. So, a retailer will focus on those things that matter most in its industry, from the customer's perspective, and then build a series of processes around those customers. Amazon's supply chain is undoubtedly the nucleus of the organization and everything that it does. "High inventory turnover ratio allows Amazon to generate revenue from sales before its payments to suppliers come due. Additionally lower prices act as a compelling proposition in attracting more customers" (Data Monitor, 2011, p. 6).The website has been discussed, but there are other factors that go into the full operations of Amazon.com. This includes high levels of internal quality assurance to make sure the website is customer friendly and maximizes interaction, a seamless buyer/seller process, and minimal costs. Value Production and Coordination
One thing that drives Amazon.com's business is the automation of the website. This automation randomly tests and changes as the customer uses the site. This allows Amazon to continuously improve upon the experiences of its users over time as well as to detect trends in buying behaviors. Amazon was able to minimize costs by investing in online referral programs instead of TV, radio, and print advertising. In a world where traditional marketing efforts are driven by large multimillion dollar budgets, Amazon thrives in an online world where there are many more mechanisms in place to allow a business test its advertising efforts. Cost savings in marketing have an immediate impact on the bottom line and also allows the company to invest in other areas of the business. Value Delivery
As previously mentioned, Amazon.com has a few dozen product categories and hundreds of sub-categories. Within the company, there is least one full-time editor and each editor is responsible for maintaining front page of each "store" as well as the sub-pages, including product detail pages. This is important because according to our text, "Customer service decisions are important for both customer relationship development and management" (Porter, 2011, p. 156). This also adds to the value that Amazon.com provides because the company has gone to great lengths to ensure strong quality assurance on its website.
Amazon.com has excelled through personalization of each users page. Once logged in, the homepage displays items that Amazon.com thinks that specific customer will buy, and then visitors indicate that they like the personalization. The user can then say whether or not they like the personalization of the site. Amazon also keeps track of previous purchases and items that a user has recently viewed. Amazon.com has built a solid base of customers that trust what the company brings to the table because the company relies on user generated reviews, better known as the "Amazon Reviews" for various products. Shoppers trust the collective opinions of other shoppers more than the actual manufacturer of the products. Amazon.com uses Reviews, Listmania, (For Example Top 12 Books to read in 2012), "How-to" and buying guides, product manuals, discussion forums, and wikis. Value Servicing
Amazon provides a strong customer service infrastructure for its customers to take advantage of. When you go to the Amazon.com website and click on "Help", there are dozens of different tutorials, topics, and other areas where you can get help. Enterprise Value
Amazon brings a great enterprise value to the marketplace. Amazon allows independent retailers to sell their products through Amazon. This spurs free enterprise and supports the idea of capitalism in the United States. With the development of the internet, some integrity of e-commerce has been compromised with aggressive online marketers, scams, and other online predators looking to take the consumers money. Amazon.com has remained among a small and elite group of online retailers that have maintained a positive role in the e-commerce industry.
Industry Drivers
E-commerce generates approximately $175B in revenues and more than 70% of Americans use the Internet on a daily basis. The e-commerce industry has greatly evolved over time and now we see the development of highly scalable, highly profitable, tech-startup companies establishing themselves in various niches all over the web. Today, industry drivers revolve heavily around value add to the customer. Traditional business models are trumped by businesses that are able to consistently go above and beyond in wowing customers with additional services, world class customer support, and accessibility. Today, many online application developers and start-up CEOs respond directly to requests from their customers in a genuine manner. This is where the e-commerce industry is headed: transparency, flexibility, value, service. Competitive Advantage
Amazon's competitive advantages are simple. It has a brand presence like no other online retailer. According to a recent scholarly article"Amazon.com has always been much larger than its online competitors in terms of market value, and its competitors have not performed as well." (Filson, 2004, S138). Additionally, it has built a model that scales to several different countries around the world. It doesn't have to spend as much on marketing as some other online retailers. Amazon can be accessed on any computer with the internet and most mobile devices with the internet as well. This isn't necessarily a competitive advantage, but Amazon's ability to maintain the core nature of how to browse a website in-tact.
Customer Delight
In any industry, the ultimate goal is to create a happy and loyal customer. Effective value chains include seamless processes, minimal product defects, strong customer service, and continuous improvement. Amazon has done just that. Amazon has done a great job of creating customer loyalty programs that drive long term relationships and increase trust among its market. One of those programs is Amazon Prime, where membership provides customers with priority two-day shipping for any purchase with an annual membership. Amazon also has a program called Amazon Student which provides discounts and other perks for students. Conclusion
Amazon is one of the early pioneers of ecommerce and has lasted for well over 15 years in serving people all over the world. The company was an online start-up before start-ups became cool with that advent of Facebook and Google. Jeff Bezos identified an opportunity that others could not see and ran with it. It's going to be interesting to see the direction of Amazon in the next 5-10 years as e-commerce evolves even more and bridges the gap between online and offline movements.
References
Filson, Darren. 2004. Journal of Business; Apr2004 Supplement, Vol. 77, pS135-S154, 20p, 5 Charts. Retrieved on December 20th from http://web.ebscohost.com.lib.kaplan.edu/ehost/pdfviewer/pdfviewer?sid=f2aff340-2595-40de-85f9-7d03fff7e816%40sessionmgr111&vid=8&hid=25 Francisco, Bambi. (2009). CBS News – Amazon.com In A Bazaar Move. February 11th 2009. Retrieved on December 30th from http://www.cbsnews.com/stories/1999/09/29/tech/main64227.shtml Monitor, Data. 2011. Amazon.com, Inc SWOT Analysis Oct2011, p1-11, 11p. Retrieved on December 20th, from http://web.ebscohost.com.lib.kaplan.edu/ehost/pdfviewer/pdfviewer?sid=f2aff340-2595-40de-85f9-7d03fff7e816%40sessionmgr111&vid=4&hid=108 Porter, Michael
Related Topics