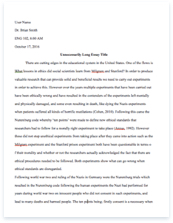 The whole doc is available only for registered users
Pages: 12
Word count: 2819
Category: Apple
A limited time offer! Get a custom sample essay written according to your requirements urgent 3h delivery guaranteed
Order Now
Apple Inc. (AAPL)
Company and Industry Analysis and Forecast
Before 2007, when its name was still Apple Computer, Macintosh Business remained a pivotal business for Apple. Even in 2008, this part of business still accounted for 43% of Apple's total revenue, but revenue from Portable products increased dramatically. As a vendor of the Macintosh personal computer, Apple gained huge success in last 30 years by focusing on Research and Development (R&D) and creating better user experience. But during late 80s to 90s, Apple Computer was also facing extremely intense competition from other PC producers. Steve Job turned around the tough situation of Apple. Reducing product lines, stressing on innovation, and cultivating great brand loyalty helped Apple regain vigor. Then in 2007, shedding "Computer" from its original name was a sign that Apple was shifting away from a PC vendor to a multimedia player.
Business Model and Structure
Apple Inc.'s main businesses are consumer electronics and retailing, as showed in Exhibit 1. Right now, Apple actually is focusing on providing media devices and also connects all its products with its retailing services. This vertical integration helps Apple Inc. creates competitive advantage and paves road to success. Exhibit 2 shows that how Apple makes its money from this vertically integrated value chain. From this exhibit we can find that a clear business model of Apple:
1. Heavy R&D investment and excellent hardware/Media devices
Some people said that Apple doesn't ask people what they need but gives them products they decide they want. Based on very strong innovation and R&D ability, Apple is keeping introducing high quality products which generate a cultural force among consumers. From iPod, iTouch, iPhone to iPad, Apple always runs ahead of all other competitors, even customers' need, to provide fresh and exciting user experience to consumers. The slim, ergonomic and user-friendly products give Apple the ability to charge a price premium.
Emerging of iPod was the first step leading to huge success of Apple in 21st century. In 2002, sales from iPod was only 143 million, and then this number skyrocketed to 8,305 million in 2007. The portfolio of iPod products includes iPod classic, iPod shuffle, iPod Nano and iPod touch. After swinging the iPod mania, iPhone had an incredible successful debut in 2007. In fiscal year 2011, 43% of total revenue, 46.6 billion dollars, comes from iPhones sales. Then iPad becomes the next phenomenal product in portable devices market, bringing 20.6 billion for Apple in 2011.
We also need to notice that although Apple Inc. could be called a manufacturer, it actually outsources all manufacturing operations to third parties in low labor cost countries. Samsung, Foxconn, and Quanta Computer Inc. are main suppliers of Apple. But because of the litigation over patent infringement with Samsung, the frequent employee suicide tragedy in Foxconn and need of minimizing currency risk, Apple now is considering enlarging its supplier's base.
One risk of outsourcing oversea is that Apple is unable to directly control the manufacturing process; another one is that the regulatory risks like tariffs, penalties imposed for dumping.
Apple is in charge of part of assembly work but also outsources some of the work to third parties across the world.
2. Content-driven era: Software and App stores
Only attractive hardware/Media devices can't explain the huge success of Apple. Combining these products with the strong software and enormous interesting and functional content sold in App store, which is a brand new and revolutionary concept, is a critical factor for Apple's past, current and future growth.
At the very beginning, Apple's iTunes software successfully established the connection among different Apple's product: Sharing pictures, movies, and so on. Most importantly, iTunes is playing a key role of Apple's distribution operation – Consumers purchase music, movies, shows, podcasts, and other multimedia content in iTunes; this iPod + iTunes mode works very well to retain customers.
Later on, iPhone + App store mode starts a content-driven era for Apple's product. As a platform for program developers and consumers, App stores also become the heart of Apple's distribution operation. Apple also can gain revenue stream from App stores: First, software developers need to pay $99 per year to gain access to iOS development tools; Second, Apple can earn 30% of revenue generated by App store; Last, Apple will collect money from its mobile advertising platform iAD.
Both iTunes and iOS App store are integral parts of Apple's value chain, or say ecosystem of devices and services. Although revenue from these two parts is not as high as media devices, the content distribution is an essential selling point or catalyst for Apple.
Recently, iCloud, which is outcome of cloud computing trend, makes consumers able to share their content among all their Apple products, tightening the connection of different devices and consumer's reliance on Apple's products.
3. Retail network
Apple has started to establish its own flagship stores around the world and reap juicy result for now. Starting from online sales, Apple now pays more attention on opening store-based sales. The amazing part of store-based sales is that consumer can have a much better purchasing experience in the fancy Apple retail store. Apple's products are welcomed mainly because of the wonderful user experience and designs, and the store-based sales can serve as the bridge between consumers and product, providing opportunities for consumer to experience Apple products and falling love with them.
China is a really good example for this. Apple now only has four stores in China, far away from meeting the strong demand of Chinese consumers. The result is that you can see that every flagship store in China is full of people – the consumer traffic is extremely high.
Furthermore, because Apple has strict pricing policies preventing deep discounting in third party retailers, consumers have very little financial incentive to buy Apple products in other retailers which is without the shopping environment created by Apple stores.
Besides products, software and content-driven distribution and retail network, heavy investment in marketing and branding and excellent logistic management also very important for Apple. Generally speaking, we can summarize Apple's value as following: Design
Production/
Assembling
Logistic
Marketing
Retailing
Services/
Content distribution
– Heavy R&D investment
– Acquisition of innovative company
Outsourcing in lower labor cost countries
Trying to broaden supplier base
– Responsible for some of assembly
– Advanced logistic and supply management
– Distribution center around world
– Spending a lot on marketing and branding
– Generating cultural force
– Online sales
– Opening flagship stores to provide better shopping experience – Online sales
Opening flagship stores to provide better shopping experience iTunes and App stores
The vertically integrated business model consisting of "Must-buy" products, outsourced manufacturing, excellent content distribution by iTunes and iOS App stores, efficient logistic management, concentration on marketing and cultivating brand loyalty, and extensive retail network which provides amazing shopping experience is the key for Apple to open the door of success. .
Current Market Position
From 2007 to 2011, Apple has a very high growth in both revenue and net income (Exhibit 3) with CAGR 44% and 68.5% respectively. iPhone and iPad are the engine of this phenomenal increase, especially in 2010 and 2011 when Apple introduced iPhone 4/4s and iPad 2.
Apple now dominates in portable consumer electronics including MP3, Smartphone and Tablets. iPod right now is no longer the most welcomed product of Apple because there are more and more lower-priced brands and another Apple's product – iPhone, which actually includes all function iPod has and also adds telephony in it, looks like more attractive to consumers. Content distribution through App stores is also a driver of iPhone's success.
Then iPad once again sets a new industry standard for Apple's competitors. In 2010, Apple's sales increase 48% to iPad's credit.
On computer side, Apple's performance is not as good as consumer electronics. It remains far behind its competitors like Acer, HP, Lenovo in both desktops and laptops. The reason is mainly that the price of Apple's PC is not very competitive especially in some developing countries. On the other hand, Apple's PC is hard to compete with Windows OS PCs in that Windows based PCs more prevail for official or business use.
In exhibit 4, we can see the market share of Apple. By retail volume, Apple is only ranked No.4 in portable consumer electronics market. Nokia, Samsung and LG are leading by volume, but both Nokia and LG's revenue in 2011 is less than Apple's. By revenue, Apple is no.2 on this ranking, just behind
Samsung.
As an electronics and appliance retailer, Apple's is improving recent years. In 2008 and 2009, Apple's ranking among all electronics and appliance retailers by value was not in the top 10. But Apple has opened 113 new retail stores during 2008 to 2011, making Apple the no.6 on the chart in 2011 (Exhibit 5). Although Apple's retail stores are very successful, in Asia-Pacific it is also facing severe competition pressure from huge electronics and appliance chain stores like Suning, K's holdings and Gome.
Financial condition and financing decisions
Apple may be the most famous company in the world because of the huge amount of cash on its balance sheet.
In 2011's annual report, Apple reported 9.8 billion cash in hand and 16 billion short term investments. Total 45 billion current assets account 38.6% of total assets – Liquidity seems never be a problem for Apple. If we consider the 55.6 billion long-term investments, the total cash-reserve of Apple is 81.6 billion in fiscal year 2011 and 97.6 billion at the end of 2011. Furthermore, its account receivable turnover ratio and inventory turnover ratio are 17.1x and 69.4x respectively, meaning that Apple only needs 21 days to receive its sales back and 5.3 days to sell out all its inventories: Both these two number are excellent.
Apple's margins are also very attractive for investors: 40.5% for gross margin and 23.9% for profit margin. Most important, investors can't find a dime of debt on Apple's balance sheet: All the long term solvency data is unavailable for Apple.
Apple's financial statement is unquestionable healthy, but does this mean there is no risk for Apple? When there is 100 billion cash lying on the balance sheet, how to use them efficiently and avoiding to make aggressive and stupid decision is very essential for the company. Some management would use a bunch of money to acquire some companies at an unreasonable price. In past ten years, Apple would like to use its cash hoard to acquire some small 1/2 billion companies to keep its innovation and creativity by absorbing both the good design of hardware and software in these small companies. This scale of acquisition won't affect Apple's financials dramatically. On the other hand, one of the reasons for this historic high cash reserve is because Steve Jobs, founder of Apple, did not believe that allocating money back to investors is an efficient way to use it. But in 2012, Apple has changed its attitude toward dividend and repurchase of stocks: It announced that it plans to buy back 10 billion stocks over next 3 years. This plan also includes a quarterly dividend of $2.65 per share, costing 45 billion totally. Besides buyback plan, Tim Cook, CEO of Apple, stressed that Apple will use cash to make beneficial investments in R&D, retail stores expansion, acquisitions, CAPEX on supply chain and so on.
Historical performance and future prospects
In past 5 years, Apple has achieved huge success. In 2007, its revenue was only 24 billion with 33.17% gross margin and 3.5 billion profits. But in 2011, Apple realizes 108 billion revenue and 26 billion net income with 40.5% gross margin and 23.9% profit margin. iPhone and iPad are main drivers for this considerable increase. And mature App stores and opening new retail stores in emerging countries also contribute to Apple's swelling financials.
Apple's profitability is also improving since 2007. Both ROA and ROE have a notable increase: ROE increase to 41.67% in 2011 from 28.51% in 2007 and ROA climbs to 22.05% from 12.95% in 2007. Because of efficient supply chain management, high-premium products, various of revenue stream, and strong brand loyalty of consumers, Apple not only gains a strong top-line increase and also converts this increase into higher profitability and return rate.
We also collect some financial information of Apple's competitors to make comparison (Exhibit ). Among all these competitors, HP and Samsung have bigger revenue than Apple from 5 years ago. But both of them are experiencing slowing down growth rate and lower than 20% ROA and ROE. Very thin profit margin makes Apple overtake their net income very easily in 2009. HP also faces a relatively high debt-equity ratio: compared with the clean balance sheet of Apple, 78.54% debt-equity ratio is not good news for HP.
On Mobile Phone market, particularly Smartphone market, RIM and Nokia are competing with Apple. RIM's margins seem good, return rates are also satisfactory, but its scale is too small to threaten Apple. More importantly, RIM is in trouble to bring next generation of Blackberry operating system to compete with Apple, making RIM's prospect gray. Nokia, once the most successful mobile phone manufacturer, now is dragged down to swamp because fail to improve or invent new OS instead of Symbian to compete with Apple iOS and Google Android. Negative growth rate squeezes out Nokia's profit; a 9.5 billion profit leading company in 2007 now is a poor 1.5 billion loss corporation. Nearly -10% return on equity makes investors disappointed and dump Nokia's stocks into market, losing 94% market cap in half a year.
Google is an interesting competitor for Apple. Actually they do not have much overlap on business: Google does not produce Mobile phone (This situation may change after Motorola acquisition) and it mainly focus on providing searching services. But one great Operation System developed by Google makes the story different. Android, one of hottest OS in Smartphone world, is an open source for every program developer and Smartphone manufacturer. Samsung is taking iPhone's market share because it combines its excellent manufacturing skill and advanced Android OS. Android OS also has an App store which have more Apps for consumer in that programmers do not need to pay for using Android source code to develop new Apps.
Although Google has strong growth momentum, high margins, and low debt-equity ratio, its return rates are behind Apple and its main business is still different from Apple's.
In capital market, Apple's market capital is 534 billion, trailing by Microsoft which market capital is only half of Apple, 272 billion. We also compare recent one year stock performance of Apple with those of its competitors. In exhibit, we can see that Apple's stock increase 66.29% relatively compared with others, having the best performance; RIM and HP have a tough time in past year and dropped 75.43% and 40.18% respectively.
In future, we believe that there are lots of opportunities for Apple to increase, because: 1. Emerging countries opportunities: China, a typical emerging country, is still dominated by feature phones, but there is already a trend that young generation and emerging middle-class would like to choose Smartphone. Latin-America is also an increasing market; Brazil and Argentina are two main markets in this area. 2. Exploiting the advantage of Apple's store-based retail: Apple already prove in China that the store-based retail is very successful. Only 4 stores in China is far away to fulfill the demand of consumers. Apple should replicate this success to other emerging countries like Brazil and Russia. 3. Entering in new battlefield: If Apple could introduce its television to market in next few years, it may enhance its position in this market. Based on its cloud computing technology, Apple can utilize its existing devices portfolio to help the sales of iTV.
But Apple is also facing many challenges in front of it, including: 1. Its competitors are chasing it and shortening the distance: Android OS Smartphone from HTC, Samsung and Motorola performs very well in developing countries, and Tablets from Samsung and Amazon also try hard to take place the iPad's leading position. 2. But if Apple plans to compete in developing market, lowering price may be a critical factor. In exhibit, we find that in BRIC countries Symbian is still the dominant player because there is still a bunch of low income population. In China, Android does already take lots of market shares in that many Smartphone manufacturers (Especially HTC, Samsung and Motorola) equip their phones with this OS, meaning that they can provide consumers different kinds of Smartphones in broader price range. 3. Will there be next "Must-buy" product: Apple must spend on innovation to keep its ahead position such as what it did in past. This is still a myth for Apple without Steve Jobs.
Related Topics