Unfair Labour Practices Against Immigrant Workers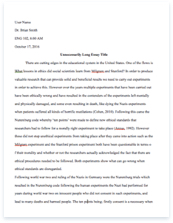 The whole doc is available only for registered users
A limited time offer! Get a custom sample essay written according to your requirements urgent 3h delivery guaranteed
Order Now
More than one million undocumented immigrants enter the United States each year (Pew). In the hopes of achieving the American Dream, many immigrants work in low-skill jobs experiencing unfair labor practices such as low pay, long hours without earning overtime, and poor working conditions. Employers may even deny them bathroom or meal breaks. To stop the inhumane treatment, the government should implement stronger policies for immigrant workers to ensure they receive protection from exploitation.
The United States government has attempted to protect undocumented immigrants labour rights. However, law professor Keith Cunningham- Parameter argues there has been inconsistency among the courts about the future rights of immigrant workers. He points out how in 1938, congress enacted the Fair Labour Standards Act, that protected immigrants "to recover unpaid wages". In 1979, immigrants were considered 'employees' by the National Labour Relations Act, so immigrants could proclaim other "employment rights citizens" have and the right to be free from discrimination from Title VII in 1988. However, after the Supreme Court Case decision in Hoffman Plastic Compounds, Inc. v. NLRB the workplace rights of immigrants changed. At first, the NLRA protected Jose Castro because they knew it was wrong of the employer to fire him for supporting a union, so they granted him sixty thousand dollars in backpay, even though Castro "misled his employer about his immigration status". The court reviewed their decision and no longer would give Castro backpay because it would "reward his illegal behaviour". As a result, the Equal Employment Opportunity Commission has step back on their "support for extending backpay to all workers". Cunningham- Parameter notes that because the courts have failed to address the employment rights of undocumented immigrants, so many immigrants don't know which rights remain available.
Therefore, Cunningham focuses on discussing why immigrants shouldn't be denied employment protections based on the partial inclusion theory. He points out how this theory proves congress has failed to define right-based citizenship. He explains how extending the rights of partial inclusion from a communitarian point of view will strengthen the nation, if they allow immigrants to possess the "power to challenge exploitation at the workplace". He states if the courts don't grant these rights to immigrants, then America can't "define itself as a nation based on equality and fairness". He continues by expressing this theory will encourage immigrants to find a sense of belonging in the communities they are in, if they are given workplace rights.
In addition, the courts have instead reduced the rights of undocumented immigrants by enacting the Employer Sanctions Law. This law makes it illegal for an "employer to knowingly hire or continue to hire a person unauthorized to work" . According to Muzaffar Chishti, the director of Migration Policy Institute at NYU, contends that Employer Sanctions law should be abolished. He clarifies how from the very beginning this law was controversial, but congress still enacted it, to "improve wages and working conditions of U.S. workers". He cites three reports by GAO and through them argues this law has led to discriminatory employment practices toward Hispanic and Asian workers. He focuses on how the law has proven to be ineffective but a way to interfere with workers' rights when a worker wants to complain about the wage, health protection, or voting in a union. He then cites how NLRB have argued that employers have made unfair labour practices but are protected from the employer sanction law. He points out that employers' 'conveniently' benefit because there is a loophole in the law. The law vaguely states it would only "penalize employer who knowingly hires undocumented worker and congress agreed [employers aren't] expected to be document experts". Basically, any form could be presented as valid, so employer wouldn't be considered violating the law. Therefore, Chishti concludes this law needs to be repealed since it sends the message to undocumented to not voice for labour rights.
Yet the administration has created a policy that made it difficult for undocumented workers to file workers' compensation. The policy required a Social Security Number to present on application or it would be rejected. Rebecca Smith, director of National Employment Law Project, argues policymakers must make it a priority to allow immigrant workers to have equal access to workers' compensation claims. She focuses on how immigrant workers experience fatal injuries in the workplace, and many don't report due to fear of deportation or being fired since they need the money to provide for their families. She points out that, "the death rate is almost 2 per hundred thousand workers and about thirty-one injuries per ten-thousand workers". Because immigrants suffer high rates of injuries, the right to access these claims must be protected. She notes how there are different policies some states have towards accessing workers' compensation. For example, some state laws provide "death benefits for nonresident aliens, but the state of Alabama doesn't". In addition, the state of Florida, ruled it unconstitutional to deny immigrants the rights to their benefits just because they didn't include Social Security Number. Following this, the debate about whether an undocumented reported a false SSN is considered fraud rose. Smith explains how in Kansas, it would be considered fraud, and the worker would be fined, but the courts of California, Tennessee, New York, and Florida don't consider it fraud.
The issue of Social Security Number continues, as the Department of Health and Human Services, question whether transnational workers, including guest worker, be provided with Medicare. Guest workers are workers who temporarily work in a country until a certain period of time. At least in Florida and Texas, immigrants that are injured will be receiving medical care if they are present in America or not, but the state of Kansas requires them to be in the U.S.. Therefore, Smith concludes advocates for immigration reform should examine which states have the best policies that protect all undocumented workers to receive workers compensation claims, since the guest worker program has doubled in size, this issue needs to be addressed.
Meanwhile, workplace violations continued, the national agenda still hasn't addressed what must be done to protect all workers' rights. According to Shannon Gleeson, professor of Latino Studies at University of California, Santa Barbra contends that immigration reform has been unsuccessful in strengthening immigration laws for wage and safety protections. She cites, Kim Bobo book, "Wage theft in America" to highlight that the enforcement of the current laws placed for undocumented workers in assessing their rights has proven to be ineffectual. Immigrants continue to face "check irregularities, wage and hour abuse, and lack of access to safety equipment". She notes, there a lack of evidence that prove immigrants face workplace abuse. Therefore, Gleeson conducts a study focusing on how undocumented workers experience unfairness in the workplace in the states of California and Texas. She points out how the experiences of immigrant workers are shaped by state policies, but evidence suggest undocumented worker experiences were very similar. She chose to focus on the restaurant industry since they are known to conduct workplace violations. She randomly interviewed forty-one immigrant workers.
Based on the results many of the undocumented workers experienced "wage and hour violations, lack of safety equipment, no raises, and no rights to be paid on sick days". Shockingly, the author notes many are not willing to fight for their rights to avoid problems and are willing to endure the hardship they face just to live the American Dream. For example, a respondent named Julian shared he typically works "sixty hours a week, and there are days where he wants a day off but that's what he comes for, to work". By sharing the work experiences of immigrant workers, Gleeson expects the federal and state take action on reforming the labour standards for all workers.
Due to the shift of immigration policies, a rise in immigrant labour protest began demanding a change for labour rights. According to sociologist Ruth Milkman, "immigrants' movement still remains alive" and workers still have the power to seek justice by challenging laws like the employer sanctions law and other unfair regulations Congress has placed. He explains the three channels of activism-trade unionism, worker centre advocacy and organizing, and the movement itself- and through them argues immigrants who have experienced exploitation "often win public sympathy and support, despite the fact that they aren't [citizens]". He notes that the immigrant labour movement have had successes such as the Service Employees International Union, for raising public awareness of the unfair practices in the cleaning industry and H.R. 4437 law that "criminalized immigrants' presence in the U.S." from not being enacted. For instance, Milkman shares how "two- hundred and forty blue collar union members from Chicago factory protested against firm for firing them from their job without notice or compensation, so workers demanded pay. Many organizations were in support, and it resulted in a California energy window firm from rehiring the workers".
He points out that all three forms of activism share a common purpose which is to improve employment opportunities for all workers. He focuses on how work centres help immigrants know their rights and explain to them how to file legal claims. Unlike the other forms of activism, this center focuses more on "the moral level, gaining publicity for labour law violations that affect low-wage workers". Milkman then points out that the immigrants' rights movement got public support from the Republican party and Bush administration, who continuedly tried to reform immigration policies but failed. Workplace raids and deportation got worse but got better due to the marches that took place in 2008. Over the years, the immigrant labour movement has motivated many immigrants to fight for workplace rights. The demand for immigration reform will continue as long as administration invoke labour laws that are effective for all workers.
Despite those who are against immigration reform, who argue immigrants don't deserve these rights and that the administration has done enough to protect immigrant workers. There is a large amount of evidence, anecdotal and statistical, that suggest the U.S. needs immigration reform. Law professor, Julie Braker states there are possible solutions to improve labour standards for immigrants. She argues that the Department of Labour and the Department of Homeland Security just need to align their policies to protect immigrant worker rights. She explains that these departments should focus on the protection of undocumented immigrants since there is an estimate of "8 million unauthorized workers in agriculture, construction, and manufacturing industries that rely on heavily on the labour of these workers". She points out there are many times were these departments have conflicts and it interferes with labour enforcement. For example, the department of Homeland and Security "interfered with the labour rights of workers when company of Smithfield foods cooperated with the agency to have a worksite raid to discourage workers to participate in unions". This suggest immigration laws are being used as a tactic to limit labour rights. Due to the increase in interferences, the departments created a Memorandum of Understanding to create a boundary in their relationship.
Braker provides an overview of the relationship of two departments. The department of labour focuses on "health, safety, wage and hour protections and implementing employment laws that are relevant to immigrant workers". While the department of Homeland and security focus on border regulations. Therefore, Braker claims there needs to be a balance in federal policies between the agencies so each department can meet their priorities. She then explains protection is needed when state and local law enforcement interfere when a case of worker rights is presented. States create their own policies on labour laws, so many workers go to their local law enforcement to fight for their rights, but DHS may interfere. She advises that the Protecting Our Workers from Exploitation and Retaliation Act gets enacted to balance DHS and DHL from interfering to ensure immigrant workers who want to fight for their civil rights when they are being abused in the workplace are protected. Many law organizations are in support of this act, since it will include extending the U visa. By extending the visas, it would "balance immigration -and labour-enforcement goals by alleviating the fear of deportation that some low-wage workers have". Thus, aligning the policies of these two agencies would help ensure action will take place from Congress in protecting undocumented immigrant labour rights be upheld.
Related Topics