Unfair Bails Cause Overpopulated Jails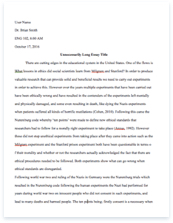 The whole doc is available only for registered users
A limited time offer! Get a custom sample essay written according to your requirements urgent 3h delivery guaranteed
Order Now
This issue and will analyze how excessive bail fines can lead to dramatic increases in prison In today's time, it is unimaginable how such injustices can be performed by the judicial system. These injustices take away numerous citizens' simple constitutional rights. The constitutional rights that have repeatedly been violated by our country's justice system include the right to a speedy trial and the right to be free of excessive bail and fines. The criminal justice system has taken advantage of people due to their socioeconomic status, race, ethnicity, and level of education. Many people been profiled because of the afore-mentioned factors, but they have also received harsher punishments and bail amounts for minor offenses. My paper will explore populations.
First, the bail system was created through the Bill of Rights to give all defendants, who are presumed to be innocent, a chance to attain their freedom. Bails were determined once judges examine the current charge at hand and the defendant's record. However, many judges use their own personal biases and prejudices when determining the bail amounts for defendants. As a result, the criminal justice system has taken advantage of the bail process as many judges give excessive bail fines to defendants to keep them behind bars. This increases the number of offenders in jails.
A common misperception about the prison system in the United States is most of the prison population is comprised of people who have already been convicted. However, many of the people who are currently incarcerated have not yet been convicted. According to an article written by Bernadette Rabuy and Daniel Kopf, criminal justice proceedings consist of several steps. One of the most important steps precedes a trial. This step is where a bail amount is set for the defendant. Unfortunately, many arrests are made for minor offenses such as minor drug possession leading to the perpetuating cycle results in people of color having higher arrest rates in comparison to people of other ethnicities.
After the arrest, a bail bond is set which places defendants into one of three categories. Usually people who are denied bail, cannot afford bail. A majority of people who cannot afford to pay their bail are people of color which unfortunately leads them to be incarcerated before they have trial. According to the article written by Rabuy and Kopf, most people who are negatively affected by the unfair bail system are Black people as they typically have lower incomes prior to incarceration in comparison to their non-Black peers. This makes it more difficult for Black people to stay out of prison and leads to the rise of Black people making up a large portion of the prison populations.
In recent years there has been a major increase in prison populations. My research has shown that prison populations continue to increase because individuals are arrested for minor offenses and are given excessive bails and fines. According to a report written by Jon Schuppe and released by NBC News, prison populations in the United States has increased to 2.1 million people. Schuppe proceeded to state that many of the people incarcerated are in prison because they cannot afford to pay their bail. He stated that in 2013, about thirty-eight percent of prisoners in New Jersey were incarcerated because they could not afford to pay bail (Schuppe).
Excessive bails and high arrest rates for minor offenses has disproportionately affected people of color and people of low socioeconomic status. This has garnered the attention of many social justice organizations and politicians. In his article, Jared Keller asserted that the bail system in the United States perpetuates the issue of mass incarceration as many people of color are tossed into a constant cycle of incarceration and debt. As I previously mentioned, the bail system is designed to give all defendants a chance at freedom. In her article on prisons, Mindy Bogue delves deeper into the topic of the bail system, she began to analyze the system in a more holistic manner. This approach shed light on how multifaceted the bail system actually is in the United States as she stated that million- dollar insurance companies dominate the industry as they underwrite the majority of bails bonds in order to help people pay their bail and be released from jail (Bogue). This perpetuates a system that profits from the incarcerated people.
To have a deeper understanding of the bail system in the United States and how it disproportionately and negatively affects Black people, I looked at two specific examples. The first example was centered around the story of Kalief Browder. Kalief Browder was a 16-year old African-American male who lived in New York. In 2010, Browder was accused of stealing a backpack. At 16-years of age, Browder was forced to sit in New York's Riker Island jail because he was unable to pay his $3,000 bail. Browder spent three years in this jail until he received his trial date. After being released from prison, Browder expressed symptoms of depression because of the traumatic experiences he endured while being incarcerated.
The traumatic experiences in combination with Browder's symptoms of depression led Browder to commit suicide in 2015. Another example of how excessive bail amounts can negatively affect people is seen in the story of Sean Ramsey. In September of 2017, Sean Ramsey was seen holding a sign that said "homeless, please help." According to Atlanta's City Ordinance, this act is illegal and caused Sean Ramsey to be arrested on September 19, 2017. He was held in jail for two and a half months simply because he was not able to pay his cash bond. These are only two of the numerous examples that show how excessive bail bonds can have negative effects on people of color and even more specifically on Black people.
Many scholars and social justice advocates have focused on increasingly high prison populations in the United States. Politicians especially have recently begun to dedicate more attention to this issue. One of the politicians that focused significantly on this topic is the current mayor of Oklahoma, David Hold. Mayor Holt devised a plan to reduce the rate of non-violent offenders in his state. His plan integrated crime, health, and social service data to create appropriate interventions. His plan resulted in the release of approximately 77% of inmates who were incarcerated for minor offenses. The plan helped Atlanta Mayor Keisha Lance Bottoms devise her prison reform plan. Mayor Keisha Lance Bottoms, social justice advocates, and other politicians have taken up great concern for the increase in prison populations in the state of Georgia.
As stated in a few of the articles I have used for my research, many of the prisons are comprised of people who have not had trial yet. Mayor Keisha Lance Bottoms made it a point to investigate the reasoning behind the shockingly high number of pre-trial detainees in Georgia State Prisons. She realized that most people were detained not because they have committed a severe crime, but because they could not pay their bail. In her 2018 campaign speech for Mayor of Atlanta, Mayor Bottoms indicated that Atlanta jails function on a bail schedule as there is a "pre-set sum for minor offences that automatically require cash money for release, with no judicial review" and ultimately if a person is unable to pay, they are automatically incarcerated. During her 2018 campaign for the office of Mayor, Mayor Keshia Lance Bottoms promised to release the unforgotten victims of the unfair bail system. Upon assuming the responsibilities for her position as Mayor of Atlanta, Mayor Bottoms made sure that the citizens of Atlanta understand the necessity of ensuring that low level offenders are not detained in state prisons for the simple fact that they are not able to pay their bail bond. 2017, Mayor Keisha Lance Bottoms signed a Cash Bond Ordinance into Law. The Law eliminates cash bonds to secure the release for low level of offenders.
It is essential that politicians and social justice advocates stand up in the fight for justice for criminal defendants. To decrease high prison populations, it is necessary to analyze all the aspects of the criminal justice system because some of the aspects that get overlooked have some of the most detrimental effects on defendants. As noted in my research the bails system is one process that leads to a surprisingly high number of defendants being detained in prisons. It is hopeful that many politicians will follow Mayor Lance Bottoms' lead and pass an ordinance similar to the law which she has passed. The passage of these ordinances who help minor offenders escape jail time without being tried.
Related Topics