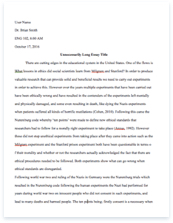 The whole doc is available only for registered users
A limited time offer! Get a custom sample essay written according to your requirements urgent 3h delivery guaranteed
Order Now
In the article of the moral standing, the value of lives and specieism Frey presents his "unequal-value thesis". From his point of view he explains why and how proving the equivalence of animals and humans is impossible through his statements of autonomy, rank and "human morality".
Frey declares that humans have the freedom to decide what they would like to do with their life and this is a human only capability. They can decide whether they would like to work as a teacher, contractor, lawyer ect. There are varieties of ways to enrich the human life, such as through religion, education, recreation and others. For this reason an animal could never have the quality of life as human. A frog doesn't have the ability to change its mind and live its life as fox; nor can it change its job of catching flies to a new career of catching fish.
Animals and humans are classified into separate categories. A mentally handicapped person in our society has less "value" than a person in the normal state; just as a mouse has less value than a tiger. Everything has an unequal stance in life regardless of whether one chooses to acknowledge it or not. Therefore humans are ranked above animals since they are better agents.
Most would say that human life has more worth than the life of an animal. Frey even asks do people have the right to even assume that their lives are better or worse than animals, since we are different creatures? Humans understand human life not animal life. How can animals have equivalent rights to life as humans when they both do not understand the other? Frey's case holds that the quality of human life is more significant than an animal's life.
References:
Frey, R.G. "Moral Standing, the Value of Lives and Speciesism." Ethics in Practice. Ed. Hugh Lafollette. Blackwell Publishers:1997
Related Topics