Under Armour Case Analysis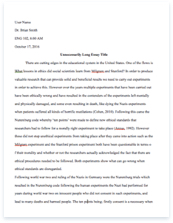 The whole doc is available only for registered users
A limited time offer! Get a custom sample essay written according to your requirements urgent 3h delivery guaranteed
Order Now
Founded by Kevin Plank in 1996, as KP Sports and then later on renamed to Under Armour (logo as UA) has been profitable and well known since the time it was founded. Under Armour rapid growth in very short term has been due to maintaining a competitive advantage by always having top-notch products and adopting new strategies to compete with the rivals. Since 1996, company sales, profit, assets and equity have been increasing. Today Company is not only known in America but it is famous all over the world. Under Armour produces performance apparel for sports, training/fitness clothing and performance golf apparel. Firm's Strategy:
Under Armour's strategy and mission statement: "To make all athlete's better through science, passion, and relentless pursuit of innovation." Based on the Under Armour strategy, Under Armour management have made sure that their product is the finest and best of all and their athletic apparels are moisture wicking fabrics which are suitable for every climate. Under Armour pursues a growth strategy to continue to broaden the company's product offerings, target additional consumer segments and secure additional distribution of Under Armour products.
The product line strategy consists of creating a diverse product line like in apparel by producing HeatGear, ColdGear and AllSeasonGear apparels, in footwear UA offers football, baseball, lacrosse, slides, basketball, running footwear, performance training footwear and hunting boots and UA also has a big line of accessories which includes gloves, socks, headwear, bags, knee-pads and custom-molded mouth guards. Under Armour marketing strategy includes entering into outfitting agreements with a variety of collegiate and professional sports teams, sponsoring an assortment of collegiate and professional sports events and selling Under Armour products directly to team equipment managers and to individual athletics. Management believed that having audiences see UA products being worn by athletes on the playing field helped the company establish authenticity of the Under Armour brand with consumers. Key Issues:
With all the strong competitors like Nike, Adidas and many more, UA have to become more geographically diverse to stay competitive in the business, try to get more deals for endorsement, gain control to outsource for the specialty fabric to decrease supplier bargaining and perform extensive research to stay on top of social and life style sporting.
Environment Responsibility:
Under Armour introduced the Catalyst T-shirt made from recycled water bottles Catalyst T-shirts were first introduced to 20,000 runners in the 2009 Baltimore Running Festival. Per Will Philips, Under Armour's Manager of Green, due to new technology each shirt is made from four recycled bottles, which are cleaned and broken down into tiny plastic flakes. The new technology allows for better temperature regulation, moisture to transfer better throughout the shirt and improved protection from the sun. Phillips said: "For us, green is an innovation project. We see it as a way to build great new performance products with a lighter environmental impact at the same time." Per Phillips consumers never asked the company to innovate an environmentally friendly apparel but management did cared about the Under Armour Green Collection and innovating the Catalyst T-shirt at the Baltimore Running Festival was the ideal place. Today UA sells about 30 green products which include polo shirts and shorts to hooded sweatshirts and baseball caps and has a good and better control on the technology and on the fabrics that is needed to expand its line of green products. Consumers:
Plank said. "The relentless pursuit of innovation is something that differentiates our company today." Since beginning, Under Armour focused has been on making athletics apparel and footwear better for consumers and by making T-shirts that wicks away sweat has been a defining product as a brand. The other focus has been on expanding footwear sales by producing world's top notch comfy shoes for consumers and in different styles such as football, basketball, running and training. Target Market:
Under Armour targeted the market that has wealth, active lifestyles and who is willing to spend on high quality products on a wider scale. Consumers who are fashionable, ambitious and competitive are most likely to purchase brand name products. Under Armour has started to follow exclusive young athletes by exposing them to the product at an early age. UA has skilled the company to produce hi tech athletic gear not only to individuals but also to athletic teams domestically and globally. By targeting products worldwide, does makes company profitable and be successful in the long run. Strengths:
Under Armour have one of a kind product which allows them to stay competitive in the industry. Under Armour is a leader in providing high quality of apparel, in producing a sweat wicking fabric, in innovating high tech undergarments for athletes and their brand loyalty have geared to high demand of a narrow target market. The company is gaining market shares at a faster rate than competitors due to the ability of dealing and working with the pressure of changing industry conditions by creating opportunities using new technologies and by introducing products that are different which will help them from losing market share to substitute products. The other strength is due to their simple design; consumers can easily identify their products. Weaknesses:
In competition with deep pocket competitors like Nike and Adidas, lack of patent on popular cooling shirts, limited number of distributors, lack of individual customizations, lack of international market presence can hurt Under Armour in the long run and the company can lose their customers. Product line of Under Armour two major competitors is very strong and powerful that company should patent their popular sweat wicking cooling shirts otherwise this will give Nike and Adidas to make their own product with the same benefit. Opportunities:
Since there is a growing population of staying in shape and going to the gym, this will bring Under Armour a lot of customers and a lot of opportunities to grow. These opportunities include Under Armour's customization and growing number of customers, growing population, innovation and the expansion into international market. The need for innovation within the industry provides Under Armour with more opportunities to compete its competitors. Threats:
The biggest threat that Under Armour's is currently facing is the lack of patent and that poses a high risk since all of their products are at a high risk of substitution. Other than that the need for product differentiation within the industry, high risk of substitute products and increase in the cost of raw material especially since the company uses petroleum and crude oil to produce most of their products, are more threats which Under Armour faces and has to deal with. Financial Perspective:
Under Armour revenues, net income, assets, equity and per common share has grown over the years. Under Armour has an average growth rate of more than 25 percent year over year. Innovations of Charged Cotton and Storm Fleece have accounted for 31.5% increase in apparel net revenue and 42.9% increase in footwear net revenue. A 201.7% increase in accessories net revenue is due to UA bringing hats and bags in the business. Competitive Forces:
Every business can be evaluated through the competitive forces. Competitive forces include supplier power, barriers to entry, buyer power, and the degree of rivalry. Global sports and fitness clothing market have low barriers as numerous competitors would be compelled to enter in the sports apparel as common technology and ease of brand switching. Since consumers can easily substitute between brands like Nike, Adidas, Reebok, Polo Golf and many more, Under Armour needs to make sure that they keep advertising, produce top notch products, and keep cost as low as possible to keep a competitive price. In the sporting goods industry, since there is a large amount of suppliers which will usually equate to lower costs such that high quality suppliers like Nike, Adidas and Under Armour have more leverage.
Usually in a regular business whenever a supplier is forced to increase price on their products due to any reason, the suppliers are tend to reduce quality of products and which leads to decrease company's profitability. But Under Armour has maintained to keep the cost normal, increased quality and increased revenues also. When consumers buy products, they don't only look at price but quality also, and if they find good quality with low price, they intend to buy those products more. In sporting goods industry, customers have several options to choose from due to which buyers are able to force down prices and/or demand higher quality products which tend to increase company's operating costs. Resource Strength:
Under Armour's main differentiating resource is its design and style. UA has revolutionized the t-shirt that wicks away sweat from the athletes and have also re-invented women's athletic apparel. Due to new technology, Under Armour's biggest challenge is most of its resources are easily imitable and the resources due to which UA has competitive edge can easily be produced by competitors with deep pockets; which will hurt Under Armour in the long run and will have hard time sustaining their competitive advantage. Health:
During recession, when all the company's sales were decreasing, Under Armour experienced significant boost in the sales which was due to the result of continuous innovation and creation of exciting new and different styles of foot wear and apparel sporting goods products. Rapidly coming up with new and successful technologies, Under Armour has been able to stay ahead of competitors and have successfully expanded its operations and growth with efficient use of resources. Restricting Success:
With multisegment global market for sports apparel, athletic footwear and related accessories, Under Armour have to compete with 25 brand name competitors with diverse product lines and varying geographic coverage. Nike and Adidas being the market leader for footwear and sports apparel, Under Armour needs to make sure that to be successful keep focusing on performance, reliability, new product development, product identity through marketing, try to get endorsements of influential athletics, sponsor sporting events and try to get contracts with coaches, teams and colleges. Recommendations:
Under Armour should continuously focus on technology and innovation in order to stay competitively ahead in the field. This focus also includes the market research and development area where social and lifestyle trends have major impact on the market. Under Armour should try to add new segments to increase its target market. The other strategy in which Under Armour should continue focusing is increasing identity in global market. There is a large potential for profit within the global market and which could help Under Armour to maintain revenues for the future. The company should diversify the product line not only for profits but also to reduce risk. Citations:
http://www.bizjournals.com/baltimore/print-edition/2011/04/22/under-armour-aims-to-change-green.html?page=all
Related Topics