UCLA Football Coach Henry Sanders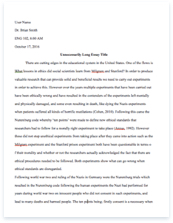 The whole doc is available only for registered users
A limited time offer! Get a custom sample essay written according to your requirements urgent 3h delivery guaranteed
Order Now
Famous held a proverbial belief about competition, "Winning isn't everything. It's the only thing." His belief has become adopted into a countless number of young minds, instilling a fallacious idea that success is the purpose of life, and a failure to succeed is a failure to live. Personally, I disagree with Sanders. Having played three different sports throughout my life: baseball, basketball, and golf, I understand that self-motivation is everything in life. Perseverance is vital to not only the temporary success Sanders' discusses, but rather to lifelong success characterized by camaraderie, compassion, and contentment. As a child, I was always competitive about everything from academics to sports to Spelling Bees. Losing at anything irritated me. In school, I strove for the highest grades, the best test scores, dismissing any faults as "minor errors." In sports, I constantly searched for something to pinpoint as the "reason" for any losses my team experienced.
During six years of participating in Spelling Bee competitions at grade, school, regional, and district levels, I would become frustrated whenever I misspelled. It was as if innumerable hours of practice had amounted to nothing more than to a day-long exodus from school and to eat Olive Garden. Remarkably, there must have been something in those delectable breadsticks; something that made me see that determination should be one's primary objective. Knowing that you put forth a worthy effort and being content with the results is not only a display of perseverance but one of humility. An example of contentment comes from my Sophomore year of high school. Some friends and I were discussing class ranks from our newly-released transcripts. I myself was in a 6-way tie for 4th, but those who surrounded me were not only above my rank, but were the salutatorian and two others tied for valedictorian! One of my friends, in particular, seemed upset that he would ultimately not become valedictorian come senior year.
The rest of us tried to reason with him, explaining that class rankings were not a competition, but only numbers that are given to indicate one's potential contributions to prospective universities. The accolades associated with becoming valedictorian may be noticeable, but simply graduating is an honor that emphasizes how perseverance breeds success. Giving your best effort is truly what allows you to accomplish your dreams, and nevermore is this statement true than in the world of sports. In my latest athletic pursuit of golf, not only have I had to learn how to properly swing a golf club, but I have had to understand that one does not simply get better overnight.
The legendary Bobby Jones is credited with saying, "Golf is the closest game to the game we call life. You get bad breaks from good shots; you get good breaks from bad shots – but you have to play the ball where it lies." No matter how many matches I played in, my primary focus was to find every diamond in the rough (no pun intended) and let those be my motivation to continue playing a game I love. Living in an individualistic society like that of America, we equate self-gratification with happiness and completeness. The falsely-promoted ideology that success is transcendent above all else is poison to the dreams of generations to come. We believe that success is the only admirable quality about someone. Instead, understand that life is full of curve balls, and taking a moment to understand that you gave your best effort is how to truly "win" at life.
Related Topics