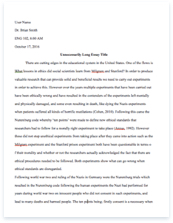 The whole doc is available only for registered users
Pages: 3
Word count: 668
Category: Simpsons
A limited time offer! Get a custom sample essay written according to your requirements urgent 3h delivery guaranteed
Order Now
My name is Ushna Amin and I would like to put forward an idea about a new character for your TV sitcom the Simpsons.
My character is a 10-year-old Japanese schoolboy. I have been watching your show for around 8 years and although it is a very good program I have always felt it was lacking one particular type of family. I have noticed from watching your show on a regular basis that each of your characters is a stereotypical view of the type a type of person. For example Apu, he is given a typical Indian accent and is very religious. Your show also satires a lot of America's institutions, for example the government and police force, and I feel that I have invented a character that would accommodated all the necessary acquirements that any character in your show would need.
I also think that the character and his family that I have created would fit in perfectly with the community of Springfield. However this is for you to decide. I know that u probably receive millions of letters from all around the world about viewers' who say that they have invented the 'prefect' character. I am not writing to tell you this because I know that my character is far from being prefect but I am telling you that my character is the best idea you are going to receive. So before you throw my letter away please just take ten minutes out of your day to read though my idea.
The name of my character is Lee Shay Woo. He comes to Springfield because his father, rich billionaire and owner of world famous Woo Enterprises, Tan Leigh Woo, decides to build a factory right in the middle of Springfield. No one is happy about it but Tan Leigh pays them off. Lee Shay goes to Bart's school and is very naughty. Bart and Lee Shay do not get along at first but gradually they become best friends. During Lee Shay time in Springfield he and Bart master some of Springfield's greatest pranks. The Woo's are very rich, and buy the two houses next to the Simpsons, knock them down and then build one great big mansion next door. Lee Shay's mother is called Waiwai Shay. She becomes very good friends with Marge.
Lee Shay from the outside is a smart, conservative and is a very polite young boy, but from the inside he is very different. Lee Shay's ambition in life is to take over the world, be the richest that ever lived and marry Britney Spears. He is never seen without his mobile phone and briefcase in which he keeps all of his gadgets. Everyone is always wondering exactly what Lee Shay carries inside his briefcase because he always seems to have whatever you need, whether it is a hammer or a spade. He always has all these really new gadgets, which he gets from his father's companies.
Lee Shay wears a smart red waistcoat with a black tie and white shirt. He also wears black trousers. Whenever Lee Shay gets in trouble, he normally tries to bribe his way out of it. His favourite sayings are, 'How much is it gonna cost me?' and 'I didn't do it!' He also has a typical Japanese accent even though he has never been to Japan.
I feel my character would not only keep the audience you have now entertained but also attract new ones. My character would attract younger viewers' to your show.
However it is up to you to chose whether or not you would like to use my character in your show or not. But if you decide against it I believe you would be making the biggest mistake and the most damaging decision to the future of your show, the Simpsons.
Thank you for taking the time to read my letter and hope you come to the best decision for your show.
Related Topics