Topic sentence in the middle part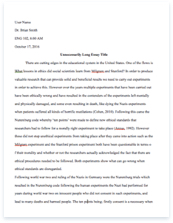 The whole doc is available only for registered users
Pages: 2
Word count: 326
Category: Cooking
A limited time offer! Get a custom sample essay written according to your requirements urgent 3h delivery guaranteed
Order Now
The alarm clock sounded for a full two minutes before Daniel heard it. Even than, she put her pillow over her head, rolled over and groaned loudly. Getting up early in the morning was always hard for Daniel. As usual, her mom had to pull the blankets off him and make him get up for school.
LAST:
People do it everyday. They log on to their favorite website and browse for hours, checking out bargains. They dump every possible wish into their shopping carts, knowing they can cast each one aside before they finalize their purchases. On the way, they may enter a sweepstakes in the hopes of winning a trip to Cabo San Lucas, or maybe even a new SUV. And then, when they have decided on their purchases, they enter private information without giving it a thought. With a keystroke, they release their personal data into what may or may not be a secure zone. Despite what much of the public believes, internet shopping is not safe.
First:
Constructing a wedding cake is a complicated process. Before any baking takes place, the size of the cake and the decorative design to be used must be determined. Then the layers are baked. On a large cake the bottom layers may be as much as sixteen inches in diameter. Because of their size, these layers must be baked one at a time, a process which may actually take an entire day. Once the layers are cooled, same-size pairs are matched and frosted. Since large wedding cakes are surprisingly heavy, half-inch dowel rods must be measured, cut, and carefully driven into the bottom layers. These wooden posts provide hidden support for the weighty upper layers. When all the layers are set in place, flowers, garlands and leaves of frosting are added. These delicate touches individualize the wedding cake and transform it from merely a cake into a culinary work of art.
Related Topics