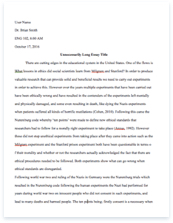 The whole doc is available only for registered users
A limited time offer! Get a custom sample essay written according to your requirements urgent 3h delivery guaranteed
Order Now
To make brownies, one must first get all the ingredients together into a mixing bowl and make sure they are all combined, then after everything is mixed together, the batter can go into the oven
For this essay I chose to write about how to make brownies. I chose to write about brownies because they're simple and they're something that I've known my whole life. I found it interesting, when I was looking up brownie recipes, that there were so many. I didnt know that there were different ways to make them other than what Pillsbury and Duncan Hines had told me. But it was interesting to learn some new recipes I can try.
Something Sweet
One of my favorite treats in life is brownies. Brownies have been a part of my life since as long as I can remember. After dinner my mom liked to eat a little something sweet and that's where the brownies come in. Thinking back to my childhood I always saw brownie mix in our cabinets. Even if we didn't have regular food we had brownies. I was never really into sweets with chocolate but something is different about brownies.
I remember when I first tried to make brownies on my own. I had to make brownies for an event that the program I was in was having. I read the brownie box to see what I would need. I got everything I needed and had it set up and ready to go. Even though I thought everything was going well the brownie mix became a lot thicker than the times my mom made brownies. I poured a little more water and then it became watery so I put more brownie mix and added the other ingredients again. When I was finished putting the mix into the pans I put them into the oven and all I could do was wait. When they were done I was scared to try them because I had messed up on them. So I asked my mom to try them and she said they were really good. I tried one and she was right about them being good: they were thick, soft, and moist, just the way I like them. After doing that I learned that it's not just about what you put in the brownies but also how you make them.
Just like a lot of other desserts, different people have different ways of making brownies. Some people like to go to the grocery store and get the box for brownie mix while others like to make a "Home Made" brownie, which includes cocoa powder. The real difference is the ingredients that people use. There are basic ingredients that are needed like eggs, oil/butter, etc., but there are people who add extra ingredients or use ingredients that they feel make them taste better. For instance, in a blog post about how he makes brownies, Drew Kime says "The chocolate flavor is front-and-center-not the sugar, not the richness, the chocolate. I used Ghirardelli unsweetened cocoa powder…" He uses different cocoa powder to enhance the taste of his brownies and he also says that he uses chocolate chips too. Others put nuts in their brownies and some put frosting on top of theirs like we do with cupcakes. So in order to avoid the confusion of which recipe to use, I'm going to tell you how to make a simple batch of fudgy brownies.
First you'll need to get your ingredients and cookware. For the ingredients you'll need Duncan Hines Chewy Fudge brownie mix, soft butter to grease the pan, two eggs, ¼ cup of water and ¾ cup of vegetable oil for cookware. You'll also need a metal or glass pan 13"x 9" and a mix bowl. Next, preheat you oven to a temperature of 350F. Grease the bottom of your glass or metal pan with the soft butter. Then put the brownie mix into the mixing bowl. Put the oil in first and mix it in with the brownie mix and stir with a spoon. Next is the egg; put the eggs in the bowl and continue stirring the mix some more. After that is the water. Put the water into the mix and stir. Keep stirring until the mix is blended well. Pour the mix into pan and spread lightly and evenly until all of the mix is into the pan. Put the pan in the oven and set the timer for 30 mins. Once the brownies finish baking, refrigerate for 15 mins or until set. Then cut into bars using a knife coated with no-stick cooking spray.
Now that I've given you the basics you can try it and maybe add some other things to your brownies. You can add ingredients such as chocolate chips, marshmallows, nuts, frosting, brown sugar, etc. Whatever you decide to put in them or however you decide to personalize them, the best part is always sitting together with you family after eating dinner and having some warm brownies and ice cream.
Related Topics