The Symbolism of The House on Mango Street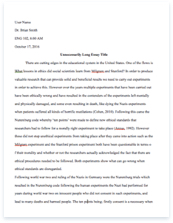 The whole doc is available only for registered users
A limited time offer! Get a custom sample essay written according to your requirements urgent 3h delivery guaranteed
Order Now
In The House on Mango Street, Sandra Cisneros addresses and develops the themes of assimilation of the Chicano into American society, stereotypes, and the treatment of the Chicana within her culture. These themes are brought out through the experiences of Esperanza, a young Chicana character. The American society has tried to make the Chicano fir into its culture and make him follow its way of doing things. The Chicano has also 'voluntarily' tried to assimilate because of the negative attitudes towards him and his culture. There are several problems with assimilation for the Chicano based on cultural differences. The main difference is that Latin cultures are more spiritualistic and the U.S. are more materialistic in nature. Stereotypical images of the Chicano have developed. These shed a negative light onto this minority group. For instance, many times the Chicano is portrayed as lazy or evil. Stereotypes such as these have made it difficult for Chicano to succeed in this capitalistic society. The Chicana has had an especially difficult time, because of her status as a minority woman. The old traditional role in Mexican culture has also served to oppress these women.
These themes are intertwined throughout Cisnero's novel. One was Cisneros brings out the theme of assimilation in The House on Mango Street is through the concept of the 'American Dream.' The dream is to own a home. It is a symbol of success in a materialistic world. Esperanza, the main character, expresses this desire in 'A House of My Own.' (pg. 108) Esperanza and her family, like a large portion of the Chicano minority, live in a barrio. Her family had lived in several other places and had felt the pain of poverty. 'We had to leave the flat on Loomis quick. The water pipes broke and the landlord wouldn't fix them because the house was too old.' Experiences such as this fueled her own 'American Dream.' Esperanza's personal identity was tied to the physical dwellings in which she lived. The run down conditions of the buildings were signs of the poverty that entrenched her family.
She felt a sense of shame by being identified with her home. In the episode of 'A Rice Sandwich,' she shows this shame and embarrassment when the Nun points out Esperanza's home saying, 'That One? she said, pointing to a row of ugly three flats, the ones even the raggedy men are ashamed to go into. Yes I nodded…(pg. 45). The wish for a nice home is in a way a desire for a better self image. The House on Mango Street also reflect the treatment of Chicanas within their culture. This theme has been dealt with in many other Chicano works. It is more than just a collection of barrio stories told by a young girl, it is an awakening to the conditions of the Chicano and the Chicana in our society.
Related Topics