The Stranger" by Albert Camus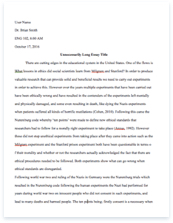 The whole doc is available only for registered users
A limited time offer! Get a custom sample essay written according to your requirements urgent 3h delivery guaranteed
Order Now
In the philosophical novel "The Stranger", written by Albert Camus, the story ended with Meursault's last thoughts. He thinks, "For everything to be consummated, for me to feel less alone, I had only wish that there be a large crowd of spectators the day of my execution and that they greet me with cries of hate" (Camus 123). The question is: Why does Meursault hope for this? Why does Camus end the novel at this point? And who is the "Stranger" and why?
"The Stranger" ends with Meursault's doubtless refusal to renounce his actions. He continues to not show any guilt or remorse for killing the Arab or for showing sympathy over his mother's death. Pertaining to his mother's death and how she chose to take in a fiancé late in her life, he says, "So close to death. Maman must have felt free then and ready to live it all again. Nobody, nobody had the right to cry over her. And I felt ready to live it all again too" (Camus 122). This basically means that no one had the right to cry over his mother's death because she was ready to live her life all over again. He has always lived out of touch with everything, and in death, he wouldn't have to conform to standards to be accepted by the world he disagrees completely with. His last thoughts could be his expression of the freedom he found in death.
Another way to look at it is that, throughout the book, Meursault would express his hatred for humanity's culture of mourning and think of it as crazy. He is adverse towards people who torture themselves over someone else's death. He becomes angry at the people in the nursing home where his mother stayed for feeling such irrational guilt. His mother's supposed lover at the time of her death, Thomas, followed the hearse around until he fainted. He is angry at the culture of death: the death penalty, the funerals, the churches, the judicial systems and any other institution that makes their living off of death. He wants us to be angry at his death and not at him for killing the Arab. He only hopes for the angry mob to "greet" him with cries of "hate". His wish was to be executed as a hero.
Meursault's assertion to the idea that the universe is indifferent to human affairs and that life has no meaning illustrates Camus's existentialist philosophy. In my opinion, he ends the book that way to show Meursault's acceptance of his reality and him coming to the final realization of the meaning of life. The meaning itself is left to the understanding and analysis of the reader. As for the "Stranger", I believe the stranger is Meursault himself. The story focuses on him being remote when it comes to being indifferent to everyone else.
Works Cited
Camus, Albert, and Matthew Ward. The Stranger. New York, NY: Vintage International, 1989. Print.
Related Topics