"The Story of an Hour" by Kate Chopin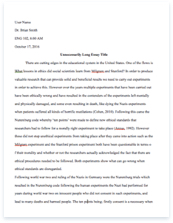 The whole doc is available only for registered users
A limited time offer! Get a custom sample essay written according to your requirements urgent 3h delivery guaranteed
Order Now
"The Story of an Hour" by Kate Chopin is an interesting story about the contemplation and reaction of Mrs. Millard, the protagonist, to her husband's death. Mrs. Millard has a flimsy heart and is a known patient of heart diseases. Her sister is reluctant to reveal to her the news of her husband's demise in an accident. As the news is disclosed, Mrs. Millard locks herself in her room and eccentrically locates some ambivalent feelings i.e. of both sadness and joy, in this death.
Her stay in the room is full of contemplation over death and life whereas her emergence from the room comes with a resolution but the dramatic event takes place here as she finds her husband returning home alive. She herself passes away from shock and disappointment or the joy. The tone of the whole story is full of serenity and peacefulness. Even the news of accident of Mrs. Millard's husband does not produce any commotion in the setting and in the minds and hearts of the characters.
Although there are four personas in the story i.e. Mrs. Millard, Her sister, Her husband's friend and her husband but the whole stoty is knitted around the major charater of Mrs. Millard. Mrs. Mallard is simply depicted as "young, with a fair calm face, whose lines bespoke repression and even a certain strength". Chopin amalgates here the strange chracteristiscs and creates a superior aura of personality about Mrs. Mallard as she was young but story narrates that she possesses higher soberiety and calmness that are commonly associated woth old people. She feels love for her husband but "sometimes."
As she contemplates about life sans his husband, she feels how she was entangled under his "powerful will" hitherto but now she realizes some sort of freedom. She fantaisze and wonders over the new possibilities of new free life. This sense of freedom makes her to yell "Free! Body and soul free!" This also manifests the main theme of the story. Chopin illustrates that how Mrs. Millard's being was suppressed in a male dominated society and she has to act according these social compulsions: a female is continuously overlooked by her husband (the superiority of men to women in those times).  It further narrates the theme of freedom that is manifested through the metaphor of window.
The whole story is full of other metaphors, similes and symbolism . The title of the story itself is symbolic as this story reveals an hour's glimpse into the life of Mrs. Mallard and her only hour of freedom. A simile is used by Chopin when he compares "a sob came up into her throat and shook her" with "a child who has cried itself to sleep continues to sob in its dreams".
The metphor of window illustrates a different realm that Mrs. Millard craves for. The world outside window is full of life. "The delicious breath of rain was in the air. In the street below a peddler was crying his wares. The notes of a distant song which some one was singing reached her faintly, and countless sparrows were twittering in the eaves" presents a total contrast to the inner world of the room that is full of pathos and miseries. Additionally it juxtaposes strongly with Mrs. Mallard's assessment of her own life that was hitherto constrained and limited.
Another ironic contrast comes when doctors verdict that Mrs. Mallard has died of heart disease. The other characters of the story took it as an indication of overjoy as her husband is alive but Chopin depicts clearly that in reality she has died of disappointment and disillusionment. The whole story is a beautiful vblend of contrast between various thematic expressions. Although the story is too brief but it has all the paraphrenalia of a good short story i.e. tersensess, comprehensiveness, unifocal impact etc.
Related Topics