The Real Monster of the Midway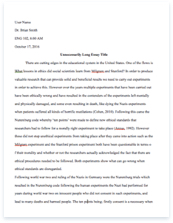 The whole doc is available only for registered users
A limited time offer! Get a custom sample essay written according to your requirements urgent 3h delivery guaranteed
Order Now
Serial Killers are nothing new to today's society. Jeffrey Dahmer, John Wayne Gacy and Ted Bundy shocked our nation with their violent, brutal, and at times unbelievable crimes, although none of them were as notorious as Herman Webster Mudgett better known as Dr. H.H. Holmes. A man that carried himself as a smart, intellectual member of society, but in reality he was a smooth talking conman and very disturbed individual. A man who designed and built a building with torture rooms that would serve as his play house. Being born and raised in Chicago, I enjoy learning about its rich history. I had heard about this serial killer before, but I was not aware of his complete story. I am taking this opportunity to not only learn more about Chicago's history, but to learn more about this man who has been documented as the first serial killer in the United States at the turn of the century.
H.H. Holmes was born on May 16th 1861 to parents who descended from the first white settlers in the new township Gilmanton, New Hampshire. He grew up in a house with an abusive, alcoholic father and a strict religious mother. I believe this could have led to H.H. Holmes' dark side to emerge. At a young age he was bullied by local boys who forced him to view and touch a skeleton when it was found out that he was afraid of the town doctor. Rumor has it though; that this encounter which was supposed to be so terrifying instead intrigued him and led to, I believe, his fascination with death and was a driving force for him becoming a doctor. Serial killers do not wake up one day and decide to kill, there has to be a certain trigger that sets them off, in this case, it was viewing the remains of a human life.
In September of 1882 H.H. Holmes enrolled into the University of Michigan Medical School. It is there that he learned what would be his deadly craft, excelling in areas such as chemistry and anatomy. While studying and practicing, H.H. Holmes would steal cadavers from the laboratory and disfigure the bodies and then claim that the people were killed accidently in order to collect insurance money from policies he took out on each deceased person. This was only one of his many schemes he would pull off in his lifetime. He graduated in 1884, and here I thought serial killers didn't finish college let alone finish school. They are smart enough to do so, but they don't have the self-discipline. They usually go up to high school and drop out because they feel that they have learned enough. For the next two years after graduating he perfects his conning skills in numerous Midwestern states. In order to avoid being recognized by former acquaintances coming forward with accusations of fraud, poisoning, or death, he changes his identity to Henry Howard Holmes, H.H. Holmes.
H.H. Holmes arrived in Chicago during its resurrection from the Great Chicago Fire; Chicago was becoming a booming financial city known for real estate development and people looking for jobs. H.H. Holmes finds employment at E.S. Holton Drug Store in Englewood IL. He becomes quite close to the fragile, sick owner of the pharmacy and his wife. Now a couple months later the owner dies of "natural causes" his distraught wife can no longer keep up with the pharmacy and Holmes sees this as his chance. He convinces the owner's widow to sell him the pharmacy. The family of the pharmacist sees this as very odd and when they go to ask his wife Holmes states that she went to visit family in California and surprisingly he is not questioned. Holmes now has steady flow of cash and starts buying and selling things under different names, he scams creditors with phony inventions. He also leases a vacant lot across the street from the pharmacy.
He decides to construct a massive building and begins construction. The people in the town would stop and watch the large numbers of workers erecting this huge building. Now this was considered a huge building in its time. So the town's people dubbed it the Castle but there was a huge turnover of laborers. He did this because he didn't want anyone knowing his plans for the building and asking questions. He had several stores and a restaurant in the building. The third floor had rooms and offices to rent and it contained Holmes's bedroom but it was the 2nd floor that had the horrible secret of the building. This floor had 35 rooms all designed as killing chambers, his victims would get caught up in this maze where doors lead nowhere and once they would turn a corner Holmes would surprise them and eventually kill them. Now the basement was worst of them all he had a chute that led down there so he could easily dispose of the bodies, it was like a medieval torture chamber, acid vats, quick lime pits and crematorium and this is where he would clean his victim's bones and mount them and sell them to local universities and medical schools. Now, I have heard of some of the things that serial killers have done but this takes the cake, it made my stomach turn.
In the fall of 1889, Holmes meets Benjamin Frelon Pitezel; He had a wife, Carrie and 5 children, Dessie, Alice, Nellie, Howard and infant son Wharton. He came to Chicago after traveling the Midwest for 10 years because he continually failed at keeping a job and he also had been arrested several times for crimes ranging from petty larceny to forgery, he also drank heavily. He was looking for a job and answers an ad for a carpenter for a building being built in Englewod. There he meets H.H. Holmes and they become friends. He becomes Holmes's right hand man and very much partners in crime. Holmes grows close to Pitezel's family. May 1st 1893 the World's Columbian Exposition comes to Chicago; over 20 million people attend the fair from around the world between May and October 1893. Holmes' building was only miles away from the fair. So, you can imagine how this man could use this fair to feed his evil appetite. So, he updates his building and rents rooms to the visitors of the fair and that is when he picks his victims.
He had a control panel in his office which was connected to gas lines leading into airtight sleeping chambers. He would lead his victims into the rooms and lock them in then he would turn on the gas and watch the people die. At the height of the fair, Holmes masterfully juggles his "castle" businesses, renting rooms, dodging creditors, selling skeletons and attending to the needs of the many women in his life. As time progressed Pitezel and Holmes got into many arguments and finally Holmes decides he has no use for him. Holmes decides to convince Pitezel to take out an insurance policy on him for $10,000. They would fake his death so his wife could collect the money and they would split the insurance money. They start off to Philadelphia, where the insurance company was located, but along the way they continue to commit fraud and scam naive people in various states. While in Missouri, Holmes tries to swindle another pharmacy owner but gets caught and arrested.
Finally I say, but while in jail he confides in his cell mate Marion Hedgepeth about his insurance scam, Hedgepeth gives him the name of a crooked lawyer to help with the scam. Holmes gladly takes the info and promises Hedgepeth $500 for the referral. He is bailed out of jail. He joins Pietzel in Philadelphia several weeks later. They go to 1316 Callowhill Street and Pietzel uses a different name and poses as a patent dealer to do the insurance scam.
While there Holmes gets Pitezel drunk and kills him with chloroform, he burns Pitezel's face disfiguring him. He contacts his wife informing her that someone needs to come and identify Pietzel's body, all the while she's believing that her husband is alive and well and in hiding, but she is very ill and she sends her 2nd oldest Alice to identify the body. Holmes also convinces her to send her two other children to be with their father. So he's traveling the country with these children and enjoying himself but he does make one mistake. He never sends Hedgepeth his $500 for his referral to the crooked lawyer, he reads about the death of Pitezel and the insurance policy. He gets upset and decides to contact the warden of the prison who contacts the insurance company who then contacts the detective agency Pinkerton Detective Agency.
They track him down in Boston in 1894 and arrest him, he sent to Moyamensing Prison. He is tried for conspiracy to cheat and defraud the Fidelity Mutual Life Insurance Company. He pleads guilty to that charge. He is also suspected for the death of Pietzel. Now Carrie, Pietzel's wife, was in Philadelphia asking the whereabouts of her other children. Suspicion grew that he killed the children, so a detective named Frank Geyer was assigned to follow Holmes' locations. After several months he managed to locate the bodies of the three children. Once that was discovered, his monstrosity became evident to the public. He basically becomes this nationally notorious figure.
In July 1895 police enter his building, they find the second floor torture rooms and the basement where he did all of his killings. Police receive numerous names of people that had gone missing during the world's fair and it turns out 50 people were trace to his house of horrors. He is called the Multi-Murder and Torture Doctor. Everyone becomes interested in his building and there were talks about turning it into this tourist attraction but it is mysteriously burned to the ground. Good riddance, I say! Get, this though, while Holmes is in prison he decides to write he's autobiography. He was trying to convince the public he was innocent. Yeah, good luck buddy!
His trial starts in October 1895, on the first day he dismisses his counsel. He's defending himself! He tries but when it shows that he if failing miserably he eventually hires his counsel back. They put Pietzel's widow on the stand. The prosecutor holds up letters one of her daughters wrote but were never mailed. Holmes tries to break down and get sympathy but it doesn't work. He is eventually found guilty of first degree murder and is sentenced to be hung. Now get this, after his sentencing he is made an offer from William Randolph Hearst to provide his confessions. He figures he has nothing to lose and confesses how he killed all his victims in gruesome detail. Experts say this was his way of re-living his kills. He even goes on to say that he is starting to resemble the devil. On the gallows, right before he is hung he recanted and says that the confession he published was all a fabrication. He is pronounced dead at 10:25am. No one really knows how many people he killed; he is alleged to have killed 200 people.
Related Topics