The Quality of Long Term Care Institutions Mohamed Hamed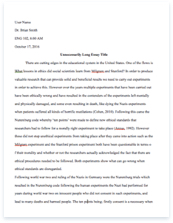 The whole doc is available only for registered users
A limited time offer! Get a custom sample essay written according to your requirements urgent 3h delivery guaranteed
Order Now
The satisfaction of a person living in a long-term care institution is very important. What is so important about this is the fact that these are places people go to spend the rest of their life until it's over. Some don't have a choice because they are terminally ill or are dying of old age. They may not get a choice in whether they have to be a nursing home or not, but they do get a choice in which nursing home they get to stay at. When a person is looking for a place where they want to spend the rest of their life, the quality of that place is very important. When I say quality, I am referring to the cost, the quality of the people employed there, and the overall quality of the care. The quality of care and the quality of life are the most important parts of choosing a long term care institution. In this literature review I will include, Types of long term care available, Misconception of quality and cost, Employment and quality, Overall quality of care, The man in charge, Fixing the problem, The regulatory system, and Issues that require further study.
Quality of Long-Term Care Institutions
Long-term care refers to a continuum of medical and social services designed to support the needs of people living with chronic health problems that affect their ability to perform everyday activities. Long-term care institutions can vary from independent homes, to assisted living homes, and to nursing homes. With all the different types of long term care facilities available it's hard to decide which one is right for someone, especially if that person is a parent or a grandparent. The most important factor to look at is the quality of the long-term care available. When a person is looking at the quality of an institution, they are looking directly at the cost, the employees, and the overall quality of the care being received.
Types of Long-Term Care Available
I will first go over the different types of long term care that is available. Most long term care is provided at home but it can also be provided other places. For instance there are home care services. These services include visits by a caregiver (who may be a family member or friend), a nurse, home health care aide, and/or therapist. That is usually the easiest way for an individual to recieve long term care, but it can be costly. Another type of long term care available is community support services. Community support services involves adult day care service centers, transportation services, and home care agencies that provide services on a daily basis or as needed.
These services usually are used at home and give the family caregiver time off. Outside the home, there are a variety of facility-based programs that are used for long term care. Nursing homes provide the most comprehensive range of services, these services include nursing care and 24-hour supervision. These services are usually used for people that can hardly do anything on their own anymore. Other facility-based choices include assisted living, board and care homes, and continuing care retirement communities. There are definitely choices for long-term care.
Misconception of Quality and Cost
When people are looking for a good new home that can help them with their daily life activities they usually look at the cost. The major misconception of this is that people believe that the more a place costs, the better the quality will be. That isn't always the case though. Sometimes the cost means they have a nicer facility, which can be a plus, but it doesn't always mean that the employees that take care of you are good or qualified or care enough. The hard truth is that living in long-term care institutions can be costly. Some average costs for long-term care in the United States (in 2010) according to "Longtermcare.gov" (2010) were: $205 per day or $6,235 per month for a semi-private room in a nursing home $229 per day or $6,965 per month for a private room in a nursing home $3,293 per month for care in an assisted living facility (for a one-bedroom unit) $21 per hour for a home health aide
$19 per hour for homemaker services
$67 per day for services in an adult day health care center
What you can see from those numbers is that it is expensive to live in long term care. It is expensive to get the help a person truly needs, and while getting that help, you want good quality for your costs. So while you're looking at the cost, look at what they are giving you for the cost. Are they providing transportation? Are they providing free meals? Cleaning your room? Offering fun activities to get you out of your room? Are the aids properly trained? Are the employees friendly? Those are just a few of the many things you want to look at when determining cost and quality.
Employment and Quality
Long-term-care services are labor intensive, and therefore the quality of care depends largely on the performance of the caregiving personnel. Personnel standards vary considerably across long-term-care settings. Federal standards have been set for some personnel in nursing homes and home health agencies, but not for personnel providing care in other types of long-term-care settings (Kohler, 2001). When a job is that labor intensive it can cause stress amongst the workers which then can cause stress on the residents. The people who need to administer care to the elderly have to be very caring, and empathetic. If an employee comes off as rude or cold the residents may not want that employee taking care of them. In recent years there has been a slight staffing increase. This is because of the fact that health care jobs are on the rise. With the baby boomers getting older, and more people needing care, there are more jobs available when it comes to assisting the elderly.
Many facilities have adequate staffing levels and provide high-quality care to residents. Current staffing levels in some facilities are not sufficient to meet the minimum needs of residents for provision of quality of care, quality of life, and rehabilitation. Research provides abundant evidence of quality-of- care problems in some nursing homes, and such problems are related in part to inadequate staffing levels. (Kohler, 2001) The 1996 IOM study, requested by Congress to examine the adequacy of nurse staffing in hospitals and nursing homes, found that a positive relationship exists between nursing staffing and quality of care and that trends in resident characteristics suggest an increasing need for professional nursing presence. (Kohler, 2001) There are a lot of elements that make good employees when working in a long-term care setting for the elderly. Education and training of staff, supervision, environmental conditions, attitudes and values, job satisfaction and turnover of staff, salaries and benefits, leadership, management, and organizational capacity are all essential elements affecting quality of care to residents.
The Overall Quality of Care
The overall quality of care is extremely important when looking at a long-term care environment in which you or someone you know might end up living. The quality of care can also double in with the quality of life. This is because if the care is bad, the quality of life will decrease, and if the care is good, the quality of life may increase. They both work together and both are equally important. The quality of care in nursing homes may have improved in some areas during the past decade. This improvement to a large extent is due to provider response to the 1987 Nursing Home Reform and the forces that gave rise to this legislation (Kohler, 2001). The quality of life for nursing home residents also has shown some improvements, but to a lesser extent. However, serious problems concerning quality of care apparently continue to affect residents of this country's nursing homes, and persistently poor providers of care are still in operation. Whether these homes and providers should be operational or not is the real question.
Residential care facilities, including assisted living, present a mixed picture in terms of both quality of care and quality of life. Some offer individualized, high- quality care in facilities that afford privacy, dignity, and individualization. However, others appear to lack adequately trained staff and offer neither a sufficient amount of care nor privacy and "homelike" settings (Kohler, 2001). There have been reports about poor conditions in some of the care settings and also they have found fraud in sectors of the home health care industry, but other than that, information about the quality of care and life is scarce when looking into long-term care facilities. Basically you just want the best you can get. You have to look at the quality in a whole and not just certain parts.
The Man in Charge
When you look at the problems related to nursing homes, you start to wonder who is in charge of fixing these problems. Basically the nursing home administrator or owner of the building would be the ones dealing with these problems at hand. An administrator would be the one to hand out the surveys and collect them at the end of the stay. Then the administrator would be in charge of making the changes that are requested on the survey forms. The feedback of the residents and family is very important to making sure the issues get recognized and resolved. Fixing the problem
Some ways of regulating nursing homes can include paying more attention to chain facilities, focusing on residents' problems, improving sampling techniques and sample sizes, strengthening the consistency of survey determinations, improving complaint investigations, and certifying the accuracy of nursing home data. Although all states use assessments to develop a care plan, the comprehensiveness of the assessment varies and most states do not have standardized terms. In addition, most states do not require training in the administration of the instrument, despite its importance. Research studies have raised serious questions about the effectiveness of state regulation and licensure promoting quality in residential care (Lin, Hsiao, Glen, Pai, Zeng, 2014). Basically the best we can do to make sure that nursing homes and other long term care settings are running the right way is to question the residents.
With this you would want to hand out surveys every month or so to get answers. The residents should have the biggest opinion on how things are run, but also the workers should as well. The workers should be allowed to put in their input to make the operation run better. When looking for a good long-term care institution, you should look at the cost, employers, and the overall quality of care that is provided. Finding that there is not much information on these topics is really frustrating. I discovered that if you really want to find a good long-term care institution you have to do the research yourself. It is important to look at all the quality's that make a good nursing home before deciding on a final destination.
The Regulatory System
According to Committee on Nursing Home Regulation (1986), Government regulation of nursing homes has two broad Goals: 1) Consumer protection, to ensure the safety of residents, the adequacy of the care they receive, and that their legal rights are protected. 2) To control and account for the large public expenditures—mainly Medicaid—used to pay for nursing home care. According to Committee on Nursing Home Regulation (1986), Regulation for quality assurance in nursing homes involve 3 main components, All of which are more or less embodied in both federal and state regulations and are , to some extent, intertwined with one another. They include:
1) Developing and promulgating explicit criteria (conditions of participation and standards) governing all aspects of the operation of nursing homes. 2) Developing and applying standard procedures and criteria for monitoring the performance of nursing homes and for determining the extent to which nursing homes are complying with the performance criteria ( monitoring procedures include periodic surveys of nursing homes, inspections of care, and investigations of complaints of poor care, neglect, or abuse of residents). 3) Enforcing compliance with the performance criteria in cases where unsatisfactory performance is found.
Issues requiring further study
According to the Committee on Nursing Home Regulation (1986), there are 5 sets of issues need study before federal policy positions can be developed and prescribed. 1) Scope and design of information systems needed to regulate nursing homes effectively and to facilitate development of sound policies for long term care. 2) Policies governing the methods and amounts of payments to nursing homes for care of residents eligible for support under Medicaid program. 3) Policies affecting the supply of nursing home beds in the context of growing demand for all types of long term care services. 4) Regulatory polies concerning:
A) Training and qualifications of all staff in nursing homes. B) Minimum staffing patterns need to be provided adequate care to mixes of residents with varying needs. 5) Policies governing construction of new nursing homes, specifically, the proportion of single rooms that should be required.
References
Bassen, A. (2009, Fall). Patient neglect in nursing homes and long-term care facilities in New York State: the need for New York to implement programs and procedures to combat elder neglect. Cardozo Public Law, Policy & Ethics Journal, 8(1), 179-207. Retrieved from http://go.galegroup.com/ps/i.do?id=GALE%7CA226542063&v=2.1&u=lom_emichu&it=r&p=HRCA&sw=w&asid=12f2fb2e3a3025e6bea3dede7145e627
Black, H. K., & Rubinstein, R. L. (2005). Direct care workers' response to dying and death in the nursing home: a case study. The Journals of Gerontology, Series B, 60(1), S3+. Retrieved from http://go.galegroup.com/ps/i.do?id=GALE%7CA127796968&v=2.1&u=lom_emichu&it=r&p=HRCA&sw=w&asid=705deeeffa5205d21ba582c440d203f3
Castle, N. G., Crystal, S., Lowe, T. J., Lucas, J. A., & Robinson, J. P. (2003, December). Consumer satisfaction long-term care: state initiatives in nursing homes and assisted living facilities. The Gerontologist, 43(6), 883+. Retrieved from http://go.galegroup.com/ps/i.do?id=GALE%7CA112352770&v=2.1&u=lom_emichu&it=r&p=HRCA&sw=w&asid=27d6cdf1f2abc7483657ecf2b103081d
Castle, N. G., Lowe, T. J., & Lucas, J. A. (2004, June). Use of resident satisfaction surveys in New Jersey nursing homes and assisted living facilities. Journal of Applied Gerontology, 23(2), 156-171. Retrieved from http://go.galegroup.com/ps/i.do?id=GALE%7CA122679941&v=2.1&u=lom_emichu&it=r&p=HRCA&sw=w&asid=2a36c0742e832094b5fad8021d3a4e85
Committee on Nursing Home Regulation. ( 1986 ) Improving the Quality of Care in Nursing Homes, 12,90. Washington, D.C. National Academy Press. Retrieved from http://books.nap.edu/openbook.php?record_id=646&page=12
Chii-Jun Chiou, I. Lee, Hsing-Yi Chang. (2014, June). Perceived service quality, Perceived value, overall satisfaction and happiness of outlook for
long-term care institution residents. Health Expectations, 17, 311-320. Retrieved from Wiley Online.
Hunt, G., Murphy, J., & Steinberg, L. (2002, October 5). How family caregivers develop strategies to improve long term care services. The Gerontologist, 340. Retrieved from http://go.galegroup.com/ps/i.do?id=GALE%7CA95553971&v=2.1&u=lom_emichu&it=r&p=HRCA&sw=w&asid=3907906edd50a5b83af4306bc4736e16
Kohler,P. et. al. Improving the Quality of Long Term Care (2001). Institute of Medicine. Retrieved from http://www.iom.edu/~/media/Files/Report%20Files/2003/Improving-the-Quality-of-Long-Term-Care/LTC8pagerFINAL.pdf
Longtermcare.gov, http://longtermcare.gov/costs-how-to-pay/costs-of-care/ (2010).
Leonard, K. J., Wilson, D., & Malott, O. (2001). Measures of quality in long-term care facilities. International Journal of Health Care
O'Connor, J. (2014, August). Federal effort tackles abuse of elderly. Assisted Living, 12(4), 8. Retrieved from http://go.galegroup.com/ps/i.do?id=GALE%7CA380526770&v=2.1&u=lom_emichu&it=r&p=HRCA&sw=w&asid=c0e67dc1640e2362339dce3e12484ae7
Quality Assurance, 14(3), I-VIII. Retrieved from http://ezproxy.emich.edu/login?url=http://search.proquest.com/docview/229603548?accountid=10650
Related Topics