The McDonalds Coffee Case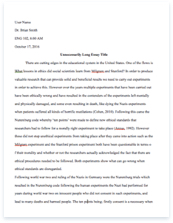 The whole doc is available only for registered users
Pages: 2
Word count: 432
Category: Coffee
A limited time offer! Get a custom sample essay written according to your requirements urgent 3h delivery guaranteed
Order Now
The McDonalds coffee case between Liebeck and McDonalds of 1994 was a much celebrated case which receive a lot of media coverage. During the proceedings in the court, several homes in America religiously monitored the case and eagerly waited for the verdict of the court. It was a captivating headline on the dailies and hot subject on TV programmes.
Although the case was over a decade ago, the issues it raised are not forgotten as they are still fresh in the mind of people. In this essay, I would be looking at the case from the perspective of the client and the marketing managers. What effects, if any, did the case have on the clients? What were the measures that marketing managers of McDonalds took to wipe off the stigma that came to the company? These are the question that would be my preoccupation in this essay.
Assessing the Liebeck v. McDonalds case from the client's point of view, one can not look pass the possibility of a reduction in the total sales recorded by the company. This is because given the hype of the case in the media, many customers that patronized these QSRs would be reluctant to do so again. Apart from this, there would be a lot of people that would not even actually wait to hear the explanations. People respond to what they hear and at this time the fear of "I could be the next I line" would certainly make several customers who have hitherto patronized QSRs to stop. No one wants to be a victim of burns, thus, many conservationist would actually subscribe to the idea of "Prevention is better than cure".
However, this case was am major blow for McDonalds. It was evident that they were losing customers and something has to be done. This was necessary in order to savage the name of the corporation and wipe off the image that they were merely interested in the profits they made rather than the protection of their customers. Here, the duty lies on the shoulders of the marketing managers of the company. The marketing manager would have had to come up with creative and customer friendly adverts that would humanize the company. McDonalds participate and donated in several social/community programs and branded their advertisement. This was the only tool they have to savage their names which was already dragged to the mud.
Reference:
Lectric Law Library Website, "The Actual Facts about the McDonald's' Coffee Case". Retrieved from http://www.lectlaw.com/files/cur78.htm on August 27, 2008.
Related Topics