The Large Role of Media on Body Image and the Issue of Eating Disorders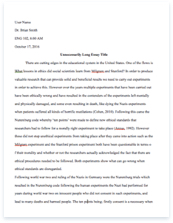 The whole doc is available only for registered users
A limited time offer! Get a custom sample essay written according to your requirements urgent 3h delivery guaranteed
Order Now
The article, The Media's influence on body image disturbance and eating disorders finds that the media plays a large role in eating disorders developed by young women who pay close attention to television and magazines. The authors, J. Kevin Thompson and Leslie J. Heinberg explain that women generally have a much stronger emotional response, both positive and negative, to advertisements that emphasize "societal ideals of thinness and attractiveness" than "non-appearance-related images (343)". The emotional response is not, however, the same across the board; some women are greatly affected by the media's portrayal of attractiveness while others are only affected a small amount or not affected at all. They go on to explain that women cannot fight the media's "unrealistic thin ideal (347)" alone, but rather need to join together if they want unhealthy messages removed. Thompson and Heinberg suggest that this is already taking place, and that the awareness and exposure of eating disorders is growing steadily. The authors conclude that more research needs to be done to focus on both standpoints: the people affected by the media's portrayal of body image as well as those who control things from the advertising side.
The article was written by Thompson and Heinberg almost 10 years ago, but I believe their findings are still relevant and accurate. It is unfortunate that advertisers often use sexually-driven images like those of thin women in bikinis that please men, but often lead to depression and occasionally eating disorders in young women. It is a bit perplexing to me, as a man, how much of a difference there is between men and women in terms of the media's influence on their body
image. I am overweight, but never gave it a second thought when Gerard Butler and the rest of the cast of 300 had six-pack abs or when in Twilight commercials, all the advertisers ever show is the male lead running around shirtless. The situation is both interesting and disturbing, that the media can make men feel rather indifferent while it makes women in a similar situation feel awful. While I would have likely advised girls to change the channel or flip the page if they see a sexually-charged advertisement, I feel very different after reading the article. There is no way for ladies to escape these advertisements unless they completely swear off television, movies, magazines, newspapers and the internet. If they can do all of that, more power to them, but for the rest of the people who do not want to sacrifice so many parts of their daily lives, more needs to be done to pressure media conglomerates to tone down their ads. I specifically agree with the conclusions of Thompson and Heinberg, that there needs to be a greater deal of research done from the advertisers' perspectives. It would surprise me if they were open to letting researchers observe them, at the risk of looking perverted and disgusting, but for the sake of the young women who have developed eating disorders due to media pressure as well as ones who could potentially develop them in the future, this kind of research needs to be done.
Related Topics