The Justification and Rationalization of the Ku Klux Klan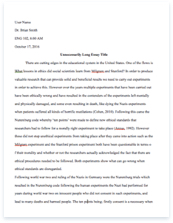 The whole doc is available only for registered users
A limited time offer! Get a custom sample essay written according to your requirements urgent 3h delivery guaranteed
Order Now
When I was a sheltered, naive girl of seven, I caught a glimpse into minds of the people who have perhaps the most hatred in them and the most racist values of all. That day I had stayed home sick from school and simply turned on the television to watch something interesting. I ended up watching a very popular daytime talk show, Jerry Springer, and the topic was the Ku Klux Klan. Jerry Springer's guests, which were KKK members, totally appalled and shocked me. I was raised to be very open minded and to carry no prejudice. I had always thought that everyone was equal, and one's pigment made them different from others. So why is it that the people of the KKK can have so much hatred and vengeance for people of another color, religion, or sexual preference? The Ku Klux Klan (KKK) is a group of fundamentally decent white Christians who justify their discrimination, violence, and unfair "rules" towards blacks, immigrants, gays, and people of other religions.
The Ku Klux Klan was founded in 1865 by Nathan Bedford Forrest, who was a cavalry commander in the Civil War (Nash 1855). The KKK is the largest, oldest, and most professional white rights organization in the world (Homepage: KKK). This organization is promoting a message of white Christian revival (Homepage: KKK). The members of the KKK are people that are decent, meaning if one were to meet a member of the KKK on the street, they would appear to be ordinary, respectful people. They are doctors, lawyers, of upper and middle classes, blue collar workers, and professionals. They could be your next-door neighbor, your husband or wife, or even your own sister. According to an anonymous survey, some people think the KKK is full of "angry white people who hate everyone" and that the Ku Klux Klan are the "Nazis of the US." However, one probably couldn't tell if a KKK member was their family doctor. For example, after the death of the powerful Colon R. Eberhard in La Grande, Oregon, there was a folder of secret Ku Klux Klan documents found from the La Grande chapter of the KKK (Horowitz 3).
This man was a very prominent attorney and a former state legislator. No one had know of his connections with the KKK and that he was an active member of the organization. A leaflet made by the Ku Klux Klan states that one should join the KKK because it is a "very secret organization and no one will know that you are a member" (Spartacus). The Ku Klux Klan call themselves the Invisible Empire because no one knows who is a member, and their main objective is to maintain or restore white supremacy (Meltzer 12). The KKK's membership size has changed over the years, but they still have religious intolerance, violence, racial bigotry, and exploitation of others.
At the end of the Civil War, congress tried to destroy "white power", which had taken over the south, by allowing uneducated blacks to get jobs and hold political positions. This scared and intimidated the white people of the South, who were farmers and the masters of the blacks, who were now free. The first branch of the Ku Klux Klan was in Pulaski, Tennessee in May, 1866, and within one year, there were also local Klans in Nashville, Tennessee (Spartacus). The first eruption of the organized group of racist whites was in Birmingham, Alabama (Cook 11). President Ulysses S. Grant allowed the Republicans to overrun the South, which fueled the KKK's anger, but in 1877 the Democrats were in power and the Klan was virtually dead (Nash1855). White supremacy had already been achieved. Twenty-three years later, William Joseph revived the Klan after he had a dream about starting the Klan over (Spartacus).
This dream, along with the film Birth of a Nation, fueled the Ku Klux Klan's fire and made it more popular. By 1925 there were easily 4,000,000 members across the United States (Spartacus). The Ku Klux Klan has grown twenty to twenty-five percent since 1978, and the number of people who sympathize with the KKK has doubled in the last two years (Cook 11). More recently, growth continues. For example, in 1997 there were only eighteen chapters of the Knights (KKK) and a year later there were twenty seven chapters across the country (Geman). There are many white supremacy groups today with many members, and the Ku Klux Klan is still upholding their attitudes of superiority.
One could call the Ku Klux Klan a terrorist group. The KKK always acted upon their feelings by killing, torturing, protesting, and lynching. The KKK's main objective was to stop blacks from getting any power by not allowing them to vote. Blacks weren't allowed to form black support groups, and successful blacks were attacked (Spartacus). When colored people became wealthy or went to school or work, they would be killed (Meltzer ). Their schools would be set on fire, and their workplace would also be burned ( ). The KKK also used many psychological scare tactics to torture blacks. Members of the Klan would ride on white robed horses while wearing white robes (Cook 19). This created the illusion of ghosts riding their ghost horses (Nash 1855). The uneducated and superstitious thought that these hooded men were the ghosts of the war ( Cook 19). The Ku Klux Klan would also ride wearing fake heads, handing them to blacks, or grabbing the hands of a black with a skeleton's hand (Nash 1855). In Decatur, Alabama, the KKK stopped a Southern Leadership Conference and shouted "White Power!" over and over (Cook 12).
The Klan's leader, Bill Wilkinson marched where Martin Luther King had famously marched to show that blacks indeed have power based upon their basic human right. Bill Wilkinson marched to show his white power. Sadly, the Ku Klux Klan committed more violent and sever crimes. They tortured and killed black sympathizers and immigrants (Spartacus). A group of blacks were in jail for killing a one-armed confederate soldier when a small group of Ku Klux Klan members broke into the jail, dragged the killers outside, and hung them from the nearest trees (Cook 13). After World War One, the Klan was hostile to Jews, Roman Catholic, socialists, communists, and anyone defined as a foreigner (Spartacus).
By 1960, the Klansmen put so much pressure on blacks that of the forty-two percent of blacks in the country, only two percent registered to vote. In 1963, a Klan member bombed a church, killing four young black Sunday School girls, all under the age of fourteen (Cook 11). The killer was charged for possession of TNT, spent only six months in jail, and was found not guilty of murder (Spartacus). The KKK also shot into homes of blacks and savagely beat a black preacher in the woods near his home, putting him in grave condition (Cook 12). The Ku Klux Klan is a group of racist violent people who are against blacks. However, they feel as though what they are doing is right and fair.
The white farmers in the South had always been afraid of blacks uprising and raping the white women (Cook 19). One could say that the whites were afraid of blacks gaining too much power. Perhaps the blacks could gain more power than the white farmers had in the first place. So when restaurants, buses, and other public facilities allowed blacks, the Klan became angry and did not want blacks around (Cook 11). The KKK thought that any crime a Klansmen committed was fair if a black had once committed a crime like that. The second highest ranking official of the KKK, Bennie Hays once said that "If a black man can get away with killing a white man, we ought to be able to get away with killing a black man" (Spartacus).
A Klan member would be taught to "pursue the enemy wherever he went" (Cook 20). That's what these blacks were to them, enemies. The KKK was on a middle class purity crusade in order to find all the "enemies" (Horowitz 2). These people saw blacks as evil and bad, so they didn't even think twice when they hurt or discriminated against a black person. The Ku Klux Klan must have thought that what they were doing was right, because a person cannot do wrong without thinking that their actions are right and fair. There was a lot of justification made for the actions of the Ku Klux Klan.
The members of the Ku Klux Klan, and racists in general, have ways of justifying their actions and thoughts. Everyone in the world thinks that what they do is right, and according to them, every action they take is right. If one was doing something wrong, and felt as though it was wrong, they wouldn't be able to live with themselves. Therefore, they must feel as though all their actions are right. According to an anonymous survey, some believe the KKK members and supporters are "greedy and self-centered people who think they are better than others". Once someone has done a bad thing, they can either dwell on it and emotionally kill themselves, or they can justify it and use rationalization to make themselves think what they're doing is right. The founder of the KKK intended for the Klan to be a chivalrous group, but it turned into an anarchic pack of murderers (Nash 1856).
The members of the Ku Klux Klan and those who support the Klan think they are doing the right thing by murdering and using violence, and that is unfortunate for them, because they are so caught up in their own propaganda that they can't see these blacks, Jews, gays, and immigrants are exactly like them, but with one small difference: they are not white Christians. I am not quite as sheltered and naive anymore because of my research, but I am still appalled at the fact that according to the KKK of America, a person is horrible for being born the way they are. Maybe the Ku Klux Klan doesn't like change, or maybe they like normalcy. Perhaps these people are just afraid of the truth. The truth, however, is we are all equal.
Related Topics