The Issue of Sport-Related Eating Disorders and the Role of Coaches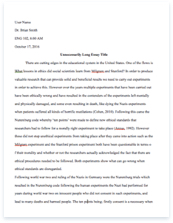 The whole doc is available only for registered users
A limited time offer! Get a custom sample essay written according to your requirements urgent 3h delivery guaranteed
Order Now
How would you feel if your life was based around a sport? How would you feel if you were told by your coach that the only way you would improve was if you lost a considerable amount of weight? This very thing happened to me, and has happened to many other athletes all around the world. Eating disorders are very prevalent among people who are heavily into sports. The results are fast and rewarding, but the effects can have tremendous downfalls.
Sports can put pressure on people, causing some of them to resort to habits that can cause eating disorders. Some doctors believe that an athlete that feels they cannot control their performance or improvement in a sport sometimes feel better if they can be in control of something they can get results from in their life, in some cases, their diet. The biggest eating disorders among athletes are anorexia nervosa, which is a pursuit of thinness by not eating enough or at all, and bulimia nervosa which is characterized by binge eating fallowed by self induced vomiting. Athletes in all sports are susceptible to eating disorders, but it is found in some sports more than others. Athletes that are most prone to eating disorders are ballet dancers, gymnast, cheerleaders, long distance runners, figure skaters, divers, wrestlers, and swimmers. The ones that are at the most risk are the ones who diet at an early age and those whose diets are unsupervised. It's healthy for someone in a sport to eat healthy, but it is even more important to get enough food to give them the energy their bodies require to do their workouts. Eating disorders can cause health problems such as stomach problems, heart problems, kidney problems, irregular periods or no periods, Fine hair all over body (including face), dehydration, and dry scaly skin. Athletes with eating disorders do harmful things to their bodies that can quickly take toll on them.
I never knew how common eating disorders where in sports until I was faced with a situation at my high school. I had run track and cross country since I was in the seventh grade. My freshman year in high school I made it on the junior varsity cross country team. Everything was the same as it had always been; I was training hard and improving as everyday passed. Around the middle of the season I ran a time that beat the time of one of the girls on the varsity team. My coach confronted me at this time and let me know I would be taking her place. I was excited and looking forward to being on the varsity team as a freshman.
I continued to improve while I was training with them, but when I reached a certain speed near the end of the season I couldn't seem to improve anymore. One day during our routine stretches before practice, I asked my coach why I was at this wall that I couldn't seem to get over. He told me to talk to him after practice. I went about my usual day of practice like always. At the end of practice went to talk to my coach and he told me that the only way I was going to run fast enough to make it to state competition would be to drop about twenty pounds by the regional meet. It seemed impossible, considering the regional meet was two weeks away. He said he would give me a diet that it would help me lose weight. The diet he gave me was almost impossible to fallow. I was eating such a small amount of food that I was always hungry and I felt like I was going to pass out during practice, considering we were still running about 7 to 8 miles a day.
When the regional meet came around I had lost all twenty pounds and ran a great race. I didn't feel great, but I ran great. I had made it to state! That night the team all went out to eat at a food court in a mall and I remember the look on my coach's face when I came around the corner and he saw me eating an ice cream cone. He pulled me aside and told me I wasn't thinking about my team. I didn't think what I considered a celebration was such an awful thing. He convinced me I was being selfish and I felt terrible. I decided if I could only lose ten more pounds and cut my rations in half could run better than ever I had and he would regret talking to me like that. I did just that, and a week later we were in Miami to run the state meet. I was excited and anxious about the big race I was about to run. It was about 95 degrees and it was on a course I hade never ran before but I was confident. The gun went off and everyone took off running. I felt alright at first, but towards the end of the first mile I started feeling pretty dizzy. The race was three miles, and before I could get through the second mile I was passed out on the side of the course.
It was the biggest disappointment when I woke up in the hospital. When I woke up I asked the nurse what had happened. She proceeded to tell me that I had passed out from dehydration. I thought that was weird because I made it a point to make sure I had enough water at all times. The doctor later told me my body wasn't retaining water right due to malnutrition. I knew at that point that all this was a result of my new diet.
This is something that happens all the time in high school, college, and even at professional levels. Some people think they must live up goals that may be unrealistic in comparison to their capabilities. Some people are meant to be a certain weight and it takes too much out of them to change it. The pressures coaches give to their athletes also pushes them to do things like this. In my opinion it is harder for athletes to be affected by eating disorders because there are more people encouraging them to do what they are doing. Compared to people who are not in sports that do it more for personal image and their only encouragement for their activities is themselves.
Eating disorders in sports are something that should be looked at very seriously. Not eating properly takes a toll on your body much quicker when you need the food for daily workouts. Food provides energy that is essential for any type of daily activity, especially any strenuous activity. Coaches who support any of these types of techniques for coaching, especially, in high school should have some type of consequences to face for their actions. Coaches need to be sensitive to the role they play in focusing undue attention on weight and body image. They should also be discouraged to make jokes about weight in groups, use one athlete's body composition as a model for others, and make designating team weight goals. They are suppose to be the voice of reason and the person an athlete goes to for advice and support, not the person who ends up hurting them in the long run.
Related Topics