The Issue of Eating Disorders Should Be Taken More Seriously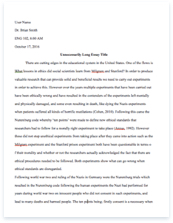 The whole doc is available only for registered users
A limited time offer! Get a custom sample essay written according to your requirements urgent 3h delivery guaranteed
Order Now
Only one third of Americans with eating disorders seek treatment or recovery, according to Hope, a National Eating Disorder awareness foundation. Having an eating disorder myself when in middle school, I strongly believe that eating disorders are not taken seriously enough. Our society is focused on looks and size. No matter where you are or what you are doing, you see these perfect people… from edited celebrities on magazines and instagram to online shopping with unrealistic bodies, it is becoming more common day to day to hear of someone with an eating disorder.
With this 'ideal' image of a perfect woman being around a size double 00 and a man with lots of muscle and abs, it's also not focused on that men suffer with eating disorders too. Whenever you hear about eating disorders it only ever talks about a woman's battle with it, never hearing a man's story. There needs to be an eye-opener foundation for men with eating disorders because it's real and will help them know they aren't alone and shouldn't be ashamed of it because they aren't the ideal girl that is expected to be having weight problems. When researching, NEDA Feeding Hope, an eating disorder foundation states that there is a major, 'gender bias' for the disease. It angers me that there is a bunch of males battling this disorder but are scared of coming out about it. About 10 million men will face either anorexia nervosa, bulimia nervosa, or binge eating disorder throughout their life. That number shocked me, even knowing that male eating disorders was a thing, yet we still don't see campaigns acknowledging that.
Speaking of campaigns, it's nice to see that there has finally been some stores and/or brands that have gotten rid of the edited images that they have used. The respect I have gained from looking at Aerie, American Eagle's lingerie store, for using unedited images of women really helps with body image. When you are seeing these girls from Victoria's Secret posted everywhere, with edited bodies that look nothing like that in person, but you wouldn't know that when you see it, you just judge yourself for not looking like that. I use to beat myself up about seeing these perfect girls and looking nothing like that when I was in middle or high school. According to the National Eating Disorder foundation, we see 7.5 hours of media per day. That is a ton of time to see these unrealistic looking girls or only size 00's playing the pretty, popular characters on TV shows.
Going along with brands contributing to eating disorders, it extremely angers me that American Eagle was caught messing around with their jeans sizes, yet it was never brought out to the public. It doesn't make sense how Aerie, part of their company can be promoting good body image with unedited pictures, yet the main store is changing jean sizes. Released this past May, a girl named Missy Rodgers, went to American Eagle to get the size 4 shorts she has gotten every year. Trying them on, they wouldn't even go past her thigh. She was extremely depressed when the size 10 was the first pair that was able to go around her waist, getting angry at herself for gaining so much weight. When she got home she realized that she had been tricked by American Eagle. The waist size in her size 10 shorts was the same size as her size 4, two years ago. She was so upset she pointed a nationally noticed status stating, "My first impression when going into the store and trying on the size 4 (as I had in the past) was disheartening as I could not even get them past my knees. Having to go up to a size 10 made me question just how much weight I gained, but once I brought the shorts home and compared, I realized that size is literally just a number. I do worry about the message younger girls have with media promoting the perfect skinny body," Rogers continued. "They have been convinced that the smaller size you are, the more beautiful you are. This is not the case, and I think it's important to show that clothing size should not define your beauty. If a size 10 is what a size 4 use to be, what message are you implying to younger girls?"
This scandal should have been more nationally noticed. This is a huge example of how the smallest thing like changing a pant size to 6 sizes bigger can make someone feel terrible about their body image and I wish this happening to someone would have changed sizes at the store, but sadly didn't. Eating disorders are not a joke and it angers me how size 00 models are still used, and bigger size clothes is called plus size. There needs to be a huge change in all industries so both women and men don't feel the need to compare themselves to these unrealistic images that have been created.
Related Topics