The Influences of Peers, Schools, and Environments on Today's Youth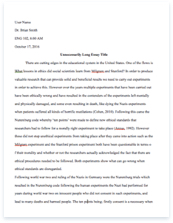 The whole doc is available only for registered users
A limited time offer! Get a custom sample essay written according to your requirements urgent 3h delivery guaranteed
Order Now
There are all various types of influence in today's society; not all children have the luxury of positive influences in their lives. Meaning some children do not have the choice of their schools or neighborhoods. Children also have a vast amount of peer pressure to deal with daily. In contrast to the negative influences of peers, schools, and environments, these things can also become a positive influence. That is why it might be vital to look at how peers, schools, and environment effects youths. Research indicates that multiple factors play a role in positive and negative influences in adolescents. The article "Ecology of Youth Collective Socialization," written by Nicolera, Williams, and Anthony, is about the positive and negative influences of today's youth.
This study is about the positive and negative effects that collective socialization (CS) has on adolescents. Collective socialization is perceived as neighborhoods, peers, and school in terms of the social processes that act on behalf of either protecting or jeopardizing children. This study analyzed the relationship between the vulnerability of adolescents to peer pressure and the impact of CS on adolescences' questionable actions and well-being.
The current study involved 318 students from different schools and seven different states. The students that participated were in grades 6 through 12. The questionnaire used for this study consisted of 220 questions of these children's CS of family, friends, schools, and communities. The survey that the participants used was called School Success Profile (SSP); SSP envaulted how the participants CS affects health and happiness (Nicotera et al., 2013). From the mass of students used, the results are from a sample of 20,749 students. The students were male and female with a multitude of diversity. This study was a quantitative study that consisted assessment for each of the impacts through examinations, past and present research, and questionnaires, to support the various hypotheses.
The researchers hypothesized that all three characteristics of CS would affect children's' health and happiness, along with how pressure from these peers affects behavior. The second hypothesis was how youths are vulnerable to CS peer pressure. The third hypothesis was that if a person were vulnerable to peer pressure, it would have a negative effect on their life in terms of health and happiness. At the end of the study, the hypotheses were all supported. Furthermore, the variables had validity, but other outside issues could have played a role in this study.
Upon assessment of the variables chosen, they had construct validity, but there could have been confounding variables that could have been a part of this research. This study looked at family, friends, schools, and neighborhoods, but it did not look at more subtle changes that influence these variables. For instance, there could be a one-time incident that could have had a temporary effect on the students when taking the survey, and it could have altered the participant answer at that time.
There are many pros and cons to every research. One critiquing this research might see some of the pros as follows. One pro of this study is that the sample size was large and had seven states included in this particular analysis. This article also seems to hold no bias from the authors. Introducing an editorial of the description of how collective socialization affects today's adolescences in an unprejudiced manner with supportive documents permits for the planned readers to understand. This research also permitted for all aspects of CS to have easily supported or not supported in a specific hypothesis. The different hypotheses, these let the readers be able to see how the different effects of all the aspects of CS in the manner of positive or negative.
However, in contrast to the easily read supportive documents, this article could have been a little confusing with all the hypotheses. Along with many hypotheses that might have been confusing, the visual aid in this article could have been presented better. For an article of this magnitude, the authors might have considered more suffocated graphics. The graphics look childlike and to simple. Moreover, visual aids could have included percentages. Another noticeable factor that could be considered a con is that following all the sample subjects in not realistic. In short, the authors implied that CS development functions have multiple influences. Contentions may be made that the positive and negative factors among the youth of today have more narrow effects than the more significant effects as offered during the study.
Related Topics