The Important Role of Statistics for the Effective Operation of the Company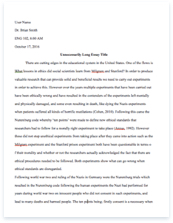 The whole doc is available only for registered users
A limited time offer! Get a custom sample essay written according to your requirements urgent 3h delivery guaranteed
Order Now
Statisticians gather mass data that have an infinite amount of possibilities for decisions that can shape the route of their employers. As a result, there is a common disagreement between peers in order to develop the best possible route. A statistician is an educated professional who solve problems by applying statistical techniques and analyzing and research the data they gathered. They also design statistical or mathematical models to help them with their data analysis. As a result, Statisticians are valuable employees in many industries due to their importantce in discovering a trend that may benefit the company. Statisticians develop or apply mathematical or statistical theory and methods to collect, organize, interpret, and summarize numerical data to provide usable information. statisticians may specialize in fields such as bio-statistics, agricultural statistics, business statistics, or economic statistics. A major issue that statisticians face is the diversity of opinions and interpretations of data sets. As a result, statisticians must consult with each other every step of the data gathering process and generage a list of recommended approaches.
To become a statistician, high school students must obtain a strong grade in math due to the math-heavy mechanics of statistics. Currently, in the present technologically advanced society, experience in information technology will also be required due to the possibility of the use of Microsoft SPSS and Access as well as GIS if the student wishes to work in the environmental field. For the degree requirements, there are many alternatives but the most prevalent is a degree in statistics and mathematics. Other degrees involving statistics and math is also acceptable but a student should major the field they most desire with a minor in statistics and math. A master's degree is required but due to the high demand for the position, a BS is satisfactory. Statisticians generally need a master's degree in mathematics or statistics.
Statisticians are often grouped in the same category as mathematicians, and their job duties and educational requirements are also very similar. While it is possible to find an entry-level position as a statistician, most have master's degree in mathematics, computer science, survey methodology, theoretical or applied math, economics or a similar field. Some statisticians even possess doctoral degrees. Statisticians with doctoral degrees often work in colleges or universities as professors of mathematics. Students pursuing a degree in statistics complete courses in differential equations, physics, computer science, computer programming, calculus, statistics, engineering, linear algebra.
Students who know they want careers as statisticians are encouraged to take as many math courses as possible as well as computer programming, which is very important with statistics. In addition to earning the required degree, statisticians should possess good analytical, communication and problem-solving skills. For the work experience, a 0-5 years outside of academia is recommended. A recommended route according to study.com is to first complete a bachelor's degree in mathematics. A mathematics program often has various areas of concentration from which a student can choose, such as computer science, applied mathematics, economics and life sciences. Then, complete a master's degree program which will allow the students the ability to seek for employment. Master's degree programs in statistics prepare students to enter the work force or to continue on to a doctoral degree program. Master's programs can last for a year or more.
The next step is to research employment options and career information. A graduate of a master's degree in statistics can seek employment in private or government sectors and specific opportunities exist in areas such as biology, psychology, education and economics. The last and final step is to gain work experience. Work experiences vary according to the level of education in statistics. Many graduates of bachelor's and master's degree programs often work for the federal government as statisticians. The health and human services, agriculture and commerce departments employ the majority of statisticians. If a student has completed an internship or has work experience, he or she may have a better chance of securing employment.
In a typical day, statisticians would have to develop software applications or programming to use for statistical modeling and graphic analysis of a certain task in order to determine a solution/approach. Then, they formulate the data they collected for processing by organizing information, checking for any inaccuracies, and adjusting and weighting the raw data. In fact, Statisticians spend over half their day in front of a computer, setting up models, manipulating data, analyzing data, or writing reports. They spend the rest of their day in meetings, in planning sessions, or on the telephone exchanging ideas with colleagues.
At the start of their day, statisticians check the emails and make sure that the necessary communications are made, which is one of the most important factors of this career. Then, they spend most of their day in an office and in certain occations, they will travel in order to gather statistical data surveys and ensure the quality of the data collected. Also, statisticians design the experiments and methodologies in order to do the best analysis by modelling, monitoring and analyzing data models and make observations. Then, statisticians collect data from various resources and make it clean so that only relevant details are left. Statisticians also teach statistical methods and theories to the trainees and help them in their work. Finally, statisticians make the reports with their observations and make recommendations to the clients based on those observations.
For the average statistician, $71,645 is made anually with an average of $30.06 per hour. The highest salaray is $104,673 while the lowest is $49,353. Statisticians seem to wield many skills on the job. Most notably, skills in Machine Learning, Python, Data Modeling, and Data Mining / Data Warehouse are correlated to pay that is above average, with boosts between 8 percent and 17 percent. Those listing SPSS as a skill should be prepared for drastically lower pay. Stata and SAS also typically command lower compensation. Those educated in Data Analysis tend to be well versed in Data Modeling. Pay and experience also has a trend in the career. Pay by Experience for a Statistician has a positive trend. An entry-level Statistician with less than 5 years of experience can expect to earn an average total compensation of $66,000 based on 463 salaries provided by anonymous users. Average total compensation includes tips, bonus, and overtime pay. A Statistician with mid-career experience which includes employees with 5 to 10 years of experience can expect to earn an average total compensation of $81,000 based on 152 salaries. An experienced Statistician which includes employees with 10 to 20 years of experience can expect to earn an average total compensation of $99,000 based on 78 salaries. A Statistician with late-career experience which includes employees with greater than 20 years of experience can expect to earn an average total compensation of $109,000 based on 31 salaries. There is also a pay difference in location where Washington offers exceptional salaries, 20 percent above the national average.
Statisticians will also find cushy salaries in Seattle (+15 percent), Dallas (+14 percent), Phoenix (+11 percent), and Philadelphia (+9 percent). Statisticians in Indianapolis earn salaries far below the national average by 22 percent, proving that geography overwhelmingly affects the pay scale for those in this field. A couple other locations with smaller-than-average paychecks include Pittsburgh (11 percent lower) and St. Louis (10 percent lower). Also, working as a statistician in the government earns a salary of $73,895 while working in the private sector earns $48,172 to $102,500. For the different sectors of a statistician, Statisticians sometimes become Senior Statisticians, where the average income is $100K per year. The most common next step for a Statistician is to become a Biostatistician or a Statistician – Mathematical. The former position pays an additional $5K per year on average, and the latter position pays $1K more per year.
Currently, due to the mass data and models statisticians have to deal with, they face a difficulty in communication and face constant disagreements. Due to the data they work with every day, there is an infinite amount of possibilities that can be interpreted which will create a divering opinion among peers. To fix this, statisticians must consult with each other every step of the data gathering process and generage a list of recommended approaches. By doing so, statisticians can consult each other and better interpret data one by one instead of working all at once which will create a wider split in the decision process. Consulting each other little by little may reveal differing interpretations at small parts of the data instead of a large project as a whole.
After gathering data and models, Statisticians face a difficulty in communication that can be solved with daily consulting. Due to the mass data statisticians must work with, there will be disagreements in the interpretation of the data and the best way to approach their issue. As a result, statisticians always maintain a constant communication with their peers on a daily basis. By emailing and particiaping in meetings on a daily basis, statisticians can converge with not only other statisticians but also other scientists who specialize in certain fields like geology who was tasked to work with statisticians in order to solve a problem. An added misunderstanding occurrs between the two fields which can be solved with the constant consulting that many attempt to maintain evey day in their career. While it may be mostly in front of a computer, statisticians meet with their peers at the start and end of their day in order to update each other on what they have worked on for that day and display their work at a smallere increment on a daily basis instead of all at once where it will be harder to manage and interpret.
Related Topics