The Importance of Reporting on Time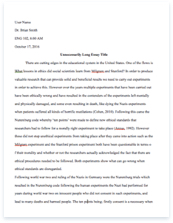 The whole doc is available only for registered users
A limited time offer! Get a custom sample essay written according to your requirements urgent 3h delivery guaranteed
Order Now
Article 86 of the UCMJ declares, "unauthorized absence — absence without leave, not being where you are supposed to be when you're supposed to be there, a punishable offense." The importance of being on time in the military (or anywhere at all), shows respect to those in the unit who are tasked with the responsibility of a mission and accountability of every soldier, it is a key indicator that you are an individual that can be relied on, it is a demonstration of discipline, which was instilled in every soldier during basic training. As Soldiers of the United States Army, We have all committed, we recite said commitment in the soldier's creed, "I am an American Soldier. I am a warrior and a member of a team. I serve the people of the United States and live the Army Values. I will always place the mission first. I will never accept defeat. I will never quit. I will never leave a fallen comrade. I am disciplined, physically, and mentally tough, trained, and proficient in my warrior tasks and drills. I always maintain my arms, my equipment, and myself. I am an expert and I am a professional. I stand ready to deploy, engage, and destroy, the enemies of the United States of America in close combat. I am a guardian of freedom and the American way of life. I am an American Soldier."
Being on time shows respect to those in the unit who are tasked with the responsibility of the mission and accountability of every soldier. It is important to be on time, both in the Army and in the civilian world, for multiple reasons; the unprofessionalism that is perceived, failing your battles/ leadership/co-workers and deciding to put yourself before the mission. You are then perceived as someone who does not care or respect your job that you have decided to take on. We made all committed, "I am a warrior and a member of a team. I serve the people of the United States and live the Army Values. I will always place the mission first. I will never accept defeat. I will never quit. I will never leave a fallen comrade." You made an oath to the army and are property of the U.S. Army. The contract you signed upon enlistment states that you will obey the orders of those appointed above you and the regulations and conforming to the standards of the army When your leadership/employer begins to think that you are not putting the mission first and are not responsible with your job or don't care about your job they can decide that you are no longer a valuable asset or even a trustworthy soldier to them or the team. Which then exhibits a lack of our army values leadership, selfless service, and responsibility.
Being on time is a key indicator that you are an individual that can be a reliable soldier, the same reliability that is expected by every soldier to ensure they always stand ready and are willing to fulfill their commitment. As said in the soldier's creed, "I am disciplined, physically, and mentally tough, trained, and proficient in my warrior tasks and drills. I always maintain my arms, my equipment, and myself. I am an expert and I am a professional. I stand ready to deploy," we are entrusted to show discipline, responsibility, be there ready and be professional at all times, and show care through following military rules and regulations. The Army values punctuality so much and it's so important that it can either increase your chances for promotion or it can hinder those opportunities by showing up late. Not showing up on time that you do not pay attention to detail and are not punctual, part of the standards by which superiors rate you in your quarterly fitness reports. If you have good reports that are part of all the cumulative evaluations used to determine your potential for more responsibility and pay grade.
As soldier punctuality is a demonstration of the discipline we have all had instilled. If you are not disciplined enough to plan your routine and time it takes you to arrive well enough to ensure you're on time for any hit time (first formation, drill, class, missions, etc.) then you will have a hard time and are unreliable among other things: accomplishing assigned goals, leading others, planning missions, and all the other things that go with being a serviceman/soldier. We have all taken the responsibility and have agreed to be disciplined. We must show our responsibility and discipline when entrusted with the basic task of being on time, it shows to everyone that you can likely be entrusted with more responsibility. While it is essential to be reliable in the military, consistently showing that reliability every day by being on time, also helps exhibit your examination for higher ranks and more responsibility. Reliability not only demonstrates you have what it takes, but also perceives an individual as being a trustworthy soldier, and a good person to rely on overall. Out of all things in the military, accountability is arguably one of the most important values a person possesses. Showing up on time demonstrates that you accept your responsibilities and are willing to hold yourself to the standard of the military.
Being late has a negative correlation on a soldier and the way he is viewed. Ever since I was a kid, the army was my dream. I wanted to join, get deployed, and perhaps become an officer. I have let my carelessness allow me to be late. That is not to leave the blame on anyone. Showing up late has allowed me to be viewed as a careless and unprofessional soldier. I plan to change that, as my third offense I (as some would say) "stand on thin ice, " and I have such great leadership of which, maybe because of the little manpower or need of people, they have decided to let me stay and to change my perception I have to look at myself and begin doing what's right the way that has been instilled in me at basic.
Being on time is important for every soldier not only for his perception by everyone else, but it shows respect for their fellow soldiers, the unit, the command, leadership and the organization as a whole. Being on time also will avoid any disciplinary actions such as corrective action, essay writing, even rank taken away, or worst of all UCMJ action that may hinder the individual from reaching your goals. Being on time has greater importance and overall effect than most soldiers even think about or even know. Being on time enables everyone to be able to have the trust and reliability of each other in more important times in the military such as life and death situations, deployments, and any mission that may happen. 
Related Topics