The Importance Of Being Obedient In A Family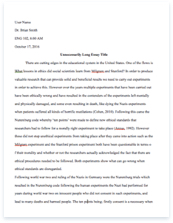 The whole doc is available only for registered users
Pages: 6
Word count: 1406
Category: Family
A limited time offer! Get a custom sample essay written according to your requirements urgent 3h delivery guaranteed
Order Now
Introduction
Everyone belongs to a family. It can be a biological family or any other family, but we tend to draw a sense of belonging from our families.  Our families not only provide for our materials things but it also provides us with psychological satisfaction.  However, like any other form of social interaction, there are a number of things that we are expected to follow in order to live as a member of that group. One of the most virtue that is expected of us as member of a family is obedience.  Obedience is a basic element that ensures cohesiveness of the structure that holds together our social life.  Most of the time, we tend to take obedience as a complete compliance with the rules of our family or doing anything that we are asked to do. This shows fear of a form of authority from the senior members of the family. However, obedience is much more than this. It is a form of psychological requirement that draws us against defiance to the commands of other people. Obedience is a virtue that we all need to have.
Obedience in our families
Obedience is one of the most important virtues of our life.  Obedience can be described as a form of social influence in which an individual act in response to a request or an order from another person, who in most cases has to be an authoritative figure (Milgram, 1963). In most cases, it is assumed that obedience comes as a result of an order from a certain authority. However, obedience can occur even without the influence of authority.
In light of obedience from a form of authority, obedience would come as a result of social pressure. For example considering our constitutional requirements, obedience comes as a result of social pressure or our constitutional requirement.  In terms of our government or constitutional authority, obedient is therefore conformity that comes due to social pressure.  This is the norms of the majority where individuals would be required to conform to what the majority want.
However, we are expected to have a different form of obedience from our families. The kind of obedience that is expected from our families is quite different from compliance. The form of obedience we expect from the authority or our friends is compliance where our behavior is influenced by the need to match to the behavior of the majority.
Familial obedience refers to compliance with the needs of our spouse, child, husband or wife, parent, or any other person who is a member of our family.  Like in our social life, there is a form of hierarchical authority. However, this is not constitutional but it is moral authority.  For example, children are expected to obey their parents. Our parents and senior siblings have a form of authority over our life.  This form of obedience does not emanate from what is authoritatively required for us to do but from the moral obligations.
Obedience in our family is more of a moral duty that is required for us.  Obedience in our family is not vertical like in our society but it is in a way horizontal. This means while children have a duty of obeying their parents, the parents also have a duty of obeying their children by providing them with all the necessities.  This means that for children, obedience would come through compliance with request from our parents while for parents obedience would entail providing children with all their needs.
According to our religious teachings, children are blessed by their parents when they are obedient.  Our parents are happy when we conform to what they require of us. In most cases, our parents require us to do what is good of us. Parents have the moral duty of proving a good growth environment fro their children. This means that they require their children to conform to what is good for them.
While we may not inherit material belongings from our parents, blessings from our parent are the most important inheritance we may inherit.   We are blessed when we obey our parents.  Parents are likely to despise those children who are not obedient and may not provide for them for all their needs.  Obedience creates a mutual reliance environment where we obey our parents in return for their favors.
Throughout my life, I have learnt the importance of obedience and at the same time the perils of being disobedient to our parents.   I have been provided for by my parents when I was obedient and I have been denied for being disobedient. However, I have learnt that obedience to our parents is a moral obligation that we have to fulfill.
When I was in high school, we formed a peer group of 5 through which we accomplished a lot. We did not believe in any one of us acting or existing outside the group.  When I look back at the group now, I can describe it as a teen gang considering the nature and range of activities we engaged in. However, my parents, especially my mother were strongly opposed to group and she reprimanded me a number of times.  At one point, we spent long hours at home with my mother without talking to each other.  I hated to hear every word that came from her mouth since it would be commanding me to break the association with the group. When I asked her for pocket money, she told me that I wanted money to buy drugs due to my influence from the group.   My father was not an alternative either and he made it clear that our relationship would be normal when I disassociate from the group.
Although adamant to their  request, I had to leave  the group when two of my friends were  arrested and one was fatally injured  by another gang, on a day that I spent my day indoors as I was stressed due to  my deteriorating relationship with my parents. I was shocked to learn the news from the fourth member of the group who had managed to escape.  I started to see what my parents had been telling me all the day long and that night, I  apologized to them both  when we were taking our dinner. While I thought my parents hated me, my mother rose from her seat and embraced me.  I felt so secure and relieved and promised my parents that from that point I would be obedient to them.
Since then, I have developed a health relationship with my parents. I have learnt that they don't have to tell me what is expected of me, but I understand what I am expected to do. I have seen a lot changes in the relationship with my parents either.  Every time I require something, we discuss it with my parents one what I will do to acquire it. Apart from the materials needs, my parents also support me emotionally. I can say that being obedient has helped to improve my relationship with my parents.
For us to coexist well with our family members, it is therefore imperative that we remain obedient. This is not because they are authoritative figures but because we have moral obligation towards them. Our duty of obedience is not only for our parents and senior siblings but even for our younger siblings as well. Obedience is a virtue that we are all required to have not only to our family members but to everyone we interact with.
Conclusion
Obedience is one of the most important virtues that are expected for every one of us. As a part of a family, we are expected to have total obedience to our family member not only our parents and senior siblings but also for our young sibling and other members in the family whom we may not have biological relationship. Children who obey their parents have good relationship with their family members and therefore they are well catered and provided for. On the other hand children who have a bad relationship with their family members have a strained relationship and may not be well provided for. Obedience is therefore a virtue that we all need to have.
Work cited:
Milgram, S. (1963). Behavioral Study of Obedience. Journal of Abnormal and Social Psychology, Vol. 67: 371-378.
Related Topics