The Impact That Unmarried Teen Pregnancy Has on Society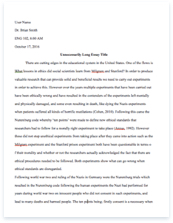 The whole doc is available only for registered users
A limited time offer! Get a custom sample essay written according to your requirements urgent 3h delivery guaranteed
Order Now
The Impact That Unmarried Teen Pregnancy Has on Society
When a teenager becomes pregnant it can have many consequences to the girl, the family of the girl, and also to the child that is born to this type of society. Becoming a mother at such a young age and not being married is not well seen and has a negative financial effect to the society. There are several options available today in order to inform teenagers on how to prevent teen pregnancy.
The Impact That Unmarried Teen Pregnancy Has on Society
Adolescent pregnancy is widely viewed in our society as a serious problem. Each year about one million teenagers in the United States become pregnant and about 7.5 percent are between the ages of 15 through 19 (Editorial Board, 2012). This resulted in 442,000 births among teenagers in 2006 (Maynard, 2008). The United States has the highest teen pregnancy rate than any other industrialized country in the world. About a third of these teens abort their pregnancies, 14 percent suffer a miscarriage, and 52 percent take their pregnancy to a full term, 72 percent of these teenagers are out of wedlock (Maynard, 2008). Many of these teenage girls that become pregnant end up with disastrous results they either leave school altogether or miss an entire year due to the pregnancy, thus graduating a year later. They receive low grades or fail due to excessive absences related to health issues. Once the child is born some teenage mothers do not have time to complete homework assignments because they are too tired after seeing to their child's needs.
Teen pregnancy is an important social issue because becoming a mother at such a young age, the risk of social and economic disadvantage tends to be greater. The majority of teenage mothers come from very low income families and in the communities in which they live in they are surrounded with weak public school systems and dangerous environments such as drugs, delinquency and gang members. Already coming from a weak background and to that adding the age in which these girls become mothers has a lot to do with the poor outcome these girls and their children have.
Most teen mothers continue the living cycle in which they grew up in. They raise their children in poverty and they usually rely on welfare for support in order to survive, more than forty percent of teenage mothers report living in poverty at age twenty-seven (Maynard, 2008). This contributes to the result of three social forces the first one being child poverty on the rise and increasing each year. Another one is the number of welfare receivers and the connected cost of public assistance which has increased dramatically. Finally among those on welfare we can see a higher proportion of women who have never been married and women who average long periods of dependency on these programs. According to a study more than eight percent of young teen mothers received welfare during the ten years following the birth of their first child, and forty-four percent of them for more than five years (Maynard, 2008).
Teen childbearing does not only affect the person but it also affects society and the economy. Adolescent childbearing cost U.S taxpayers about $11 billion each year; $2.8 billion in child welfare benefits; $2.3 billion in public sector health care expenses and $3.2 billion in lost tax revenue due to the lower earnings of teen mothers (Solomon-Fears, 2013). Most of the costs of teenage pregnancy are associated with the negative consequences for the children of teen mothers. Teenage mothers are at a higher risk of having kids with health problems due to the age of the mother and her body being too weak to have a baby therefore the baby may be born in poor health conditions. This leads to and increased cost for health care and foster health. Also most of teen mothers drop out of school and do not receive a high school diploma and now a day most jobs require at least a high school diploma or GED therefore they have to settle for a minimum wage job much of the tax revenue is lost.
Having a kid at such a young age does not only have a negative effect on the parent but also in the children because he is usually not raised in a nuclear family which consists of a father a mother and the children. Since most of this girls are way too young they usually do not get married or stay much longer with the father of the first child. The male partners of teenage mothers are usually teens themselves and they are not a consistent source of support for the mother or the child. Only twenty to thirty percent or teenage couples get married and about twenty percent of the fathers who decide to not stay with the mother of his child are ordered by court to pay child support (Maynard, 2008) and even with this court order most fathers pay only a small portion of the amount stated. They only pay that amount because like the mothers the fathers end up dropping out of school and are not able to get a job good enough to support the child.
Adolescent mothers become single parents and the sole providers for themselves and their children. Most young women who have kids out of wedlock have limited support either from the fathers of their children or from other adults. Having a child when you are a teenager is see as a deviance act and when the parents of the teenage girl find out they are pregnant some of them kick them out the house or refuse to help them in any way and the girls have to go live with friends or end up homeless. This type of life experience can have a serious effect on the teenage mother because she is forced to grow up too fast and usually does not get to enjoy her teenage years. Once her baby is born she becomes engaged with a lot of responsibilities not only providing economically but also for his wellbeing. This type of responsibility is sometimes a burden for someone so young. With the demands and responsibilities of caring for a child most of these teenage mothers have very little time to socialize with friends and are not able to develop their own identities. Also it is more likely for the teenage mother to have another baby within a year or two of having the first one sometimes it is not form the same father as his first one and this diminishes the chances of that teenage mother to get out of the situation she is in therefore making it more difficult for her finish high school and having a stable career.
With this factors taking place the child is born into a bad environment. First he is being raise by a single mother and if he is lucky he will be able to meet his father. With the child being born in this environment he or she is at a high risk of repeating the cycle of the mother. The kids of these teenage mothers are more likely to grow and commit deviance acts. According to Edwin H. Sutherland and his differential association theory individuals have a greater tendency to deviate from societal norms when they frequently associate with person who are more favorable toward deviance than conformity. With the children of the adolescent mothers growing up in a society where there is poverty and crime going on all the time it is more likely that they will also be influenced by this acts and they will commit them too. Children learn through observation, once they see the act going on in their surrounding they will copy it and imitate them. By observing their family members or peer groups do any deviance act the children learn from it and then they commit them. The cycle repeats itself and if the child of the teenage mother is a girl it is most likely that she also will become a mother at a young age do to the fact that her mother became a mother at such a young age.
Now a day there are many programs to inform teenagers on how to prevent becoming a mother at such a young age. There are programs that inform teenagers on the importance of not being sexual active at the tender age of 17 or younger not only to prevent a pregnancy but also to prevent being affected by any sexually transmitted disease. There is a lot of information such as videos and brochures on what these diseases can cause to your body and some of them are not curable and they stay with you for the rest of your life. If this information does not work and the teenager want to be sexually active there is also a lot of information on how to protect yourself by using birth control. There are many clinics that offer information on different methods of birth available and they help you find the one that best fits each individual according to the age and financial situation the client is in. Even though birth rates are much higher in the United States than in any other develop countries, the teen birth rate is lower than forty years ago. The teenage birth rate in 1950 was 438,000 and by 1960 it increased nearly 36 percent and by 1970 it had increased another 11 percent (Solomon-Fears, 2013). Since then the number of teenage births has declined, in 2011 the teenage birth rate was 333,771 which is 49 percent less than in 1970 and 40 percent from 1980.
This is a good thing because becoming a mother does not only has a negative effect on the mother and the father but also the child suffers the consequences of being born to a teenage mother and the result most of the times is not a good one. When a woman becomes a mother at such a young age especially under the age of seventeen can have many negative consequences. Not only does the mother and her family suffer but also the child that is brought into that sort of situation suffers. There is so much information today to inform teenagers on the effect that becoming pregnant can cause and the limited options they have in order to become successful and being able to have a good job and provide a good lifestyle not only for her but also for her child. By becoming a mother at such a young age most of these women do not marry the father of her child and they don't even stay with them in order to have and maintain a family, therefore they remain single parents and never get to marry anyone. The good thing is that teenage pregnancy is starting to decline and hopefully it will continue to decrease in order to create better societies and that will help in preventing deviance acts such as crimes, killing, and it will also help in reducing seeing so many people in poverty and we will have more successful men and women.
Related Topics