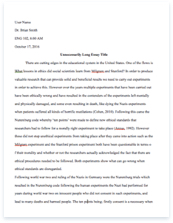 The whole doc is available only for registered users
Pages: 4
Word count: 805
Category: Cooking
A limited time offer! Get a custom sample essay written according to your requirements urgent 3h delivery guaranteed
Order Now
I begin to think about what to serve for dinner each day on my drive home. The Merriam-Webster Online Dictionary, defines dinner as "the principal meal of the day." The following is a look at what the phrase "The Ideal Dinner" means to me. For me, the ideal dinner must include an appetizer, a salad, an entrée, and a dessert. The ideal dinner must begin with an appetizer. It should be something tasty, but not too heavy, something that awakens the taste buds, but does not overwhelm them. One way that I accomplish this is to use vegetables as appetizers. I often use celery lightly steamed with different spices then drizzled with olive oil.
This is great to use on a spring day when you want something warm, light, and colorful. Another favorite of mine is potatoes; cut into bite sized chunks and baked. Using fresh garlic finely chopped onion and oregano, I season my potatoes. I then place them into a glass baking dish and coat them with olive oil cooking spray. After this, I bake them at 350 degrees for about fifteen minutes. Either of these tasty appetizers will be a great success with any crowd. Salads can add excitement and color to the dinner table. While most people see salads as vegetables thrown together, preparing a salad the right way takes work. I like to begin preparing my salad by making sure I have an appropriately chilled salad plate. It should be cool to the touch but not wet.
I then dust the plate with a little parmesan cheese and build my salad from there. I then arrange the greens on the plate overlapping the leaves in a circular fashion while dusting each layer with parmesan cheese. I then add bacon which has been cooked on a broiler pan in the oven to remove all grease, cooled completely, and crumbled roughly. After this, I add a thick layer of thinly sliced radishes which gives the salad both color and taste. Next I add my secret ingredient lightly steamed broccoli-flower. This wonderful vegetable is a cross between broccoli and cauliflower and adds texture and flavor to the salad. Cherry tomatoes that have been sliced in half and lightly steamed are a great addition to any salad.
A layer of finely chopped hard boiled eggs dusted with paprika adds dimension and softness to the salad. Adding garlic and onion that has been finely chopped and gently heated over the eggs adds dimension and flavor. As a topping for my salad I use finely slivered almonds placed in a pan and coated with olive oil cooking spray then toasted in a 350 degree oven for five minutes. Add the almonds to the top and I have a salad to be proud of. When deciding on an entrée, I immediately think of pork-loin roast. In order to get the optimum flavor from a pork-loin roast it should never be frozen. It is always best to prepare the roast the same day it is purchased.
After bringing the roast home from the market, I place it on the counter to rest while I gather the other ingredients. A glass roasting pan is always the best choice for baking a pork-loin as it enables the meat to hold moisture and cook evenly. I then cut slits in the meat randomly and insert pieces of fresh garlic. After this, I thoroughly coat the roast with plain yellow table mustard (the kind you use on hot-dogs) and again let the meat rest for a few minutes. Taking white corn meal, I coat each side of the meat until I have applied a thick layer to the entire roast.
Using a large skillet, I heat olive oil just until warm and add my roast constantly turning until it is a golden color on each side. After this, I place it into my glass baking dish and put into a 325 degree oven until a meat thermometer reads 375. I serve my roast with fresh asparagus, which has been lightly steamed then brushed with olive oil and garlic. Dessert is usually light at my house, consisting of apple pie with a slice of cheddar cheese or walnut brownies with vanilla ice cream on top.
On occasion, I do treat myself to a piece of freshly baked chocolate cake, a wedding cake flavored cupcake or my favorite brand of coffee flavored ice cream. While my ideal dinner with appetizer, salad, entrée, and dessert may seem lavish to some, for me it is routine. However, when compared to the Merriam-Webster Online Dictionary definition of dinner as "the principal meal of the day," I suppose it is just a bit on the extravagant side.
Work Cited
"Dinner." Merriam-Webster Online Dictionary. Merriam-Webster, Incorporated, 2013 Web. 01 Feb .2013.
Related Topics